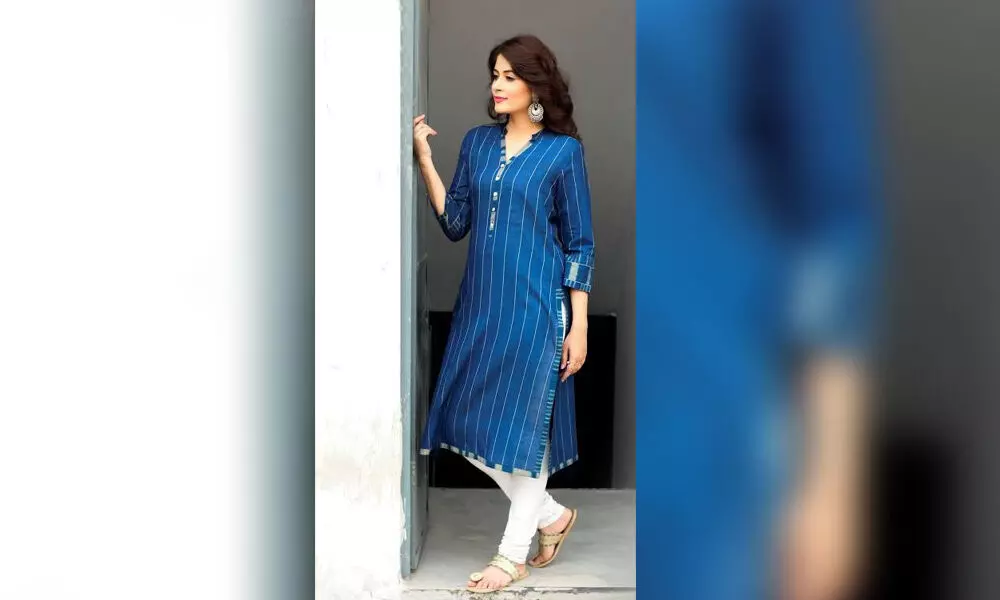 Highlights
Work from home has become the new normal since the lockdown has been announced and has the potential of turning into a standard practice for many companies, even after the pandemic is over
Work from home has become the new normal since the lockdown has been announced and has the potential of turning into a standard practice for many companies, even after the pandemic is over.

Following a routine, getting ready for work every day was a way of feeling motivated every morning, however, with work from home, that drill has changed a little. While a lot of people are sporting formal tops with pyjamas, we think you should give your pyjamas a break and motivate yourself to feel fabulous even while working.
Work from home is a newly evolved fashion segment which many brands are tapping into. It's important to put your best look forward on zoom calls in order to maintain a sense of normalcy in mayhem around us. You can choose light and breathable fabrics to ensure optimal comfort while looking fabulous. Nelson Jaffery, Head of Design, Liva and Mr. Abhishek Yadav, Design Head, Spykar Lifestyles have shared some insights below on how to dress up while working from home.
Classic white shirt
Bring back the classic white shirt, but opt for a size bigger for a comfortable yet fashionable look. You can style this white shirt in multiple ways – turn it into a crop top by tying the ends together or wear it with the buttons on the back side for a different look. Pair them with some straight fit vintage denims.
Kurta with chunky silver jewellery
Kurtas are known to be one of the most comfortable yet elegant outfits. Pair the kurta with some chunky silver jewellery to bring out the boho side of your personality. Wear cooler pastel tones in this gloomy weather to jazz yourself up a bit.
Maxi dresses
The easy throw on dresses have trended in this time of the year as they have become more appealing to women given they are working from home. Opt for loose maxi dress or cotton ribbed knit style for that laid-back yet pretty look. Whether you are planning to lounge around your house with your laptop, or attend those work meetings on video calls, those pretty dresses will definitely put you and those you video-meet in a happy mood!
Florals and polka dots tops
Floral dresses which are flowy and made of viscose are a current favourite but the prints like florals, checks and polka dots feel right on any given days. The year of 2020 is giving new life to classic polka dots and florals which are not usually considered to be trendy but are easiest to wear among everything in your wardrobe.
Culottes
For getting that effortless and breezy vibe, you can choose to wear culottes while working from your couch. Culottes can be considered as loose fitting cropped pants made of lighter fabrics that hang similar as skirts. Try to pick those which are full in length and give a flowy yet bold look. You can team them up with shirts which can give a neutral yet classy and trendy look while at work.