Bengaluru: BBMP officials told to work honestly and keep a record of every work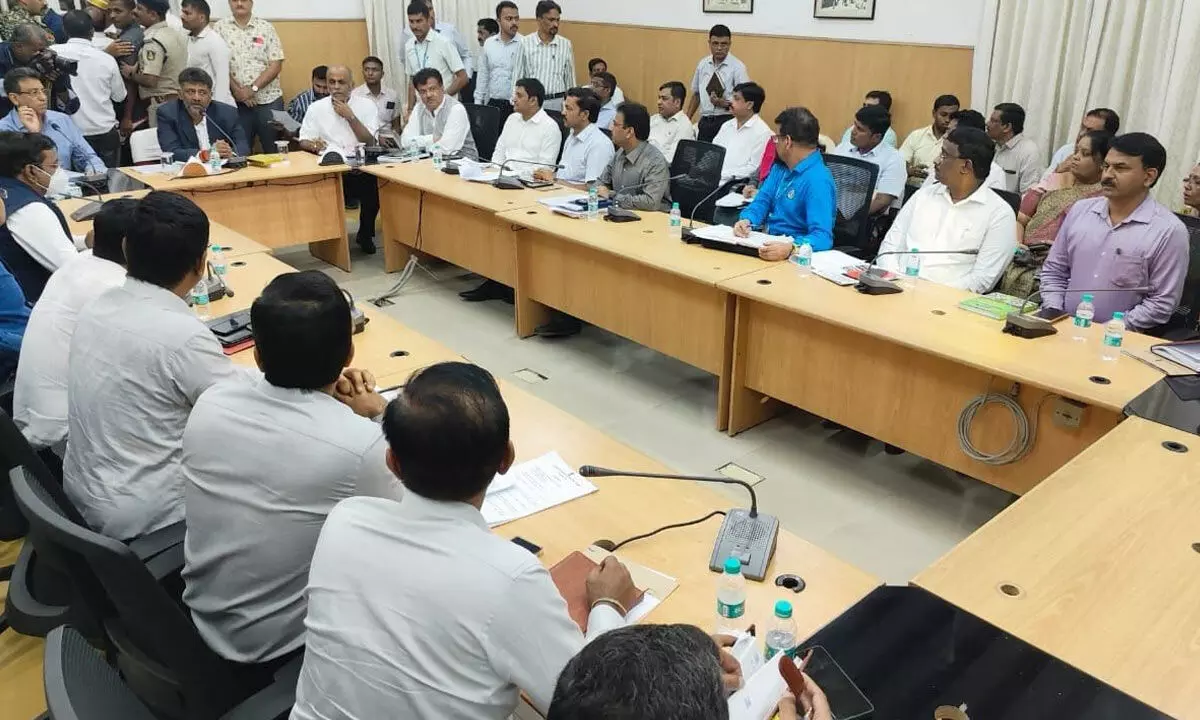 Highlights
Deputy Chief Minister D K Shivakumar, who is also Bengaluru Development Minister, held a meeting with Bruhat Bengaluru Mahanagara Palike(BBMP) top officials on Monday
Bengaluru: Deputy Chief Minister D K Shivakumar, who is also Bengaluru Development Minister, held a meeting with Bruhat Bengaluru Mahanagara Palike(BBMP) top officials on Monday. He advised and instructed officials in the meeting of senior civic department officials of BBMP.
In the meeting held with BBMP senior officials, BBMP Commissioner Tushar Girinath, Administrator Rakesh Singh and other IAS officers, Chief Engineers of various departments participated. Speaking at the meeting to the officials, DCM Shivakumar said: 'The work carried out by assembly constituency in Bangalore for the last three years, the project under which the work is done, the expenditure details, photo, video and other documents about the work should be provided. The works which have not started after receiving the BBMP grant should be stopped and maintain the status quo.'
He also instructed that project works that are not completed within the time limit should be stopped. The bill should be given within 10 days after investigating which work has been done. Even though no work has been done, two bills have been produced for the same work and two companies have billed for the same work, all these should be reported.
'I will test your honesty here. If you don't give me the list, I will give you the list myself. Although I am from a village there are people who inform me about this. I also have the power to receive information. Let's go to the places where the work is done and check for ourselves. Only what one sees with one's eyes deserves to be believed. So let's see and believe', he said.
'If the road and other works are to be done through agencies, then what is the appropriateness of having engineers in the corporation? Why stay if someone else is going to do your job for you?' questioned DCM Shivakumar.
'Solid waste disposal should not be allowed anywhere on the suburban roads connecting to Bangalore. Also fine and other legal action should be taken against the waste disposers. Adequate arrangements should be made for scientific disposal of dry and green waste. Cleanliness, hygiene, and health care should be prioritized. The TDR scheme should be implemented so that there is no room for irregularities. The interests of those who have lost property for the road and other projects should be looked after. Before starting any project work, take a video and photo of that place', the DCM added.
'Let the public get the information whether the project is really being done for the benefit of the people or for the benefit of some other influential people. Identify and fix bottlenecks that prevent smooth flow of water during monsoons. Bengaluru is getting a bad name because of the rain water problem, more than you and us. It is our responsibility to fix this.
BBMP is like a sea. We do not know where we will float or sink. It is known what politicians and officials do together. Bangalore is not just Karnataka's property, it is the property of the entire country. Our election fight is against corruption. Not to say that everyone is bad. There are good ones too.
Those who keep complaining and passing on information to any ministers or MLA's, I will make sure they are stopped. I have no illusion that I can do anything alone. Let us work together, Must work without time limit. Work with 100% commitment, loyalty. We will make some changes to speed up the administration', Shivakumar said.He added: 'Punishment is not a big task. Don't mind it. Do a good job. Get a good name and bring a good name to the government. During the previous government period, someone was a booth level officer, did you not have any sense? I know who did what and how much corruption they did. Make a change now. Do good work till people are convinced that this government has brought change. Respect yourself and the government' he
concluded.