Update your winter wardrobe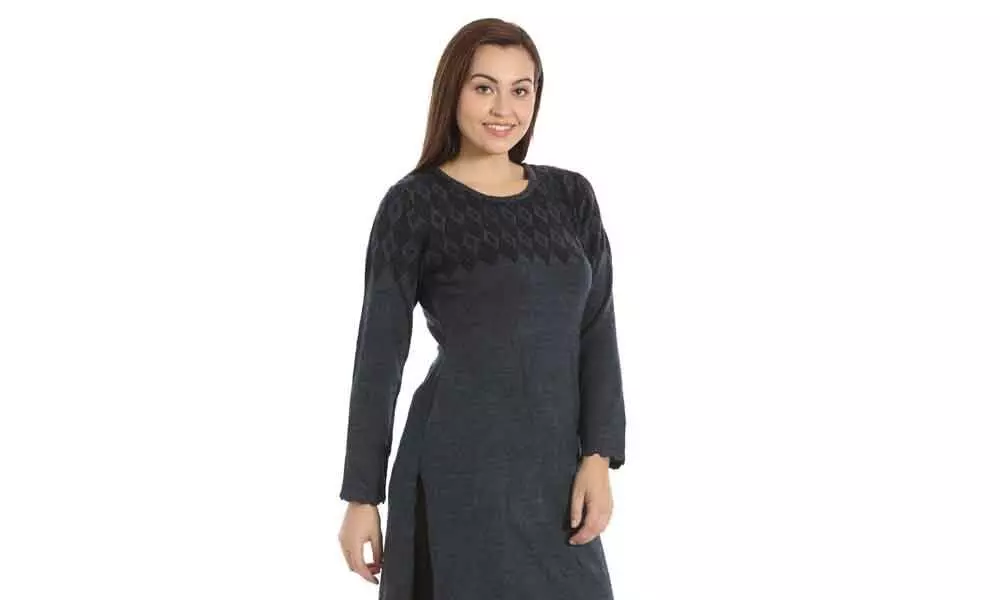 Highlights
Christmas is just around the corner. We are all in a festive spirit gearing up for celebrations.
Christmas is just around the corner. We are all in a festive spirit gearing up for celebrations. A lot of brands are now offering exciting offers which also makes this the best season for shopping.
Although the streets are lit up with beautiful lights and homes are sparkling all around, the cold breeze calls for some winter jackets. Be winter ready with fabulous winter essentials by Muatard Fashion.
Here are pieces of clothing that are specially designed for winter:
Black & White Acrylic Knitted Jacquard Kurti
A beautiful blend of two classics- Black & White, two colors on the opposite ends of the spectrum, this Jacquard Kurti, yes you heard it right Kurti is perfect for a cold winter day. Just because it's cold outside doesn't mean that you will stop wearing your favorite ethnic piece of clothing.
Black & Dark Gray Acrylic Knitted Long Cardigan
Cardigans are in this winter season. This Black & Dark Gray soft-knitted cardigan for women features a shawl collar and an A-line fit which flatters your curves. Layer up this season in style with this modish Long Cardigan and wear it with jeans, leggings, palazzos and more.
Maroon & Black Felt Check Long Coat
You can't possibly imagine a wardrobe without a long coat, and especially during the winters. It has become the need of the hour. This Maroon & Black felt long coat with its stylised buttons can make any outfit look elegant. Make an impression every time you step out by sporting this trendy long coat.
Navy Twill Check Jacket
Whether for work or leisure, this Navy Twill Jacket will be your best bet as it keeps you warm, cosy and completely comfortable. Checks have always been in fashion and nowadays even more so. When teamed up with a pair of jeans, it makes for an excellent casual look.
Ivory Acrylic Zigzag Cardigan
Stay warm and look cool in this Ivory Cardigan from Mustard Fashion. The zigzag pattern along the hemline further adds a nice touch of charm to it.
Made of acrylic, this cardigan does a fine job of keeping you warm and comfortable.
Pair this cardigan with blue jeans. Put on a pair of ankle-strap heels or ankle-boots if it's freezing outside.
Denim Blue & Black Acrylic Knitted Jacquard Kurti
Another Kurti that's made its way onto this list, what's' so special about this Kurti you ask? Firstly, it's made of denim which makes it perfect as winter wear.
A magnificent fusion of Indian and western wear, this Blue & Black Knitted Kurti with a zigzag hemline when paired with Black leggings is simplicity at its very best.
Gray Checks Felt Long Coat
Incredibly versatile, this Gray colored Long Coat goes with almost anything. You can easily wear it over a top, tee, shirt, tunic and more and pair it with leggings for a good mix of comfort and style. Adorned with checks, this gives you a nice contemporary look that works as both casual and formal wear.
Black Felt Long Coat
A sure shot way to make you look all sophisticated and classy; this Black Long Coat is something that should definitely be a part of your wardrobe. Beat the cold this winter and do it in style with this Long Coat.
Team it up with the bottoms of your choice and complete your outfit by wearing a pair of ankle-strap heels or boots.
Ladies, you have the list and you know what to do.