Track or trails Marathons-Find the right shoes for your foot this season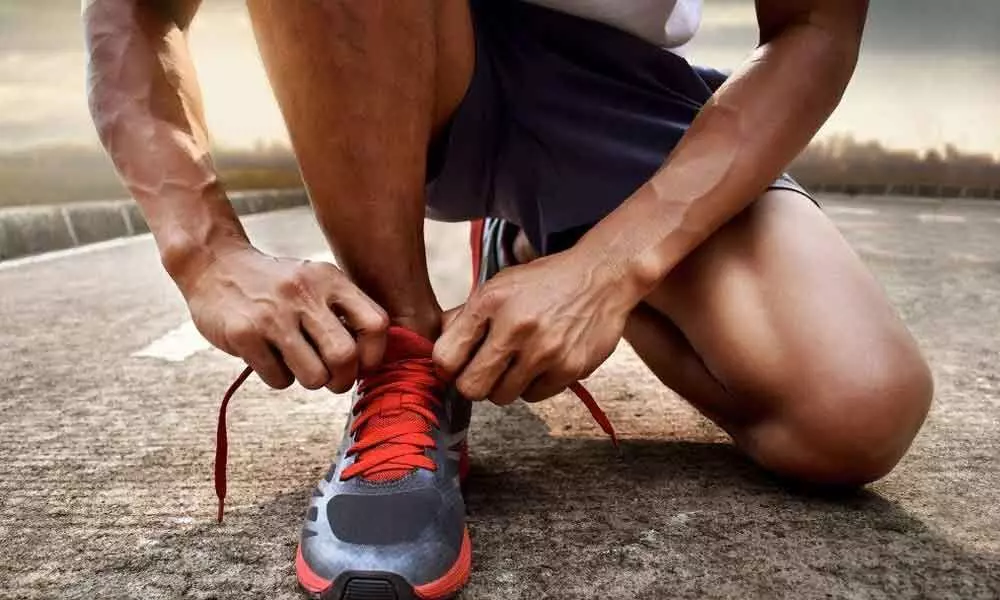 Highlights
Picking appropriate shoes is basic for keeping your feet solid.
It's ideal to purchase your pair of shoes in the evening after 5 pm, or after having run. Your feet flatten out and in this manner stretch out through the span of the day and when running. It is essential to try on both feet to properly lace up the shoes.
As a general rule, there should be a gap of around 1/2 an inch between the end of the shoe and your longest toe when your foot is flexed (remaining on your toes, with your heel lifted, off the floor). Run-on the spot with the shoes on your toes should not come into contact with the end of the shoe and your heel ought to stay held set up. There should not be any uneasiness: you shouldn't feel any seams or hard spots.
Your choice of model should also take into account likewise consider your weight, sort of walk, brandishing level, running recurrence and term.
HOW TO CHOOSE YOUR RUNNING SHOES?
Despite your target in preparing or in rivalry, regardless of whether you run 10k, half-long distance race or long-distance race races, the exhibition running shoes are fit to all sprinters trying to improve and perform on streets and who run 2 to 6 times each week. How to settle on the correct decision?
With regard to running, the main thing you have to do is pick the correct pair of running shoes. Individuals are commonly under the feeling that the costliest shoes of the top brands are the best. There is huge confusion. You should choose the pair which gives you the ideal fit in the wake of inspecting your feet, your walk, and your running style. A wrong pair of running shoes will make you feel highly uncomfortable and you could end up with painful ankles, heels or shin pain.
Here is an itemized guide that will enable you to pick your running shoes.
There are two basic criteria for picking the correct shoes so as to reach your goal: the frequency (the number and the length) and your pace.
1. THE FREQUENCY OF YOUR RUNNING SESSIONS
The quantity of sessions is a good indicator to decide your running profile: serious ordinary sprinter or rider? Your pace will then that guide you to find shoes to fill.
INTENSIVE OR REGULAR RUNNER?
if you are used to running more than three times a week whether it is for training or preparing for a race, it is preferable to choose footwear with perfect cushioning that will guarantee the maximum comfort. Your pace will at that point decide the most reasonable footwear for your needs.
2. THE INTENSITY OF YOUR RUNNING SESSIONS
For long runs or competitions from 10 to 12km/h
You are wanting to finish in excess of three long outings for every week at a speed of under 12km/h? Ideally, pick footwear with great cushioning that will decrease the shockwaves and guarantee the most extreme comfort. The dependability of the footwear will likewise be significant for supporting your feet all throughout your long outings.
+
For marginally quicker running and competitions (quicker than 12 km/h)
We propose marginally progressively lightweight shoes. These have a progressively powerful structure, giving better support.
+
For accomplishing individual best occasions with rates > 14km/h
If you enjoy running fast and achieving personal best times, you will regularly be running faster than 14km/h during your running or training sessions. An ultra-light, fast and dynamic shoe will come in very useful for beating your personal best time. It is a perfect complement to the other models depending on the type of outing and session. I recommend this type of model for lighter runners. This will be a good complement to the other two models, depending on your type of running and training session.
+
3. KNOW YOURSELF
Before you purchase your pair of running shoes, you should know a couple of things about yourself, for example, your body weight, how frequently do you run/plan to run, and so on. The most significant thing is knowing your walk which assumes a noteworthy job in the agreeable and safe running.
Realize your body weight: For a sprinter, your body weight matters a great deal in light of the fact that each progression that you take while running puts a few times of your body weight onto your feet, joints and muscles. In the event that your shoes don't have legitimate padding, the stun waves would get transmitted straightforwardly to your feet and joints bringing about impact point and joint torments.
Know your running recurrence: If you are running 4 to 5 days per week, at that point you ought to go for shoes having propelled padding and backing. In the event that you run once every week for separation of around 5 km, at that point you can go with the essential shoes with fundamental padding.
4 KNOW YOUR STRIDE
Human feet are categorized into three different types (Neutral, Over-pronation and Under-pronation). Each of these types of feet has a different running style and requires a different set of shoes. The details are explained below:
Neutral: In this type of stride the heel strikes the ground first followed by the forefoot and toes. Due to this, the entire weight of the body is distributed evenly on the feet. The shoes that are recommended for such runners should be a neutral shoe having better heel cushioning and medial support.
Over-Pronated: In this type of stride the inner heel strikes the ground first followed by the big toe. The foot rolls inward while running due to which it is difficult in stabilizing the body. The shoes that are recommended for such type of runners should have stability or motion control.
Under-pronated: Under-pronation is the exact opposite of over-pronation. In this case, the outer heel strikes the ground first followed by the little toe and the foot rolls outward. The shoes that are recommended for such type of runners should have a cushioning and quick heel to toe traction (flexibility).
5. KNOW YOUR RUNNING SURFACE
Running surfaces are comprehensively separated into three diverse orders. The shoes for every one of these surfaces are structured distinctively according to the utilization. Subsequently, it is critical to know on which surface you are going to utilize it. The subtleties of every one of these classes are clarified underneath:
a) Road running or plain surface running
These shoes are intended for running on plain surfaces with slight anomalies. These are exceptionally light shoes having great padding, adaptability, and steadiness according to the walk prerequisite.
b) Trail running or harsh surface running
These shoes are intended for unpleasant surfaces having heaps of good and bad times and shakes, for example, slopes and characteristic territory. It has great help, strength and a tough bottom to shield your feet from sharp shakes. It likewise has great footing for better hold.
c) Treadmill running or indoor running
These shoes are intended for running on the treadmill and indoor action. These are extremely light, adaptable and have delicate soles with great ventilation.
Master TIPS
Buy timing: It is constantly recommended to purchase running shoes by the day's end on the grounds that nonstop development of your legs for the duration of the day makes your feet swell. Your shoes should fit you when they are at their greatest size. While running as well, your feet would swell and it ought not to feel awkward around then.
Toe rules: You ought to consistently go for shoes having a hole of in any event ½ to 1 inch between your huge toe and the front part of the bargain. While running, your feet slide internal parts the shoe so you ought to have enough space for it so as to maintain a strategic distance from dark nail which could be extremely excruciating.
Subscribed Failed...
Subscribed Successfully...