International Women's Day: 4 amazing holidays for a girls-only getaway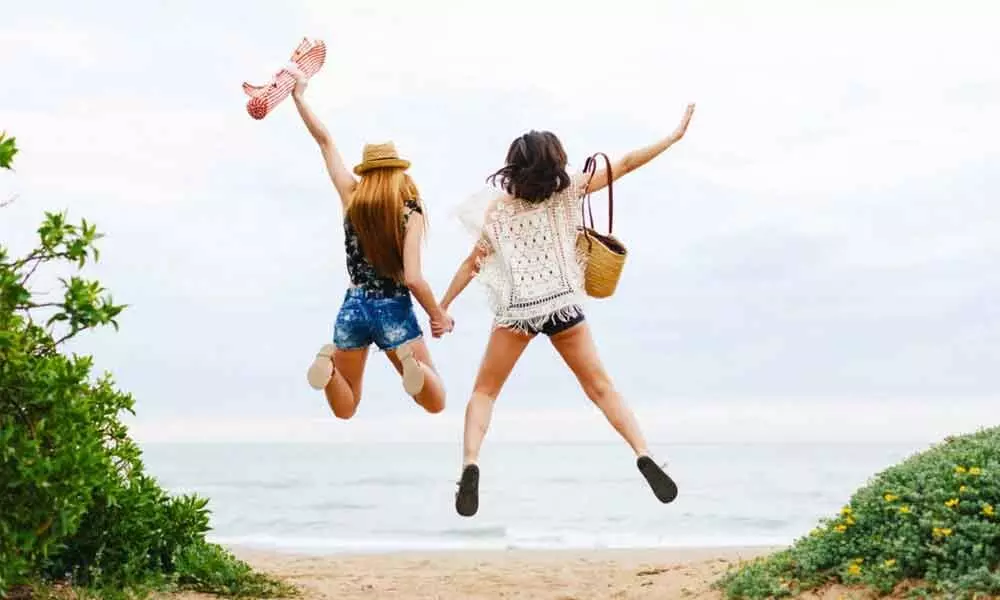 Highlights
Celebrate International Women's Day on March 8 by booking a women-only luxury holiday in the US, Japan, Thailand or Africa
Nahm's stir-fried squid. Photo: Lightfoot TravelDon't let International Women's Day on March 8 pass you by. Combine seeing the world with bonding with your besties by booking a girls-only luxury holiday. Check out these four fun activities that combine luxury with adventure, and some of them are designed exclusively for women.
For women who like running
Book: Run The World in Tanzania

Do: Do a safari with a spin with Singita, a conservation and eco-tourism brand with concessions, reserves, lodges … and a keen love of running. Since 2017, it has been hosting the all-women Serengeti Girls Run, raising money to assist with the empowerment of local females. Donations go towards mentorship programmes, essential life-skills training and scholarships for schoolgirls. The three-day, 63km run takes you across the vast plains of the Serengeti and an abundance of wildlife, and participants are accompanied by scouts from the Grumeti Fund Anti-Poaching Unit. Entries are now open and the run takes place from October 27 to November 1, 2020.
Stay: Run by day, head on game drives in the evenings, and then rest weary legs at Singita Sabora Tented Camp at night. Located on the plains of the Serengeti, your luxurious base for five nights features nine tented suites with a private meditation deck, an in-room pantry (perfect for storing post-running snacks), and an outdoor deck with daybeds. When not pounding the ground, you'll have the chance to visit local schools, meet the locals and hang with your besties.

For women who want Zen
Book: Rice Terrace Villa Sasayuri-Ann, Japan

Do: Rice Terrace Villa Sasayuri-Ann in Japan's Nara prefecture offers peaceful living, spirituality and some serious slowing down. Hosting up to 10 guests at a time, and available to be rented out in its entirety, it's the ideal go-to for a group of Zen-seeking friends. Packages can be tailored entirely to your needs and you can opt for activities with a traditional Japanese twist such as ikebana flower arranging, fire cleansing ceremonies, chanting sessions and a waterfall barefoot pilgrimage. It's also one of the few luxurious stays in Japan where you can practice yoga.
Stay: The two stylish wooden mountain villas here ooze calm and comfort. Zao is a renovated 200-year old thatched roof house from the Edo period, whilst Ozunu is built around a century-old tea house and surrounded by an exquisite Japanese garden. Fight your friends for the best cushion by the sunken fireplace and dig into delicious food prepared in front of you by Michelin star-awarded chefs.
For women with an appetite
Book: A table at Nahm, Bangkok

Do: Steamed red curry of scallops. Grilled pork cheek. Coriander fresh vegetables. If the food at Bangkok favourite, Nahm, sounds impressive, wait until you hear about the woman who runs it. Thailand native Pim Techamuanvivit gained her first Michelin star (for San Francisco's Kin Khao in 2014) while in a wheelchair recovering from breast cancer surgery. Two years ago she became the first woman to oversee Nahm, and under her guidance it gained a Michelin star for the third consecutive year earlier in 2020. High-five, lady!
Nahm Photo: Lightfoot TravelStay: Spend a girls' weekend at the Como Metropolitan hotel Bangkok and you can literally roll straight into bed after your meal at Nahm, the hotel's flagship restaurant. Dining aside, this is a stay with style: you and your gang can mingle with film stars, designers and sharp-dressed suits as you hang around the palm-fringed pool, enjoy body-buffing treatments at the holistic Shambhala spa and see the evening start to sparkle at the famous Met Bar.

For women who want to be cowgirls
Book: Cowgirl Spring Roundup at The Resort at Paws Up, USA

Do: The Resort at Paws Up is a luxury ranch in the wilderness of Montana, and this April 23 through April 26 the cowgirls are coming! Gather your best girlfriends together and head stateside to saddle up for the annual Cowgirl Spring Roundup, aimed to inspire, excite and provide females with an adrenaline-fuelled adventure. Spend your days brushing up on your horsewomanship and ranch skills, riding scenic trails and attending demonstrations and workshops held by a slick team of Cowgirl Hall of Fame honorees. At night, shoot the breeze around a roaring campfire. Yee-haw indeed.
Stay: They'll be no stable-stays for guests at this 7,000-acre, authentic working cattle ranch. Rather, at The Resort at Paws Up you can hang your hat in an elegant home complete with chic decor, large kitchens and hot tubs. Away from the horses there's the chance to herd cattle, try clay pigeon shooting or talk and trek your way through the wilderness. What's more, a break here allows you to wear your cool cowboy boots at all times with no-one batting an eyelid.
Source: South China Morning Post
Interested in blogging for thehansindia.com? We will be happy to have you on board as a blogger.