Celestial wedding of Godadevi performed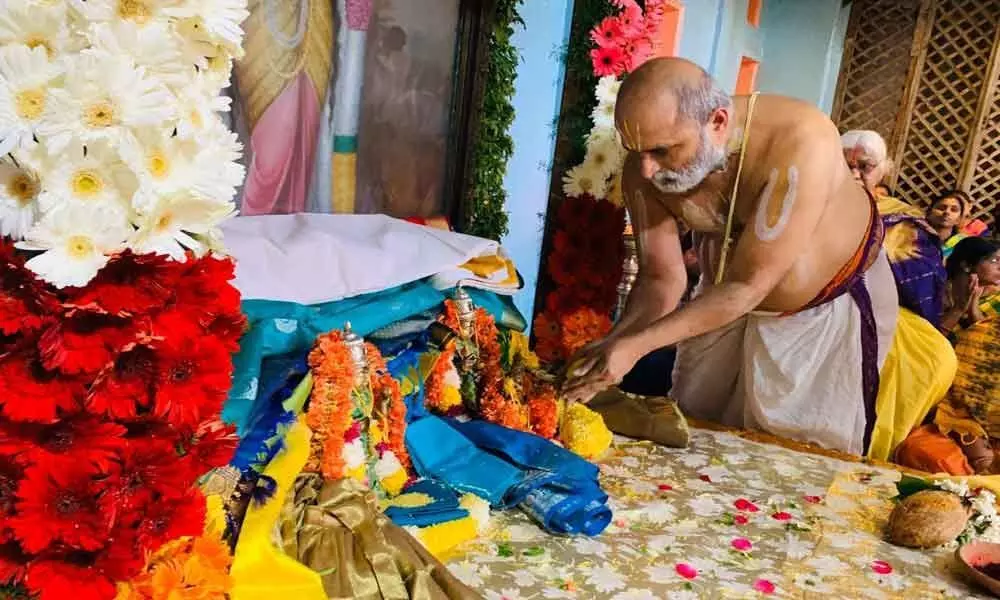 Highlights
Godadevi Kalyanam was conducted at Balaji temple here on Tuesday. It is a tradition to perform the ceremony in all Vishnu temples on the day of
Chilkur: Godadevi Kalyanam was conducted at Balaji temple here on Tuesday. It is a tradition to perform the ceremony in all Vishnu temples on the day of Bhogi. Chief priest Rangarajan performed the ritual. Devotees attended it in large numbers. They had a glimpse of the celestial wedding of Godadevi and Ranganatha Swamy.
Though Godadevi is consort of Lord Ranganatha, the Vaisnava Sampradaya allowed her to become consort of all Vishnu Avataras by considering her as avatar of Bhu Mata. So, the daughter of the Vishnuchitta Alvar also becomes an additional consort of Balaji Venkateswara Swamy. This same tradition is followed in all Vishnu temples such as Lord Rama, Krishna, and Venkateswara etc. As such, Chilkur temple also follows the same Sampradaya (tradition).
Subscribed Failed...
Subscribed Successfully...