Farmer bodies stage protest against Regional Comprehensive Economic Partnership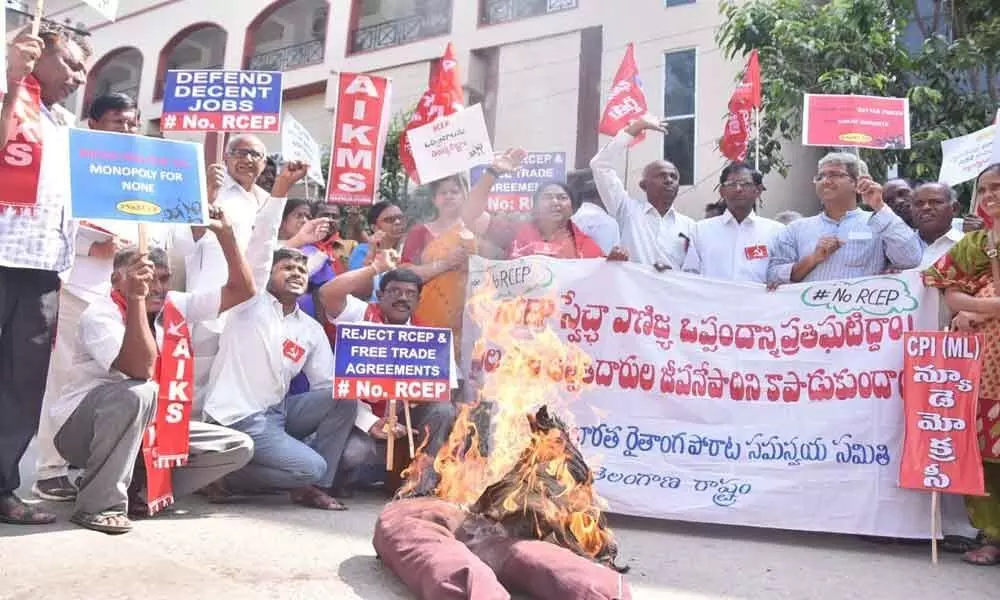 Highlights
Farm sector and, in turn, economy, would suffer as imports will flood India
Bagh Lingampally: All India Kisan Sangharsh coordination committee (AIKSCC) staged protest, demanding that the central government not to sign the RCEP near Sundaraiah Vignana Kendram on Monday. India should first address various structural issues and reforms, and become globally competitive so it can withstand the adverse effects of such multilateral trade pacts, they said.
The Regional Comprehensive Economic Partnership (RCEP) is a proposed free trade agreement (FTA) between the ten member states of the Association of Southeast Asian Nations (ASEAN) (Brunei, Cambodia, Indonesia, Laos, Malaysia, Myanmar, the Philippines, Singapore, Thailand, Vietnam) and its six FTA partners (China, Japan, India, South Korea, Australia and New Zealand).
AIKSCC activists also burnt an effigy of central government protesting against the proposed move to sign the agreement. Later, speaking to media, the vice-president of Telangana Rythu Sangham, Nandyala Narsimha Reddy, expressed fears that the agreement, if entered into by India, would spell disaster for Indian farming, manufacturers and labour. The agreement would have an adverse impact on Indian economy, specifically agriculture sector.
Dairy industry, farming sector, fisheries, and textile sectors would suffer as imports of cheaper products would increase as a result of the agreement, he said. Citing the cheaper milk prices in various signatory countries, he said that the government may have to reduce taxes on milk, as a result prices of milk would plummet, impacting dairy farmers adversely. Considering trade imbalances with RCEP countries, India may not benefit with the agreement and would not create additional employment opportunities, he opined.
National president of Kisan Mazdoor Sangh VemulapalliVenkatramaiah said that India had been suffering from economic recession due to trade imbalances. He demanded that the central government not sign the agreement. Secretary of Telangana Rythu Sangham P Padma asked PM Modi to reveal the details of the agreement to farmers and hold consultations with farmers before signing the agreement.
Telangana Rythu Sangham leaders P Janga Reddy, Madhineni Lakshmi, Sanjeeva Reddy and M Shobhan, Rythu Swaraj Vedika leaders Evuri Brahmam and Kondal Reddy, CITU leader P Bhaskar, KVPS leader Skylab Babu, AIKMS leader KG Ramchander, Dharmapal of Telangana Rythanga Samithi, AIKF leader Chandraiah, Shoban Naik, Venkatesh, Rahul and others participated in the protest.
Subscribed Failed...
Subscribed Successfully...