GHMC Election Results 2020: BJP eats into TRS voter bases, wins 48 seats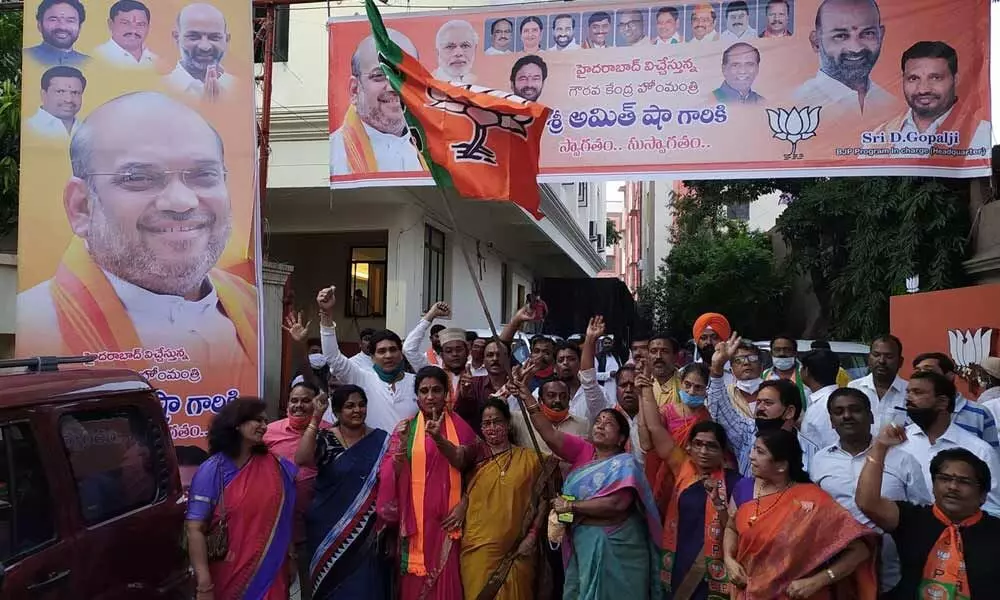 Highlights
Spreads its wings in 19 out of 30 municipal circles
Wins five municipal divisions each in Goshamahal and Musheerabad
Hyderabad: The lotus party is on cloud 9 with its candidates winning in 48 municipal divisions in the Greater Hyderabad Municipal Corporation (GMC).
Of the 30 circles with 150 municipal wards, the BJP has stepped up winning seats across the Assembly constituencies in 19 Municipal Circles. In almost all the wards the BJP has to eat into the ruling TRS vote banks not only it has improved its seat tally but also the vote share.
The BJP which has four seats in the current GHMC council has lost two seats in Langer House and Ghansi Bazar. The saffron party made a dent into the TRS wards in Saroornagar, Goshamahal, Musheerabad winning 5 municipal wards from each circle. Besides, the party has also defeated the ruling TRS candidates in Hayatnagar, LB Nagar and Amberpet circles winning 4 municipal wards in each of the three circles. That apart, the BJP candidates have won Malamket, Uppal, Santhoshngar and Begumpet winning two municipal wards in each of the municipal divisions.
Also, the party has won three municipal divisions in each of the Rajenderanagar and Malkajgiri circles.
One each of the BJP candidates have won from Mehadipatnam, Karwan, Khairatabad, Jubilee Hills, Serilingampally, Moosapet, Qutubullapur circles.