GHMC Polls: Left win will make GHMC Council people's body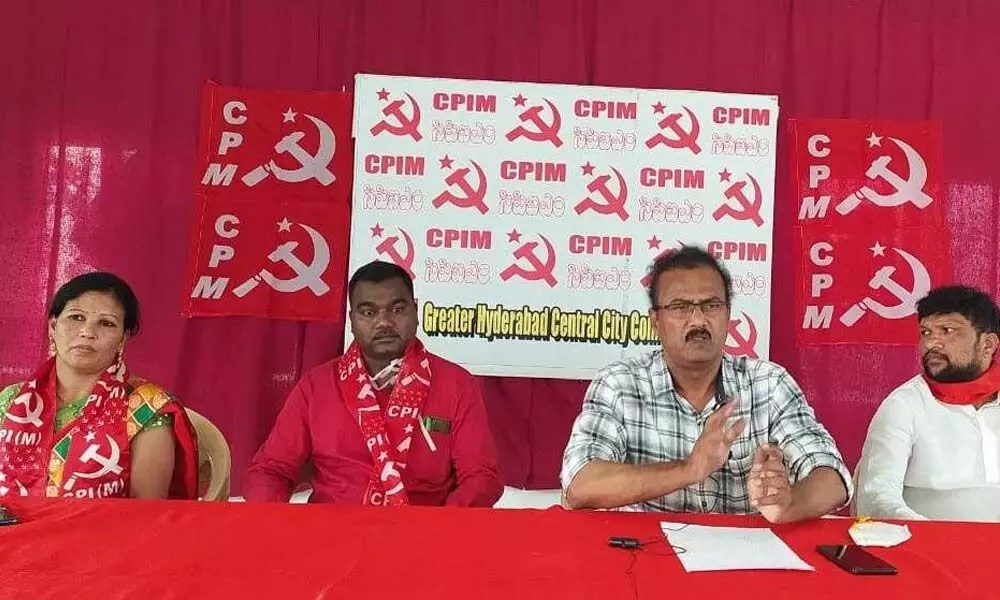 Highlights
City CPM secretary M Srinivas wants communal forces defeated
He flays that they are least bothered about public issues, development
Dubs KTR's report on taking up works worth over `67,000 cr full of lies
Hyderabad: The CPI(M) City Committee on Sunday claimed that the GHMC council has become only a 'namesake' organisation and that victory of the Left parties would make it a 'people's body'. Addressing a press conference, city secretary M Srinivas, while calling for win of the CPI(M) and CPI candidates in the GHMC elections, asserted that communal forces should be shown the door for not ensuring city's development. Referring to the BJP posers whether the citizens want mayor of MIM or BJP, he described the two parties as 'irrelevant' ('chellani nanalu'), which should be defeated. Srinivas criticised both TRS and BJP for claiming to make Hyderabad a world class and 100 per cent smart city respectively. He pointed out that the TRS failed to achieve its aim. He hit out at the Central government for not rendering 'minimum' assistance for flood-hit Hyderabad.

The CPI(M) leader also slammed the BJP leadership for trying to flame communal discord in a peaceful city by resorting to 'senseless talk. Hence the party's aim to achieve success in the elections should be rejected', he said.
Referring to minister KTR's report on taking up development works worth over Rs.67,000 crore, Srinivas described it as full of lies, 'as not even half of the amount has been spent'. He said the report had shown the HMRL expenditure as Rs 17,000 crore, whereas only Rs.3,000 crore was spent. Similarly, not more than Rs.4,000 crore was expended on water and sewerage projects, while the amount shown was Rs 14,000 crore.
On 2 BHK houses, the CPI (M) leader stated that as against the claim of spending Rs.9,700 crore Rs 6,000 crore was incurred as expenditure. 'Only 2,000 houses have been allotted of the promised one lakh'. Referring to the expenditure on roads and sewerage projects of over Rs 14,000 crore, he said 'not more than half of the amount was spent'.
Party candidates M Dasarath (Ramnagar), Y Varalakshmi (Bagh Amberpet) and J Swamy (Rahmatnagar) were present at the press meet.
Subscribed Failed...
Subscribed Successfully...