Hyderabad: Large varieties of dates flood city markets ahead of Ramzan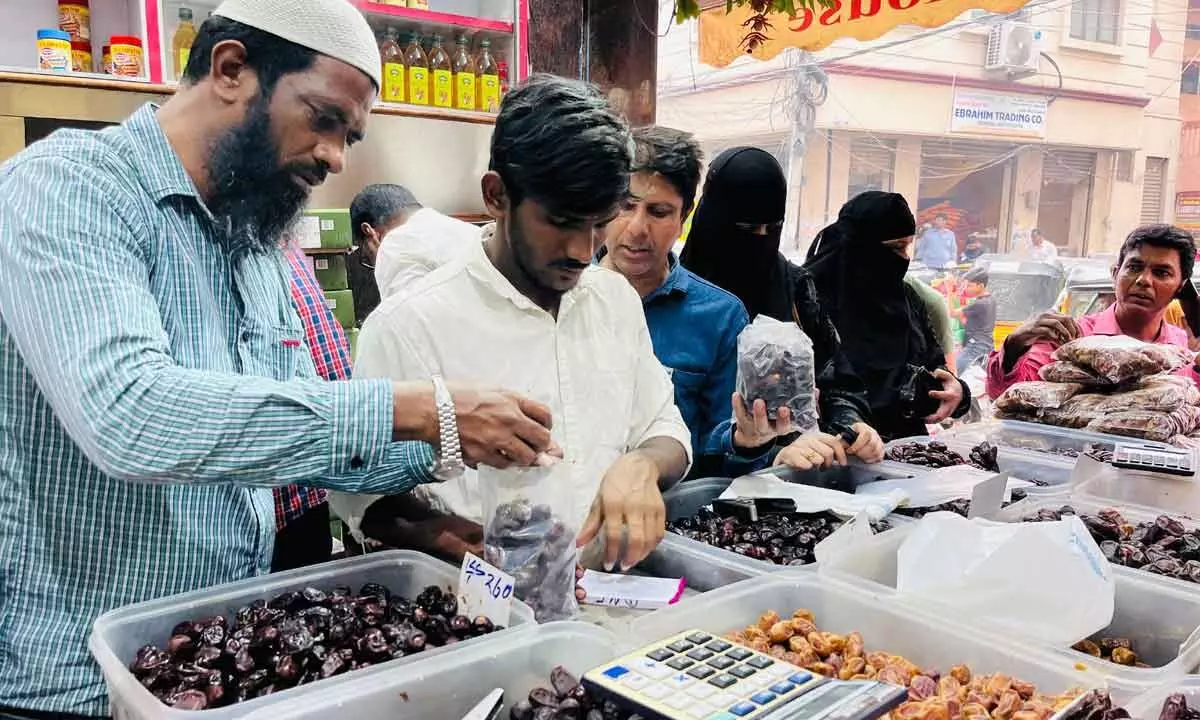 Highlights
Muslims end their Roza (fast) and do their Iftar by consuming Khajur
Hyderabad being one of the biggest markets for dates in the country, Muslims are seen buying Khajur in huge quantities imported from Iran, Iraq (Zahidi dates)
Few are also buying dates imported from other middle east countries namely Kimia, Shukkuri, KupKup, Khudri, Mariyum, Kalmi, Mashrooq among others
Hyderabad: The most important and significant item for the Muslims to end their Roza (day long fast) and do their Iftar- Khajur (dates) has been flooding in the city markets. Hyderabad being one of the biggest markets for dates in the country, Muslims are seen buying Khajur in huge quantities imported from Iran, Iraq (Zahidi dates). Few are also buying dates imported from other middle east countries namely Kimia, Shukkuri, KupKup, Khudri, Mariyum, Kalmi, Mashrooq among others.

As the holy month of Ramzan is to begin from Friday, Muslimsare seen buying huge quantities of dates. The city gets around 400 trucks of dates from various seaports namely Mumbai and Chennai. This dry fruit is mainly imported from Iran, Tunisia, Saudi Arabia, Algeria, Iraq, and few other countries.
According to traders, the sale of Khajur has already started, as retailers and customers started procuring dates. Zahidi dates imported from Iran and Iraq are usually cheaper as compared to the other varieties and are in huge demand. They cost around Rs 200 to Rs 400 per kg.
"Depending on their spending capacity, the customers prefer buying premium dates which mainly comes from Tunisia, Jordan and Saudi Arabia.
While some of the varieties like Ajwa, known to be the king of dates, are sold at premium prices of Rs 2,000 kg and above in the market. It is believed to have medicinal value too," said Raj Kumar Tandon of Kashmir House in Begum Bazar.
Earlier only two or three varieties were available in the market and now there are nearly 40 varieties of dates that can be found. The most famous variety of dates sold in the City are Kimia, Shukkuri, KupKup, Khudri, Mariyum. Slowly people are preferring other varieties and asking for Mazafati, Kalmi, Mashrooq, Maghroom among others," he added. Dates filled with some dry fruits like almond, nuts, apricots etc. are also sold in demand."
The businessman said that there was no noticeable change in the prices of the dates.
"Demand for dates is high during Ramzan, as customers buy in huge quantities during the holy month. Each family consumes at least 7-8 kg of dates in a month," said Jameel, another trader at Begum Bazar.
Dates are considered to be an important dry fruit, as traditionally the devout Muslims break the fast by consuming it, while other fruits or eatables are consumed later.
Dates are also one of the important ingredients of Sheer Khorma, which is relished as a dessert on the day of Eid-ul-Fitr, the last day of Ramzan.
It is observed that vendors and pushcart sellers are selling dates at high prices, making huge profits by charging more around Rs 80-120 a kg and selling each box of 500 gm of Kimia dates at Rs 250-280.