Hyderabad: TSRTC Occupancy Ratio Yet To Pick Up In City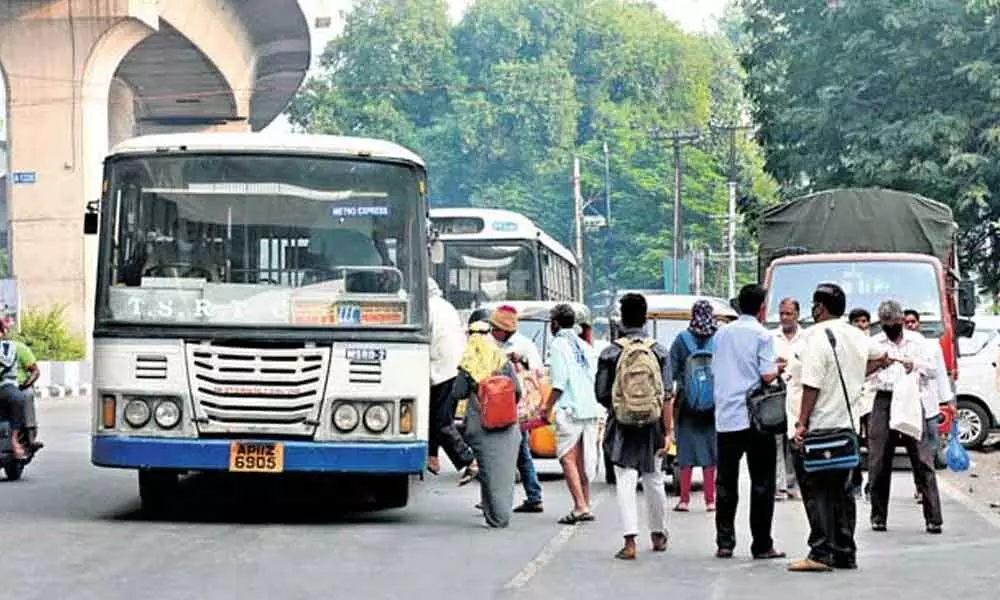 Highlights
Revenues close to `1.8 cr a day at 48% occupancy in city
Hyderabad: The occupancy ratio of passengers in RTC remains close to half when compared to normal days. With daily average of 48 per cent, the revenues stand at Rs 1.8 crore, when compared to about 80 % of occupancy and revenues of Rs 3 cr during pre-Covid days.
There has been a slight increase in the occupancy ratio of passengers on RTC buses after four months of resumption of public transport. Earlier, the daily average occupancy ratio on the city buses was between 70 to 80 per cent. Presently it is catching up but did not even cross 50 per cent by the end of the year.
According to TSRTC officials, the occupancy ratio which was 25 per cent went up to 48 per cent during November and December. One of the reasons is people remain apprehensive about taking public transport, while several are preferring private vehicles.
"The occupancy ratio has slightly increased. The regular passengers who were very much depended on public transport are taking buses, but some sections are still working from home, while others are simply opting for their personal transportation," said V Venkateshwarlu, executive director, TSRTC Greater Hyderabad Zone
Daily occupancy ratio has been fluctuating as the ratio is only 48 to 50 per cent for past one month. "As per state government order 50 percent of buses (1500) are being operated daily and earlier around 2800 buses were plying on the roads," he said. Buses are running to full capacity only during the office rush hours in the morning and in the evening when people return to their homes. For the remainder of the day, the buses are running nearly empty and also during the weekends.
The vehicles are being sanitised after every trip and at night before they are parked in the depots. "Sanitisation has become part of the maintenance and every depot is deployed with a motorized sanitization machine," an official informed, The Hans India.
"In spite of TSRTC officials claiming that all the safety measures are being taken, it has been witnessed that no safety measures are been taken. At the beginning when the buses operated they were taking care of sanitisation, but nothing is being done now," said V Aakash, a daily passenger.
"I'm daily traveling from buses after the bus service resumed. I have noticed that no safety measures are being taken. I was told that as soon the passengers board the bus, they would be given sanitisers to clean their hands but no such measures are taken," complained Monika Rao, a daily passenger of RTC bus.