Tirupati: Cop who carried elderly woman on back for 6 km receives accolades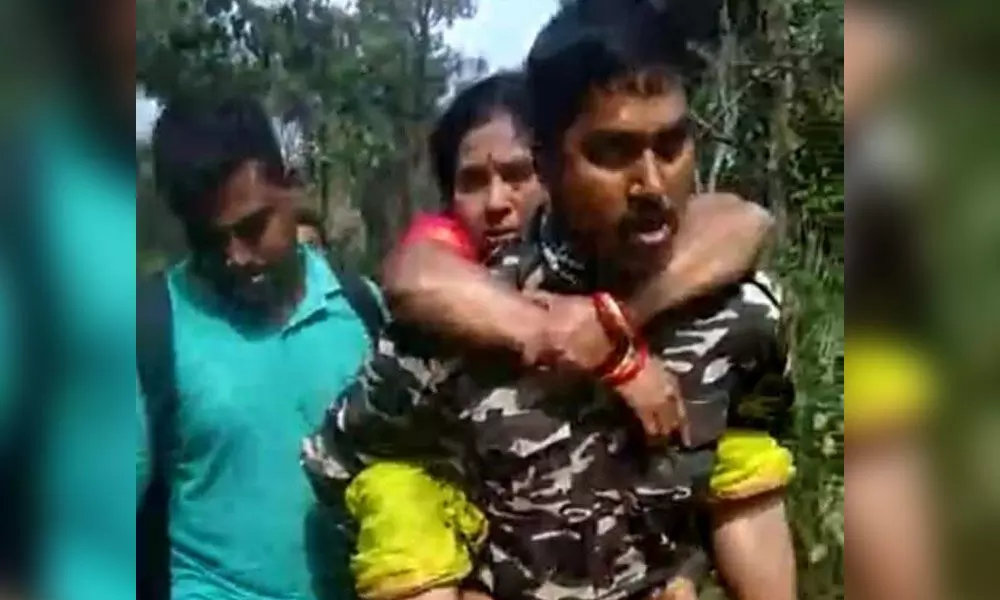 Highlights
TTD Chairman YV Subba Reddy appreciates his humane gesture
Nageswaramma from Nandaluru, who took part in the padayatra on the historic Annamaya Margam from Tallapaka, the abode of Lord Venkateswara through the dense forest of Seshachalam hills, fainted on December 23
Tirupati: AR constable Shaik Arshad who carried an old woman on his back after she fell sick in the deep forests for a distance of 6 kms to admit her in TTD hospital in Tirumala, received the accolades of many including TTD Chairman Y V Subba Reddy.
Subba Reddy on Sunday called on Arshad after coming to know about his humane act through media reports to command him for his laudable task he readily did to rescue the elderly woman and added that he would take Arshad's admirable service to government notice.
Arshad carried the woman Nageswaramma,58, from Nandaluru, who took part in the padayatra on the historic Annamaya Margam from Tallapaka (the birthplace of Annamaya to Tirumala, the abode of Lord Venkateswara through the dense forest of Seshachalam hills, fell sick on December 23 leading to Arshad spontaneously responding to the rescue of the woman by carrying her to Tirumala through the treacherous forest route unmindful of the risk and burden he had to face, to admit her in the TTD Aswinini hospital for treatment.
YSRCP senior leader and former MLA Akepati Amarnath since 20 years conducting the padayatra every year through this route.
People from Kadapa district side used to reach Tirumala trekking through the route.
This year also he along with devotees, party activists and his followers took the padayatra through this way to reach Tirumala for offering prayers and also reiterate his demand for the development of the old forest route so as to bring it to limelight by making it usable for the devotees to go to Tirumala through the picturesque path.
A batch of AR personnel including Arshad was deputed for the pada yatris security as the travel on the path is vulnerable due to difficult terrain, dense forest and wild animals' presence.
Arshad who was elated at TTD chairman hailing his act, said that his gesture was only to serve God by serving his devotees.
Meanwhile, TTD Chairman directed the concerned official to take up strengthening medical facilities at the two pedestrian paths Srivarimettu and Alipiri footpaths in the light of the recent incident
of senior officer Sridhar, MD of Genco suffering heart attack while trekking the hills through Alipiri footpath and got admitted in SVIMS down the hills, for timely required medical aid to the pilgrims.