Tirupati: Goddess Padmavathi rides on Teru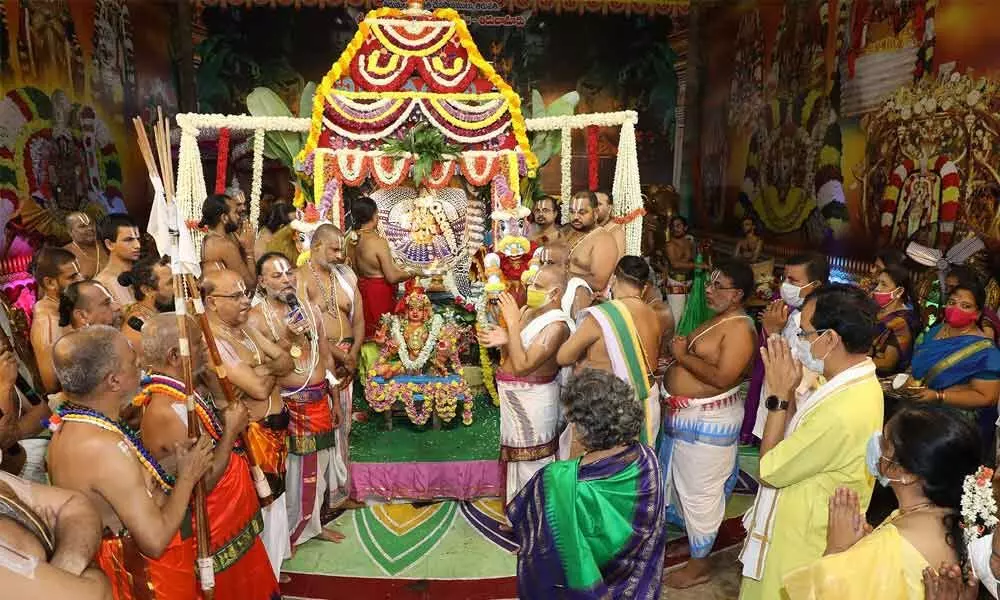 Highlights
On the penultimate day of annual Karthika Brahmotsavams at Tiruchanoor near here on Wednesday, Goddess Sri Padmavathi Devi blessed devotees in her Nijaswarupa as Padmavathi Devi atop flower-decked Ratham (small wooden chariot)
Tirupati: On the penultimate day of annual Karthika Brahmotsavams at Tiruchanoor near here on Wednesday, Goddess Sri Padmavathi Devi blessed devotees in her Nijaswarupa as Padmavathi Devi atop flower-decked Ratham (small wooden chariot).
In view of Covid, in the place of Maha Ratham (wooden chariot), the Ratham was used. The Goddess draped in Muttangi Alankaram was seated on Brahma Teru (the small wooden chariot which usually leads the procession during Brahmotsava Vahana Sevas).
Later in the evening, Aswa Vahana Seva was held. The Goddess atop the Vahanam blessed the devotees.
The nine-day religious fete will come to an end with Chakrasnanam which will also be observed in Ekantham on Thursday. Both the senior and junior Jeeyar Swamijis of Tirumala, TTD Trust Board Ex-officio Dr C Bhaskar Reddy, TTD JEO P Basanth Kumar, CE Ramesh Reddy, Dy EO Jhansi Rani, Additional Health Officer Dr Sunil Kumar and others were present.