TTD introduced UPI payments to ensure more transparency: EO AV Dharma Reddy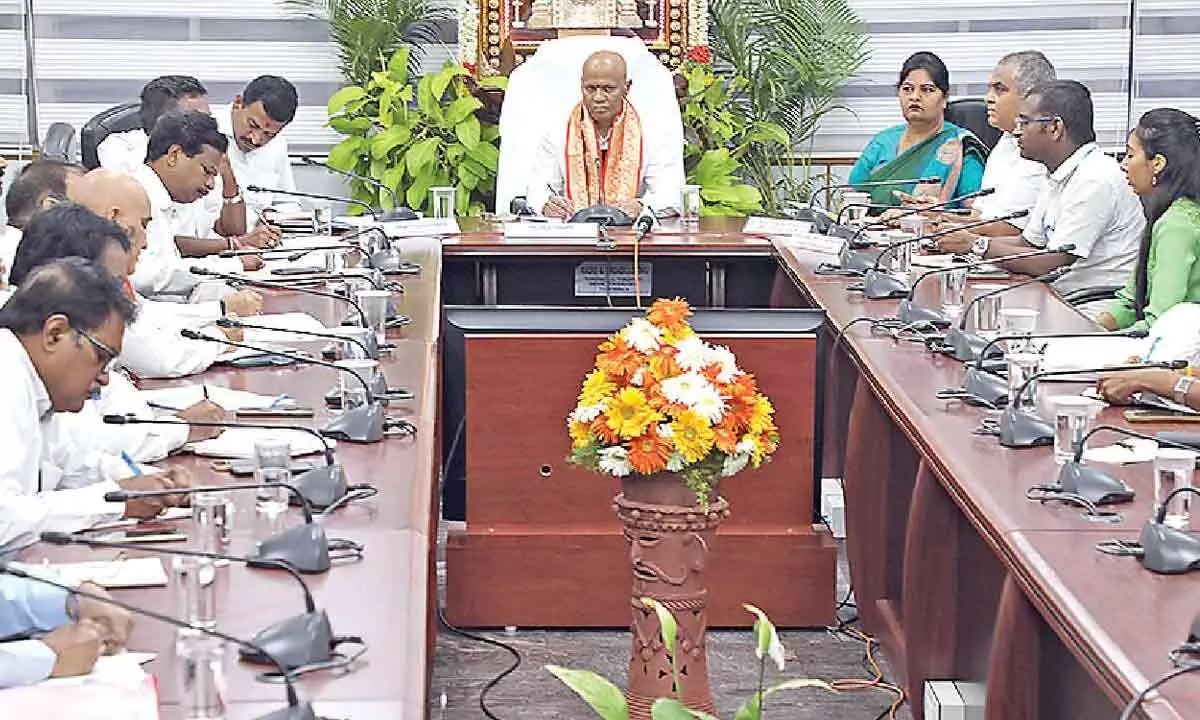 Highlights
Dharma Reddy says even the government of India is also encouraging cashless transactions
Says it is the duty of every devotee of Srivaru to adhere to TTD norms to protect the sanctity of Tirumala and avoid carrying the prohibited items during their visit to Tirumala
Tirumala: TTD Executive Officer AV Dharma Reddy said that TTD introduced the UPI payments to ensure more transparency in transactions and to prevent any irregularities in making payments to the pilgrims.
Speaking at 'Dial Your EO' programme held at Annamayya Bhavan in Tirumala on Sunday, the EO said that even the government of India was also encouraging cashless transactions.
When a pilgrim caller Sadasivudu from Warangal sought the EO to consider cash payments instead of UPI for the convenience of rural devotees, the EO gave this reply.
In the monthly programme, the EO received calls from 18 pilgrims on various issues related to TTD.
A pilgrim Haribabu suggested the EO to enhance vigil as many prohibited items like cigarette packets and pan were seen in toilets during his last visit, the EO replied, "We will definitely enhance the vigil. But it is also the duty of every devotee of Srivaru to adhere to TTD norms to protect the sanctity of Tirumala and avoid carrying the prohibited items during their visit to Tirumala."
When a devotee Rajeswari from Proddutur sought the EO to issue Divya Darshan tokens at Galigopuram, the EO said it may result in stampede due to convergence of a large number of devotees.
When a caller Madhu from Hyderabad, suggested the EO to have a separate WhatsApp number for raising authentic complaints, the EO replied that it is already exists besides the Call Centre. Namala Swamy from Kakinada asked the EO to release the online quota for Srivari Seva vacancies or cancellation, to which EO answered him the suggestion will be looked into. The EO also gave a call to the youth to form a group to offer services in Tirumala shrine during the summer vacation to tackle pilgrim rush which is unprecedented this time.
Another caller Dinesh from Vijayawada brought to the notice of EO that the maintenance of Ashtavinayaka Rest House needs to be improved, EO said already action has been initiated which will be implemented in a few days.
Raja Rao of Nandyal suggested the EO of a separate door besides Vendi Vakili to avoid pilgrim congestion, the EO said this has been a challenge for all the administrators since several decades as it involves Agama. "For any change to be brought in the temple complex,
it needs the approval of Agama Advisors, Pontiffs otherwise it invites serious criticisms. Even our predecessors have also tried in vain as it is a very sensitive issue," he asserted.
Pridhviraj, a devotee from Karimnagar, requested to increase free buses in Tirumala, the EO assured to consider it.