Rains make reservoirs brim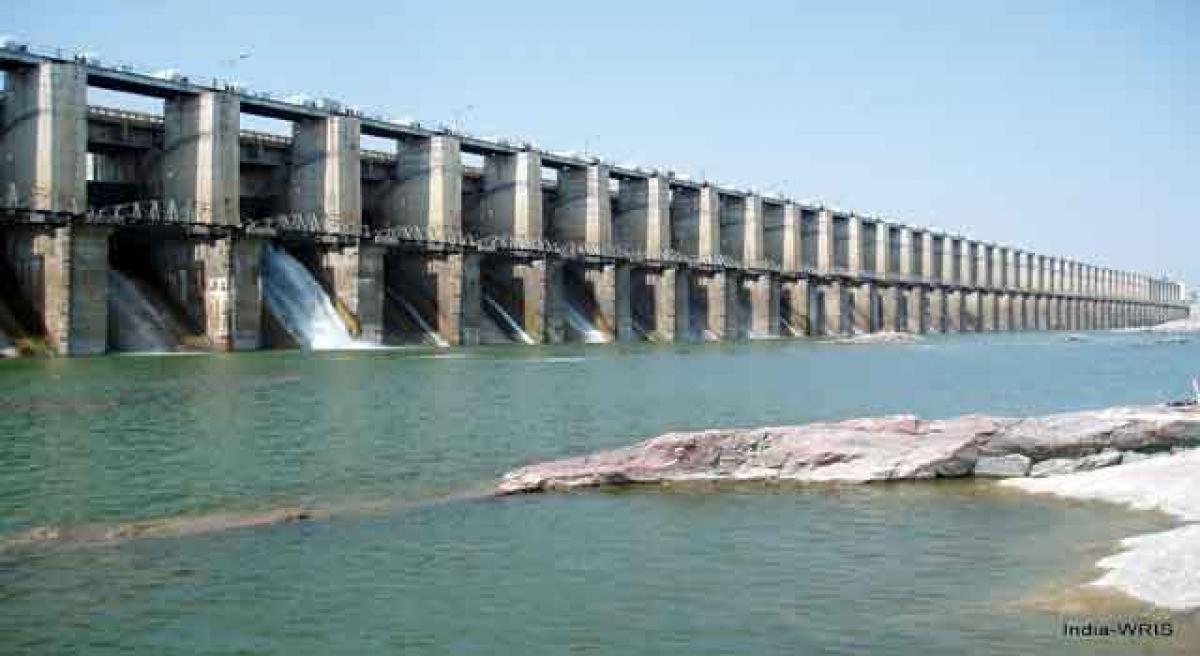 Highlights
Major rivers in both the Telugu-speaking states, Telangana and Andhra Pradesh are receiving encouraging inflows following recent incessant rains.
​Hyderabad: Major rivers in both the Telugu-speaking states, Telangana and Andhra Pradesh are receiving encouraging inflows following recent incessant rains.
The water levels are going up steadily in the reservoirs in Krishna and Godavari basins in both the states. Seven days ago, the inflows in most of the reservoirs was registered as zero.
Srisailam reservoir is receiving 4000 cusecs every day. If the inflow continues to be good then it would become possible to release water into Nagarjunasagar dam and other projects in Telangana and AP for agricultural needs.
The reservoirs which received zero inflows in Krishna basin are Nagarjunasagar, medium level Owk and Ujjaini reservoir. Under Godavari delta system, Kaddem, Sripada Yellampally and Sriram Sagar project received 1,414, 453 and 4,386 cusecs of water respectively.
According to official sources, Jurala reservoir in Mahbubnagar in Telangana started receiving good inflows for the last five days as the upper riparian state Karnataka and all the catchment areas near reservoir received above normal rains. On Saturday alone, the inflows into the project were registered at 683 cusecs. The highest inflows 940 cusecs of water were registered on Tuesday.
The increasing water levels in Jurala would help to release water to the other projects under Krishna river in Mahbubnagar district - Kalwakruthi, Nettempadu and Bheema and also meet drinking water needs in the dryland areas.
The inflows would help to fill the other reservoirs and dams constructed under medium irrigation projects in Telangana. The officials said that the Irrigation Department has already been asked for the optimum utilization of the outflows from the reservoirs by filling tanks and other water bodies.
Inflows at Lower Manair dam, Nizamsagar and Singur under Godavari delta system were zero. Inflows into Pulichintala project were registered at 320 cusecs of water which would help to provide required irrigation water in AP districts. It is expected that the inflows would increase further in the next two weeks as the catchment areas are receiving good rain.
Rainwater was also gushing into the Tungabhadra dam which received 17,444 cusecs of water. Officials said that the increasing flows into the Tungabhadra would help to divert more water to Krishna in the coming days. The other projects in Andhra Pradesh were receiving good amounts of inflows due to heavy rains in the state. Vamsadhara is getting 1,970 cusecs of water.
Thotapally reservoir got 1,948 cusecs of water and Yeleru 333 cusecs. The medium irrigation projects - Kandaleru, Mylavaram, Somasila, Gundlakamma and Veligodu balancing reservoirs have not received any inflows. Officials are hopeful that all the water reservoirs would be filled as the monsoons are active in many parts of Andhra Pradesh.
By: Patan Afzal Babu
Interested in blogging for thehansindia.com? We will be happy to have you on board as a blogger.