Why Kashmir? Apples are grown in Vizag!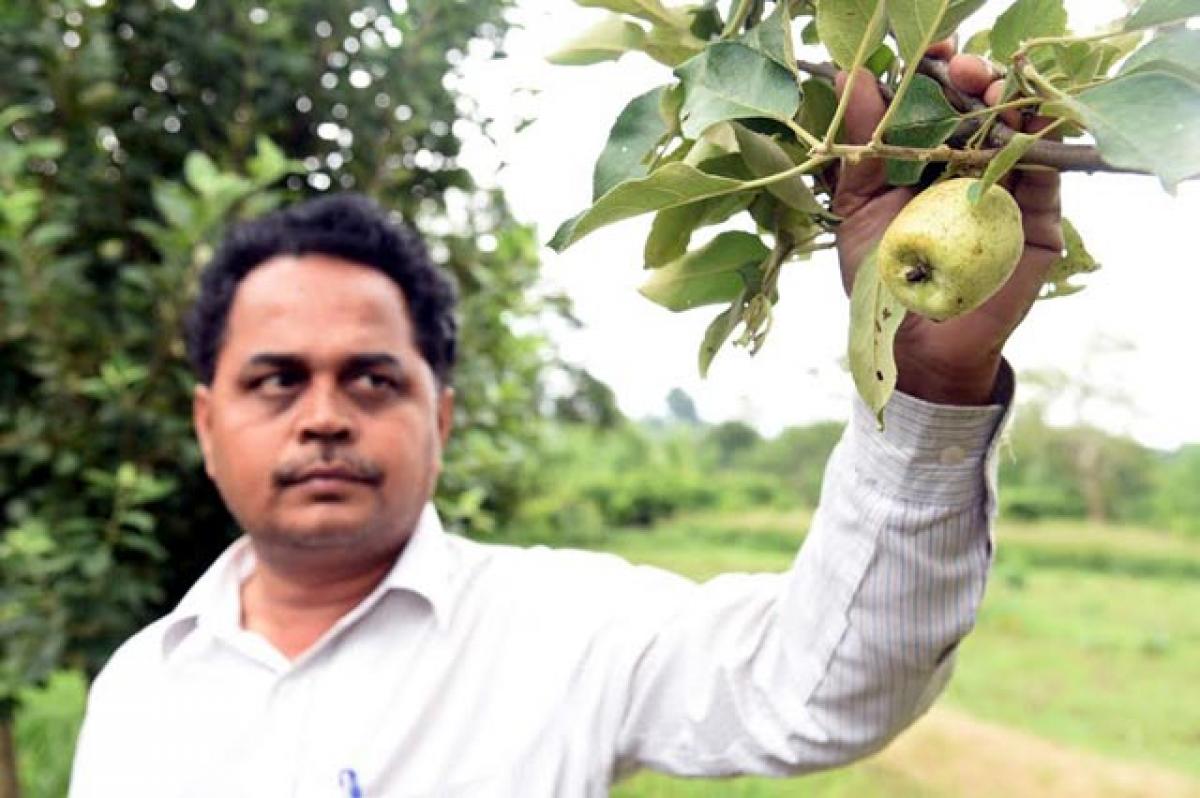 Highlights
Now one need not go all the way to Shimla or Kashmir to see the orchards where the world's best apples are grown.
Mass production by 2020
Visakhapatnam: Now one need not go all the way to Shimla or Kashmir to see the orchards where the world's best apples are grown. Chintapalle-based Regional Agricultural Research Station with the help of the Centre for Cellular and Molecular Biology has proved that the apples can be grown on the slopes of Eastern Ghats in Chintapalle, about 100 km from Vizag city.
Taking a cue from a farmer, who started yielding positive results after seven years of efforts, CCMB scientists procured 60 saplings of three varieties from Shimla Anna, Michael and Selection and planted in Chintapalle in 2014. Scientists of the Regional Agriculture Research Station closely monitored the growth and now all the trees are bearing fruits; each tree yielding 30 to 35 fruits.
"We presume the project is successful and the horticulture department can go for mass production four years from now. The colour of the fruit is pink and very attractive and it tastes sweet,'' said senior scientist Dr B Umamaheswara Rao. Dr Rao told The Hans India that they had selected a place close to thick forest where the minimum temperature hovers between 3 degress Celsius to 6 degress Celsius in winter.
Each tree has a life span of 40 years and starts flowering soon after the winter from February to March. The fruits will be ready for harvesting by June, he added. Now efforts are on to identify suitable places in all the 11 mandals where largescale saplings could be planted. The fruits can be directly marketed or sold in juice and pulp form for which the demand is high in the global markets. Harvesting would also enable good income for tribals on the lines of coffee and pepper, the scientist said.
Fully grown fruit bearing orchards would also be a major tourist attraction, he added. Efforts are also on for growing strawberries by private farmers in the Agency areas. Saplings were planted in some areas near Lambasinghi and the results are awaited. Local farmers hoped the government would step in a big way and provide financial support to help farmers to grow apples, strawberries, pepper, coffee, pineapple, turmeric, rajma, broccoli, ginger and carrot. "This can wean away farmers from growing ganja and take up these commercial crops,'' said sarpanch of Bodaralla S Suribabu.
By KMP Patnaik