Ratnam & Sons: Penning a legacy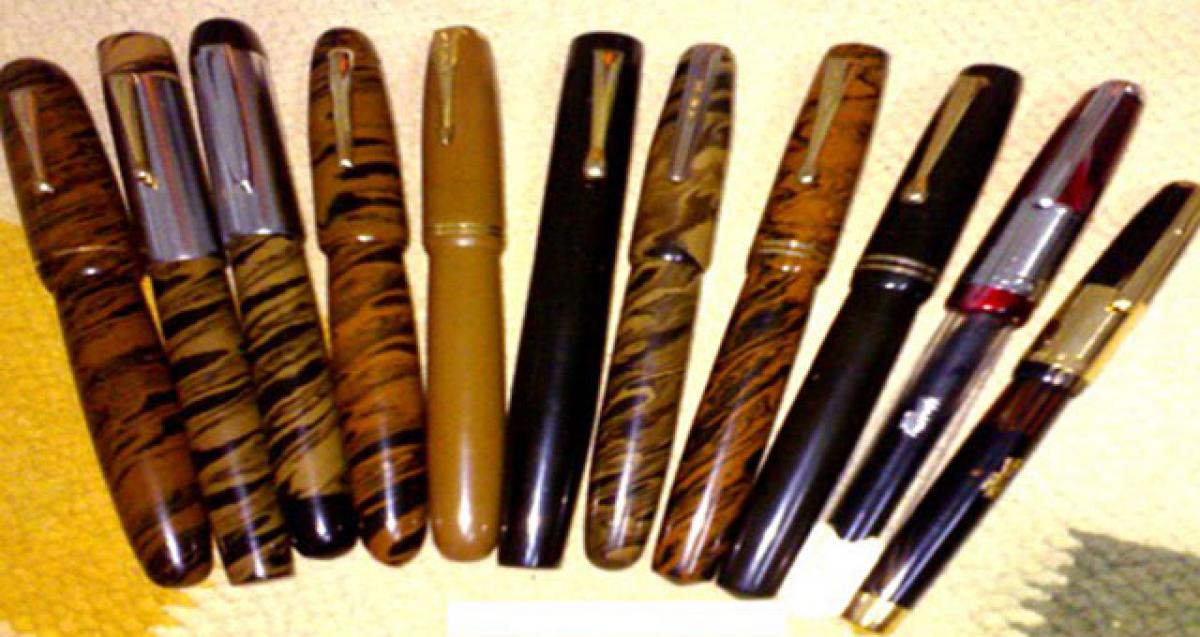 Highlights
We are speaking of Ratnam & Sons, an iconic firm that has created a unique identity for itself over the years. The genesis of the brand dates back to 1921 when Kosuri Venkata Ratnam met Gandhiji in 1921. 
Rajamahendravaram: A suggestion made by Mahatma Gandhi at Wardha in 1921 laid the foundation for a legacy, a legacy that is still thriving and has put the quaint town of Rajamahendravaram on the international map.
We are speaking of Ratnam & Sons, an iconic firm that has created a unique identity for itself over the years. The genesis of the brand dates back to 1921 when Kosuri Venkata Ratnam met Gandhiji in 1921.
Venkata Ratnam had presented the Mahatma with an art work and the latter advised Venkata Ramana to create something that would be useful and well within the reach of the common man.
That piece of advice was just the inspiration that Venkata Ratnam and his brother Satyanarayana needed to take up the manufacture of fountain pens under the name of 'Ratnam Pen Works' in 1932. In 1933, the first pen was sent to Gandhiji who however declined to accept it as foreign material was used in its preparation.
A chastened Venkata Ratnam set to work again. A year later, secretary of All India Village Industries Association JC Kumarappa came to Rajahmundry and Ratnam handed over the first 'Swadeshi' pen to Kumarappa to be given to Gandhiji.
Kumarappa gave the pen to Gandhiji on July 16, 1935 who was delighted with it and immediately wrote to Venkata Ratnam saying, "Dear Ratnam, I must thank you for the fountain pen you sent me... I have needed it and seems to be a good substitute to the foreign pen, one sees in the bazaar."
Justice M Krishnamacharya, a local sub-judge was habituated to a foreign pen. However, the nib of his pen used to break frequently as the judge's hands used to shake violently because of a disorder while using it. Someone advised him to give his pen to Venkata Ratnam and the judge reluctantly did so as he was not convinced of the ability of Venkata Ratnam.
Ratnam not only repaired the pen but also made suitable adjustments to the nib to prevent any damage to it because of the doctor's disorder. Needless to say, Krishnamacharya became a huge fan of Venkata Ratnam. Pens made by Venkata Ratnam subsequently came to be known as Ratnamsons or Swadeshi pens.
Presidents and Prime Ministers of India including Dr Babu Rajendra Prasad, Dr Sarvepalli Radhakrishnan, Dr Sarvepalli Radhakrishna, Fhakruddin Ali Ahmed, Zakir Hussain, VV Giri, Neelam Sanjeeva Reddy, Dr Shankar Dayal Sharma, Pandit Jawaharlal Nehru, Indira Gandhi, Rajiv Gandhi and Gulzarilal Nanda were all in possession of a Ratnamson.
Other esteemed users of a Ratnamson include US President Eisenhower, German Chancellors Arbhalnon and Thomson and former Russian Head of State Khrushchev, Maharajas of Mysore, Jaipur, Rewa, Pithapuram, Vizianagaram, 'Indian Express' founder Ramnath Goenka, 'The Hindu' founder Nyapati Subba Rao Panthulu and other great personalities like Acharya Vinobha Bhave, Atal Bihari Vajpayee, Narendra Modi and Sushma Swaraj.
Ratnam & Sons is now spearheaded by KV Ramana Murthy, son of Venkata Ratnam. Ramana Murthy has the distinction of making the world's largest as well as smallest fountain pen.
He presented the largest fountain pen (length-24 inches) to the then Speaker of Andhra Pradesh Assembly Suresh Reddy when the latter was leaving for a Commonwealth Parliamentary Association symposium. The smallest pen made by Ramana Murthy is 4.2 cm in length and weighs 14 grams with a 14-carat gold nib, clip and ring.
Having already secured a place in the India Book of Records, Everest Records and Miracle Book of World Records, Ramana Murthy is now eyeing a Guinness. Speaking to The Hans India, Ramana Murthy said that he got the opportunity to travel with the first President of India Dr Babu Rajendra Prasad and to meet eminent personalities like Pandit Jawaharlal Nehru, Neelam Sanjeeva Reddy, VV Giri, Bezawada Gopal Reddy and the Maharajas of Banaras and Jaipur because of Ratnam pen. "The price of the pens range from Rs 150 to Rs 2 lakh.
The price of a pen with a steel nib ranges from Rs 150 to Rs 1,500. The price of a pen with a 14 carat nib ranges from Rs 2,500 to Rs 15,000, the price of a silver pen with 14-carat nib ranges from Rs 25,000 to Rs 35,000 and a gold pen costs about Rs 2 lakh. All our pens are handmade and it takes two to three days to make a pen," said Ramana Murthy.