Old woman duped of gold chain at bank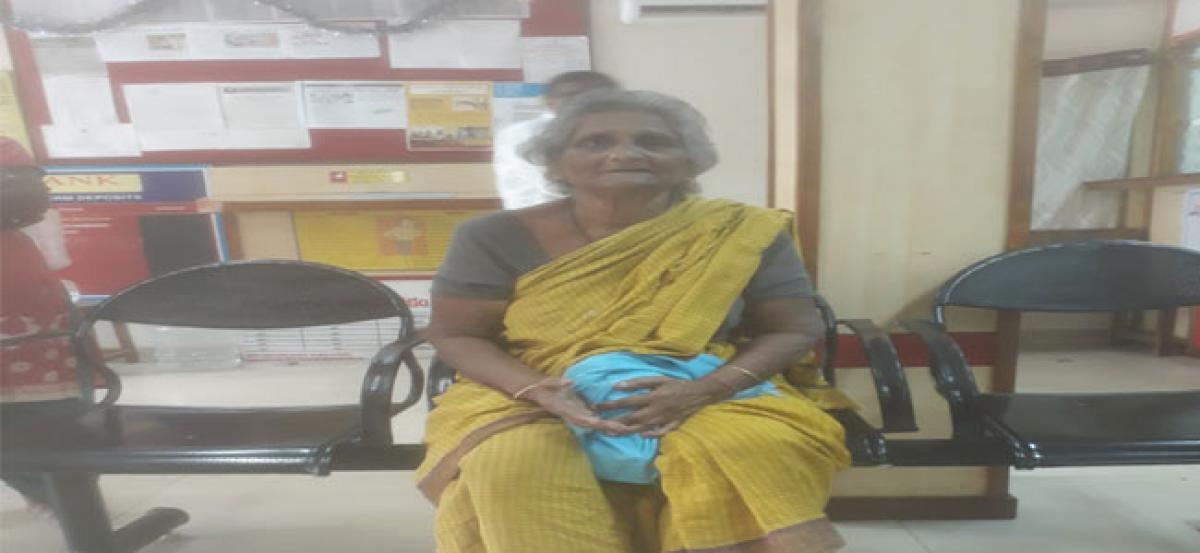 Highlights
An unknown miscreant cheated an old woman and decamped with 12 grams gold at a bank when she went to pledge it for a loan.According to police, Chilla Parvati (65) of Subrahmanyam Colony in Vangayagudem area went to Vijaya Bank in Canal Road to pledge a 12 gram gold chain on Friday. When she was waiting in the bank, an unknown person asked her why she came to the bank. He assured her that he will t
Eluru: An unknown miscreant cheated an old woman and decamped with 12 grams gold at a bank when she went to pledge it for a loan.According to police, Chilla Parvati (65) of Subrahmanyam Colony in Vangayagudem area went to Vijaya Bank in Canal Road to pledge a 12 gram gold chain on Friday. When she was waiting in the bank, an unknown person asked her why she came to the bank. He assured her that he will talk with the officials to sanction loans.
With this, the innocent woman gave him the 12 gram gold chain, and Aadhaar Card. The unknown miscreant asked the old woman to bring a xerox copy of Aadhaar Card . As Parvati went out, the miscreant fled away with the gold chain. On her return, she found that her chain was stolen by the miscreant. She immediately informed the matter to Corporator Madhu Radhababu and TDP leader Peddada Venkata Ramana.
The two went to the bank and complained to the bank officials. They also stated that if the bank officials show the cc camera footage, the victim can identify him. The bank officials showed the footage of CC camera and the victim identified the miscreant and informed the matter to the police. The police registered a case.