Fly ash impacts paddy output in Nellore district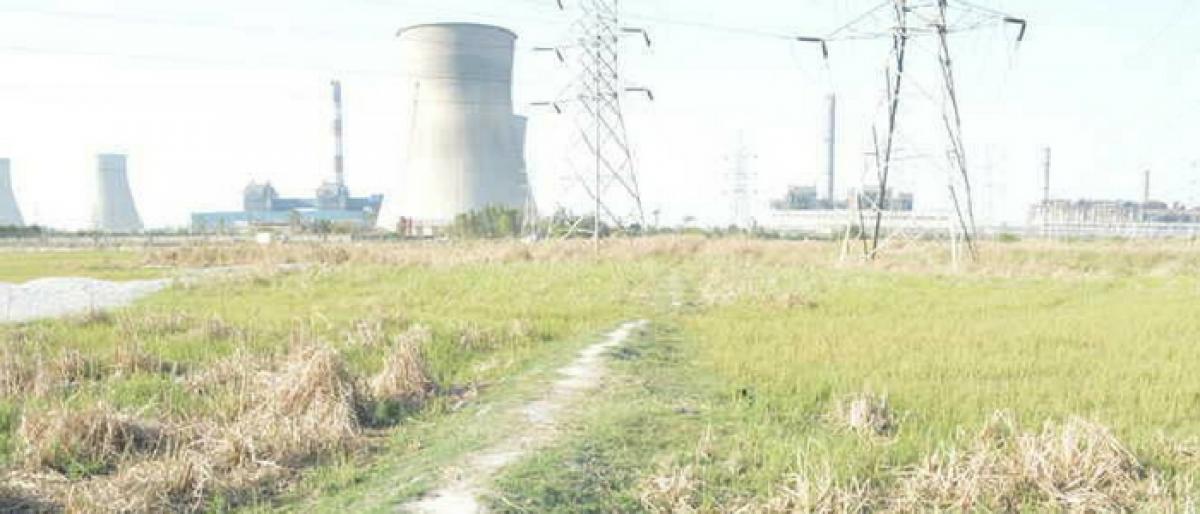 Highlights
It is official now. Fly ash, a regular waste from thermal plants, has been highly impacting crops in the coastal area as the scientists from Acharya NG Ranga Agricultural University have confirmed the ill effects of fly ash. Till now, there have been apprehensions about the possible influence of the fly ash, but, of late, agriculture scientists have clarified the doubts of the farmers about the ex
A team of scientists from Acharya NG Ranga Agricultural University who have conducted tests on the impact of fly ash on crops confirmed the same
​Nellore: It is official now. Fly ash, a regular waste from thermal plants, has been highly impacting crops in the coastal area as the scientists from Acharya NG Ranga Agricultural University have confirmed the ill effects of fly ash. Till now, there have been apprehensions about the possible influence of the fly ash, but, of late, agriculture scientists have clarified the doubts of the farmers about the existence of pollutants in fly ash.
The ash primarily contains oxides of silicon, aluminium, iron and calcium that have influence on growth of the crops. Magnesium, potassium, sodium, titanium, and sulphur are also present to a lesser degree, according to scientists.
Studies conducted by the agricultural scientists also revealed earlier on the effects of fly ash deposition without and with foliar dusting on the photosynthesis, stomatal conductance, transpiration, leaf temperature, albedo and productivity of rice. Panicle initiation and flowering stages were also influenced by the fly ash deposition as compared to active tillering stage.
At higher rates of fly ash deposition, all growth and yield parameters were significantly influenced due to increased heat load and reduced intercellular concentration of carbon dioxide. In Nellore, thermal plants are using both imported and domestic coal and they say imported coal that generate fly ash to some extent.
Principal Scientist & Head, Agriculture Research Station, Nellore, Dr P Rajasekhar informed that deposit of ash in Musunuruvaripalem area in Muthukur mandal interfered with photosynthesis activity and has been affecting the yield when they had conducted studies in April this year.
A team of scientists from the Centre visited some agriculture lands in Muthukur mandal and found adverse impact of fly ash on the paddy crop. Agricultural scientists Dr U Vineetha, Dr P Madhusudan, Dr I Paramasiva, ADA Maruthi Devi, and MAO Hari Karnakar Reddy were members of the team who visited the paddy fields where varieties such as MTU 1010, BPT 5204 and 555 are being grown on the basis of complaints lodged by the local farmers who have been facing discoloration of grain and ash on plants.
It may be recalled that rice bowl of Nellore has been finally turning into an ash bowl with the existing huge number of thermal plants in the coast that normally reduce quality of crops in the region.
Central Electricity Authority also announced earlier that the thermal plants in the state have failed to achieve the target of utilizing the waste up to mark when compared to many others across the country there would be hazard with these wastes if not properly treated. Nellore farmers in coastal mandals were facing difficulties with the regular release of wastes such as fly ash.
A retired agriculture official Rajendra Prasad said when the mercury is deposited on the land and gets into the water ecosystem it converts into the highly toxic organo-mercury compound, methyl mercury by anaerobic organisms. This toxicant enters the aquatic system, food chain, and finally ends up in the shellfish and seafood being consumed by human beings.
Medical experts say the contamination of mercury that is being deposited in the land would affect the brain, kidney, and lungs of human beings through entering food crops. Environmentalists suggest the fly ash can be used for cement, mine filling, bricks & tiles, reclamation of low lying area, ash dyke raising, roads and flyovers, agriculture, concrete, hydro power sector and others. But, it is not being done as suggested by the government.
"Thermal wastes are making lives of the local people in Muthukur, TP Gudur and Chillakur mandal miserable with continuous releases. People of more than 28 panchayats are facing sorrowful situation. Even though we had requested the district administration to take action on the incessant pollution, the appeals fell on deaf ears," said Ch Rajagopal, CPM district secretary, who gave a representation to the officials.