Naidu suggests iconic bridge over spill channel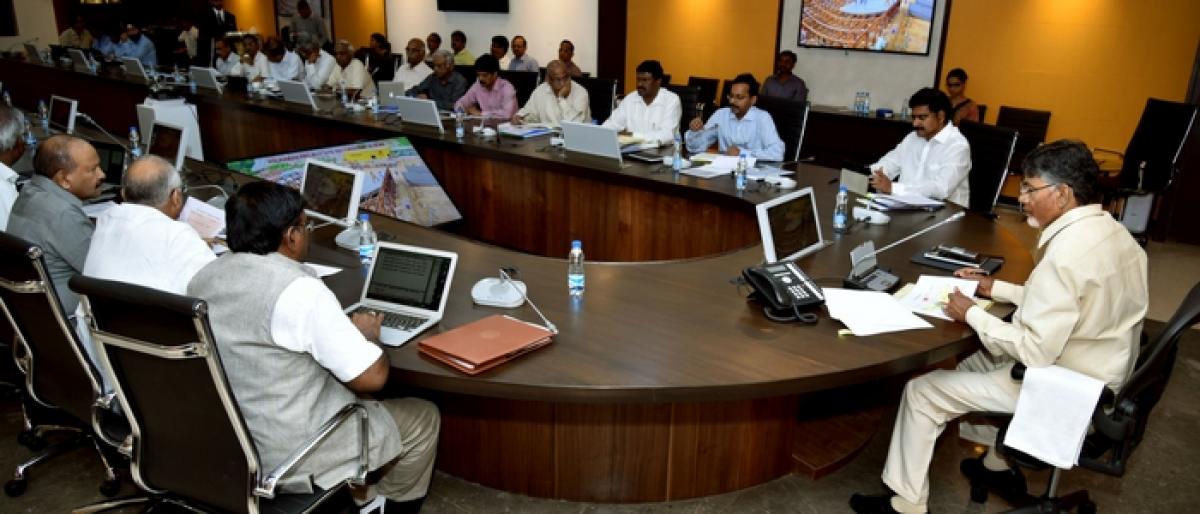 Highlights
Chief Minister N Chandrababu Naidu will inaugurate the Purushothapatnam Lift Irrigation Project on August 15.
​Amaravati: Chief Minister N Chandrababu Naidu will inaugurate the Purushothapatnam Lift Irrigation Project on August 15.
While reviewing the progress of all priority projects of the State, including Polavaram at Secretariat on Monday, the Chief Minister said that the Purushothapatnam Project will be inaugurated on August 15.
On being informed about a possible one-month delay in procuring the motors, Naidu requested BHEL, the official supplier, to avoid any delay and provide the motors on time.
Reviewing on Muchumarri Project, the Chief Minister asked the officials and project in-charge to work towards releasing water on August 1. The officials reported that one pump has been erected, and the remaining two pumps and motors will be fixed by July 29.
The review meeting began with a virtual inspection of Polavaram followed by a detailed examination of the updates submitted by the officials.
The officials told that this week, 3.22 lakh cubic metres of earth was excavated, and 15,629 cubic metres of concrete was laid for the spillway and stilling basin.
The proposal to construct a diaphragm wall, which was approved during the review meeting last week, has made some progress too, they said. The completed length of the diaphragm wall is 551.6 metres and the balance length to be completed during this season is 115.4 metres, officials said.
Italian firm Studio de Miranda Associati presented a design for a multi-span cable stayed bridge which will be completed in one year. This bridge is required to overpass the spill channel with minimum impact and flood control. The Italian firm specialises in building and designing bridges and presented their past work in many countries, including Bulgaria, Italy, Iraq and Brazil.
The Chief Minister suggested that the viewing decks should have spaces for restaurants or a more interesting interactive experience so that it attracts tourists. He asked the firm to provide more details of the design, and make the features more unique. Giving an example of reflecting the qualities of River Godavari, he said that by the first week of August, they must come up with more creative ideas to make this bridge iconic.
An official from SHAR gave the Chief Minister a detailed forecast of rainfall in the State. A dry spell has almost set in areas in and around Anantapur, and it will reach its peak on July 27. However, from July 28, light rainfall will return. Overall, until the first week of August, AP will undergo a dry week, unlike the last two weeks, the official said.
SHAR official also reported that 18 mandals in Anantapur are under stress, due to less rainfall. While some have enough mobile irrigation tanks and groundwater resources, some mandals are facing difficulties in accessing water. Officials were instructed to conduct field validation and take necessary steps to ensure that the villagers can access water easily.
The Chief Minister directed the officials to mobilise minor irrigation tanks and rain guns to provide water to at least 20,000 acres in the district. Minister Devineni Uma Maheswara Rao will visit Anantapur on Wednesday, he informed.
Interested in blogging for thehansindia.com? We will be happy to have you on board as a blogger.