Long road ahead for Jana Sena chief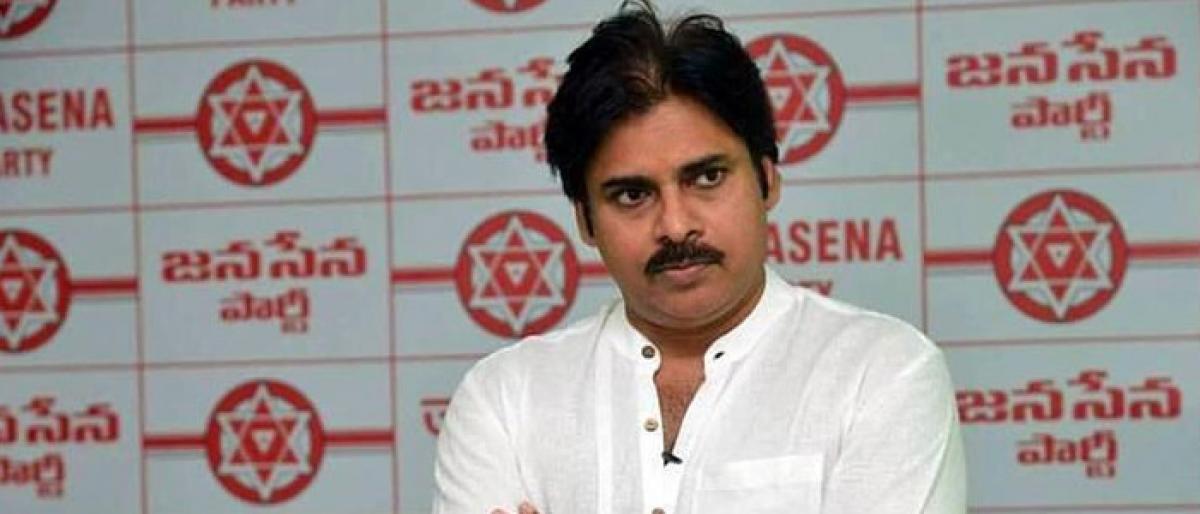 Highlights
Jana Sena Chief Pawan Kalyan\'s political fortunes in Andhra Pradesh, needless to say, would depend on to what extent he can establish his Special Category Status (SCS) credentials and whether he is prepared to be a full-time activist in public life or not.
Hyderabad: Jana Sena Chief Pawan Kalyan's political fortunes in Andhra Pradesh, needless to say, would depend on to what extent he can establish his Special Category Status (SCS) credentials and whether he is prepared to be a full-time activist in public life or not.
Even now it appears he is taking baby steps. The first such step was performing 'bhoomi puja' for his residence-cum-office at Kaza near Nagarjuna University on Monday, four years after formation of his party way back in 2014. Now his success in public life depends on how effectively he would be able to conduct himself in the mercurial politics, the state has come to be known for, with big players having hit the ground already, knives drawn.
Pawan Kalyan aides say he is a serious contender for power and that his journey from now on would be different from his earlier routine with rapier thrusts at the BJP and that he will be in the midst of the people and is sure to worm his way into their hearts. "He is dead serious about contesting the elections in 2019," one of his aides said, trying to dispel the impression that Pawan Kalyan would once again play a cameo role in AP politics and disappear as fast as Houdini if any film producer comes along.
Pawan Kalyan is entering the rough tumble of AP politics with SCS as his weapon, despite the fact that YS Jagan Mohan Reddy and Chandrababu Naidu lately are working overtime, trying to brainwash the people that they are saints and the BJP is the principal enemy to the interests of the state.

Now the third player is jumping into the fray. Though Pawan Kalyan began with a bang taking up the issue of "great betrayal" of the state by kicking up a lot of dust at a blockbuster public meeting in Tirupati in August 2016, two years after the last election in 2014 in which he had played a key role in helping the TDP come to power. At Tirupati, he announced that it was the beginning of his insurrection into AP. Then followed a public meeting in Kakinada and then a tour of Anantapur and subsequently, the momentum petered out.
After Union Finance Minister Arun Jaitley, a month later, announced that the Centre had decided to offer special assistance also known as package for AP, the Jana Sena chief reacted immediately and at a public meeting at Kakinada a couple of days later, rejected the offer describing as two rotten laddus and insisting that the state needed Special Category Status as promised by the then prime minister Manmohan Singh in Rajya Sabha when AP State Reorganisation Bill was being piloted in 2014.
At present the politics in the state are in a ferment with all the players making a vociferous demand for SCS. As SCS was the only handle that was available for Jagan Mohan Reddy to use to continue his mass contact programmes after he was pushed to Opposition benches, he kept demanding it mostly to embarrass Chief Minister N Chandrababu Naidu who had settled for a special package. Then came on the scene Pawan Kalyan after a long sabbatical - more than two years and cried hoarse over how the Centre had taken the state for a ride by denying SCS,
Then suddenly, the frequency of meetings became too rare and finally there was no word about Pawan Kalyan. If one had to know his whereabouts, one had to make enquires in Tollywood where he kept himself busy with films, making his detractors - particularly the YSRC - describing Jana Sena as Telugu Desam Party B Team.
The Opposition leaders said that Pawan Kalyan always breaks surface whenever Chandrababu Naidu faces some problem or the other. Pawan Kalyan's latest assignment, according to them, is that he should fight for SCS to steal the thunder from Jagan Mohan Reddy's crusade so that there would be a split among the people on the issue on the question of on whose side they should be.
But with the success of Jagan Mohan Reddy converting the SCS into an emotive issue, Naidu had to approach people with the same demand since Pawan Kalyan's campaign had lacked consistency and power in challenging the BJP since Naidu apparently wanted very badly Jagan Mohan Reddy's claims sound hollow. Naidu, after parting ways with the BJP, is now considering hitting streets himself, painting the BJP as the culprit.
Pawan Kalyan has said he would announce his party's philosophy and his line of action at the party's fourth foundation day public meeting on Wednesday at Kaza in Guntur district. With the failure rate of the thespians surviving in politics being very high, with the only exception of NTR Sr, his claims of challenging the Centre, do not seem to be raising the confidence levels of the people. May be Kapu youth might be excited about the arrival of Pawan Kalyan in AP, but others are keeping their fingers crossed.
By: R Prithvi Raj