KE Krishnamurthy suggests shifting of Engineer-in-Chief office to Kurnool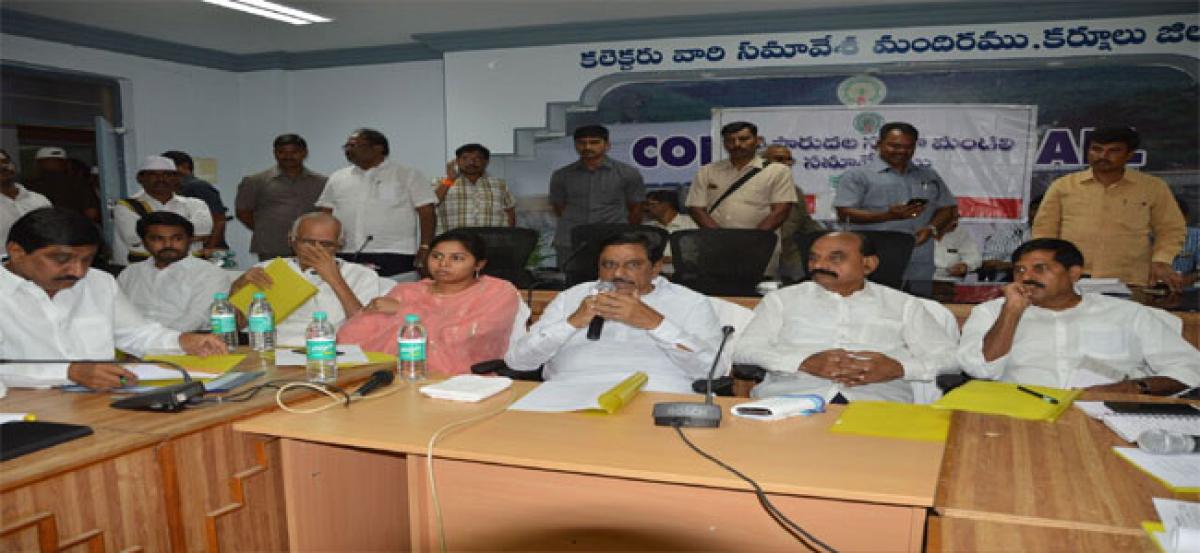 Highlights
Deputy Chief Minister KE Krishnamurthy directed the officials of Irrigation department to forward proposals to state government seeking approval for setting up of the EngineerinChief EnC office of Rayalaseema, Nellore and Ongole in Kurnool
Kurnool: Deputy Chief Minister KE Krishnamurthy directed the officials of Irrigation department to forward proposals to state government seeking approval for setting up of the Engineer-in-Chief (EnC) office of Rayalaseema, Nellore and Ongole in Kurnool.
He also asked why was the Irrigation department Chief Engineer's office has been set up at Anantapur. "Why not in Kurnool, when all the Irrigation projects are present here," he asked. Murthy gave these instructions to the officials during the Irrigation Advisory Board (IAB) meeting convened at Collector's office here on Saturday.
MLC, NMD Farooq, Minister for Marketing and Animal Husbandry Adinarayana Reddy, Information and Public Relations Minister KalvaSrinivasulu, Tourism MinisterBhumaAkhila Priya, Nandyal MP SPY Reddy, Zilla Parishad Chairman Mallela Rajasekhar Goud, MLCs KE Prabhakar, BTech Ravi andGangula Prabhakar Reddy, MLAs SV Mohan Reddy, Mani Gandhi, Jaya NageshwaraReddy, BC Janardhan Reddy, GowruCheritha Reddy, and BhumaBrahmananda Reddy and Chief Engineer of Irrigation department Narayana Reddy were present at the meeting.
On the occasion, KE Krishnamurthy said Chief Minister, N Chandrababu Naidu has specially concentrated on irrigation projects for supplying water to irrigation needs. Unfortunately, we did not receive much rain this kharif season, but have received unexpected flood water due to rains in the upstream areas. As a result, we could able to store around 871 tmcft of water at Srisailamreservoir out of its total capacity of 885 tmcft. In a day or two the reservoir will reach to its full capacity. Last year we could able to wet 2.65 lakh acres of Ayacut under KC Canal by supplying 29.18 tmcftof water. Murthy directed the officials to prepare proposals for providing water to 2018-19 agriculture seasons.
Intervening, Nandyal MP, SPY Reddy said to ensure Kundu river water for irrigation instead of letting it to go waste. Minister Adinarayana Reddy also proposed to enhance the capacity of PothireddyPadu to 66 tmc in place of 44 tmc so that water could be extended to Kadapa district. Tourism MinisterBhumaAkhila Priya, pointing out the inefficiency of the Irrigation department officials, said the farmers are in dilemma with the uncertainty in release of water for irrigation. Panyam MLA, GowruCheritha Reddy demanded the government to suspend the GO no.277 and take up immediate construction of Gundrevula project which will cater the needs of irrigation and drinking water problems of Kurnool district.
Minister for Information and Public Relations Kalava Srinivasulu said not to make the irrigation waters a big issue. If Pattiseema was not constructed, then Rayalaseema would have faced water crisis. Extending equal quantum of water to all areas is the aim of Chief Minister, he said. Krishnamurthy said if the construction of Gundrevula Reservoir is completed, then the residents of Kurnool will take a sigh of relief. He further advised the officials to store 10 tmcft of water at Gorukallu Reservoir besides extending water to Gandikota Reservoir.
Murthry said Chief Minister, Naidu would be visiting Kurnool next month and while on his visit he will start the works of Pulikanuma and Rojoli Banda Diversion Scheme (RDs). Murthy asked the irrigation department officials to give a clarity of water release to KC Canal. District Collector Sathyanarayana, Kurnool, Kadapa Joint Collectors, V Prasanna Venkatesh and Koteshwara Rao (respectively), Irrigation department SE Sriramachandra Murthy and other officials were present.