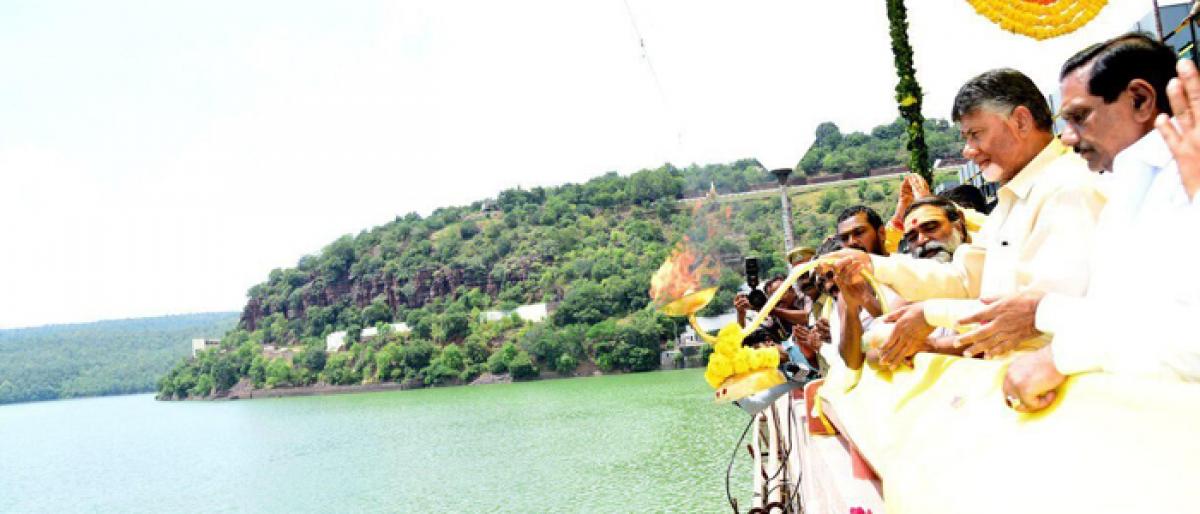 Highlights
Describing as an act of political vendetta the issue of nonbailable arrest warrants against AP Chief Minister N Chandrababu Naidu and 15 others in a 2010 case by a Maharashtra magistrate court, the TDP organised protests across the two Telugu states of Telangana and Andhra Pradesh on Friday
​Hyderabad/ Vijayawada: Describing as an act of political vendetta the issue of non-bailable arrest warrants against AP Chief Minister N Chandrababu Naidu and 15 others in a 2010 case by a Maharashtra magistrate court, the TDP organised protests across the two Telugu states of Telangana and Andhra Pradesh on Friday.
Ahead of by-elections to 12 Assembly seats in Telangana in July 2010, Chandrababu Naidu, who was leader of Opposition in the undivided state of Andhra Pradesh then, led a delegation of TDP legislators to Maharashtra with an intent to stage a demonstration at Babli project which he contended would hurt the interests of the Telangana region
Dharmabad Judicial First-Class Magistrate in Nanded district issued arrest warrants on Thursday, when the Telugu Desam Party was celebrating Vinayaka Chavithi, taking them by surprise since everyone had forgotten about the case. The order laid down that all those against whom warrants have been issued should be produced before the court before September 21.
Chandrababu Naidu reacted guardedly to the issue of arrest warrants while the TDP leaders said it smacked of political vendetta by the BJP which is at daggers drawn with the Telugu Desam Party after the latter stepped out of NDA earlier this year. He said at Kurnool: "I opposed the Babli project since it was wrong to construct a project within another project and it was harming the interest of people of Telangana. We did not do anything wrong at that time," he said.
IT Minister N Lokesh said that Chandrababu Naidu along with others against whom arrest warrants had been issued would appear in the court in accordance with the provisions of law. "The BJP government is resorting to cheap politics since it could not face Chandrababu Naidu politically at national level," he said. Of the 15 leaders who accompanied Chandrababu Naidu, three of them are now in the TRS. They are G Kamalakar, Ch Vijayarama Rao and Hanumanth Shinde.
The others were – KSNS Raju, Ch Prabhakar, Nama Nageshwara Rao, G Ramanayudu, D Umameshwara Rao, Mujafaruddin Anwaruddin, P Abdul Khan Rasool Khan, S Somoju, AS Ratnam, P Satyanarayana, T Prakash Goud and N Anandbabu. The Maharashtra police detained the TDP leaders after the then Nanded MP and MLA lodged protests against the TDP's intent to hold a demonstration.
The sections that were invoked pertained to assault, use of force to threaten public servants, causing hurt using weapons and criminal intimidation. In Telangana, where notification for Assembly election is due, protests broke out against the issue of arrest warrants. Since the issue on which Naidu had led the delegation to Maharashtra pertained to Telangana, TDP leaders want to convert it into an election issue, by painting BJP dispensation as vindictive and dictatorial and the TRS government in the state as one which has remained callous to the trials and tribulations of Telangana people because of the construction of Babli project.
Telugu Desam Party state president L Ramana held an emergency meeting with the available leaders and decided to fight against Maharashtra and Telangana governments on the issue. Telugu Desam city leaders also staged dharna at Hyderabad collectorate and other parts of the city demanding the revocation of arrest warrant against the TDP chief.
Ramana later submitted a memorandum addressed to Chief Secretary SK Joshi in his office demanding steps for withdrawal of the orders against Naidu since he fought for protection of Telangana interests. Ramana later alleged that the ruling BJP in Maharashtra and TRS government in Telangana had conspired to malign the image of Chandrababu and other TDP leaders by having arrest warrants issued.
Another senior leader Nama Nageshwara Rao wondered how the arrest warrants could be issued without registering cases against the leaders. "The Maharashtra police told us no case has been booked at the time of agitation. He also took strong exception to registering cases under eight sections against the leaders. At that time all the agitating Telugu Desam leaders were herded into a small shed," he said.
Meanwhile, Congress leaders in Telangana too are facing trouble from the TRS which it alleges has a covert relationship with the BJP. The Congress leaders refer to the arrest of Sangareddy ML A T Jayaprakash Reddy in an old case in which he is accused of indulging in human trafficking, issue of notices by police against A Revanth Reddy, registering cases under SC, ST Atrocities Act against Qutbullapur former MLA K Srisailam Goud.