BJP 'conspiring to finish off' Andhra, they'll pay heavy price: CM Naidu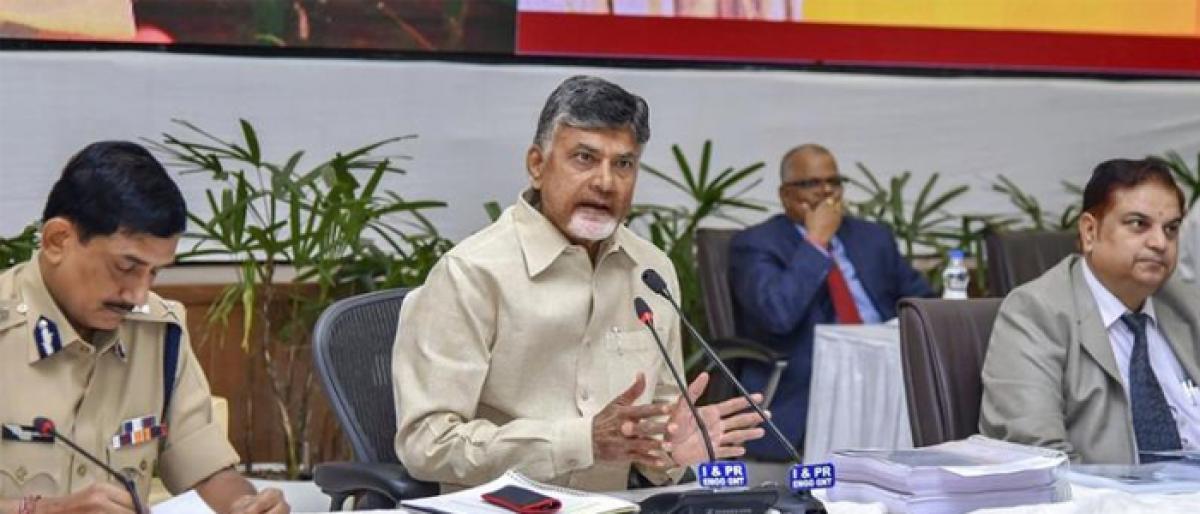 Highlights
Andhra Pradesh Chief Minister N Chandrababu Naidu on Friday expressed apprehension that places of worship in Andhra Pradesh would be attacked in coming days as part of the BJPled NDA governments conspiracy to finish off the state due to personal vengeance against him
Amaravati: Andhra Pradesh Chief Minister N Chandrababu Naidu on Friday expressed apprehension that places of worship in Andhra Pradesh would be attacked in coming days as part of the BJP-led NDA government's conspiracy to "finish off" the state due to "personal vengeance" against him.
A day after he accused the Centre of trying to destabilise his government, he alleged that "goondas" either from Bihar or other states would be brought to Andhra Pradesh to create law and order problem.
CBI inquiry would be ordered and "we will not be allowed to move" in an attempt to prevent the Telugu Desam Party (TDP) from retaining power in assembly polls, Naidu charged.
He also accused the Centre of seeking to turn Hindus against his government by "whipping up sentiments."
BJP termed the remarks "ludicrous" and said it exposed Naidu's "rabid paranoia."
Hours after the attack on YSR Congress president Y S Jagan Mohan Reddy Thursday, Naidu had targeted the Centre and Telangana Rashtra Samithi, accusing both of "conspiring" against his government and trying to destabilise the state.
The YSR congress leader was injured when he was attacked by a man with a small knife at the airport lounge in Visakhapatnam.
Addressing the conference of district collectors in Amaravati on Friday, he said temples, churches and mosques in the state would be attacked in the coming days as part of the BJP-led NDA governments "conspiracy to finish off" Andhra Pradesh because of "personal vengeance against me."
"Don't afraid or don't become panicky..." Naidu told top IAS and IPS officers and asked them to be "mentally prepared" as some more attacks could be in the offing.
"If I don't speak all this, everyone will think I am scared. But, as the 'Team Leader' I want to assure you all that nobody can stop us. If truth is not established, unruly elements will take upper hand," he said.
Continuing with his tirade against the Centre, Naidu said: "Political gain, economic gain, conspiracies or personal vengeance, what does the NDA government have against me... personal vengeance, as I did not surrender to them."
He, however, said ultimately nothing would happen. "They are going to pay heavy price for all these things. As individuals, as government they are going to pay heavy price," he said.
Referring to the recent row over ornaments at the Tirumala Venkateswara temple, Naidu alleged that the Centre tried to defame the state government.
"Their effort was to tarnish our government's image, whip up sentiments in public so that Hindus turn against this government. Is it right," he asked. Without taking names, Naidu said anti-social elements would rise if "erratic" rulers assume power.
"Such rulers will do things detrimental to public interest. In the country now, CBI is finished, ED is finished. Income Tax (Department) is gone. If at all, only the Supreme Court should protect us. We have come to that stage," he added.
Reacting to the chief minister's remarks, BJP MP G V L Narasimha Rao said it exposed Naidu's "rabid paranoia."
"TDP government is facing a severe backlash from people and experiencing their wrath and anger for running an unpopular and rottenly corrupt government. This seems to have taken a toll on the psychological condition of the chief minister. His ludicrous comments indicate that Naidu is exhibiting signs of rabid paranoia and schizophrenia," Rao said in a statement.
Interested in blogging for thehansindia.com? We will be happy to have you on board as a blogger.