Delay in road widening hampers stormwater drain works in city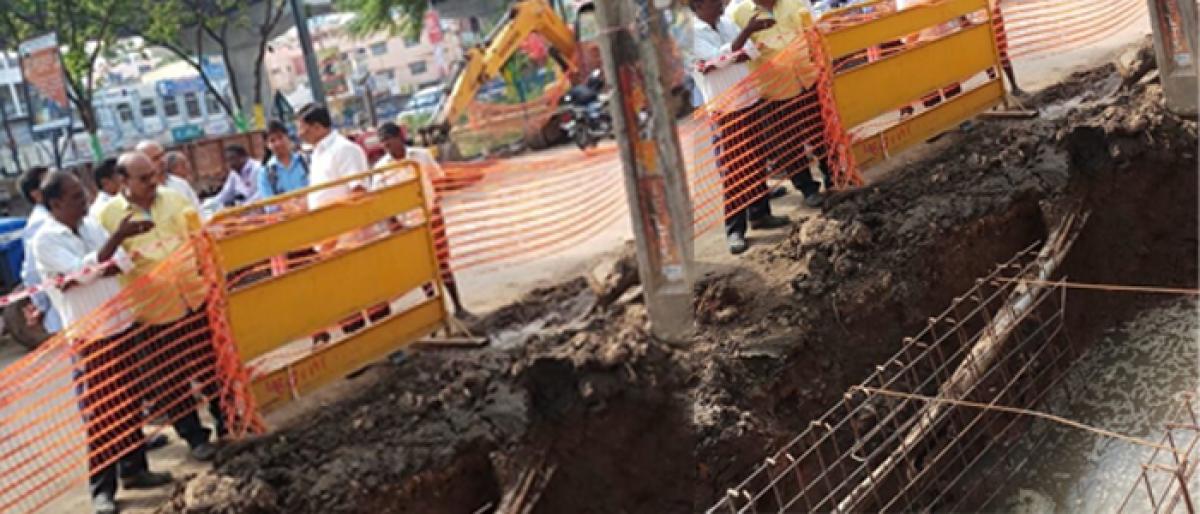 Highlights
The citizens of Vijayawada have to wait for some more years to get respite from water logging problem as the stormwater drain construction works are getting delayed due to abnormal delay in road widening works
Only 30 per cent major drain works completed in two years
Vijayawada: The citizens of Vijayawada have to wait for some more years to get respite from water logging problem as the stormwater drain construction works are getting delayed due to abnormal delay in road widening works.
The Central government sanctioned funds to Vijayawada city to get rid of water logging problem in 2016.
The works started in 2016 to construct 120 km long major drains and 300 km long minor drains linking Elur canal, Bandar canal, Ryves canal, Budameru drain and Krishna river.
The Public Health department is supervising the works and contract agency L & T Company is executing the works for the past two years.
So far, only 30 per cent major drains works were completed in two years. Of the proposed 300 km minor drain works, 150 km works are completed by October, 2018.
But, major drain works are getting delayed due to abnormal delay in widening of important roads. Electrical poles have not been relocated and encroachments are not removed on the roads.
The state government had set the target of 2019 to complete the works. Major drain works are very important in the project, said N Prasada Rao, Executive Engineer of the Public Health department.
He told The Hans India that at least 15 important major roads are to be widened to start the major drain construction works.
He said minor drains are connected to major drains, which are linked to the three canals, Budameru drain and Krishna river in the city.
The Vijayawada Municipal Corporation (VMC) is not in a position to pay compensation of crores of rupees to the owners of the properties after taking the lands along the road for widening of the road.
Instead, the VMC is offering Transfer of Development Rights (TDR) bonds. But, most people are reluctant to take the bonds.
Since Krishna Pushkaralu in 2016, the civic body has not taken up the road widening works in the city due to fund crunch.
Tikkel road, Siddhartha college road, Five number route, Bellamvari Veedhi, Nidamanuru, Guntu Tippa drain road, Auto Nagar, Visalandhra road, Dornakal Road, K T Road in one town, Amma Kalyana Mandapam road and Gunadala Mary mata road are yet to be widened.
A senior officer of the VMC said the civic body is not in a position to invest crores of rupees for road widening works.
Electric poles on the roads also became a big hurdle for constructing stormwater drains in the city.
The SPDCL is facing a difficult task of shifting the poles because it is very lengthy process and needs the cooperation of people particularly the traders.
It is estimated that more than 1,000 poles are to be relocated take up the storm water drain works.
Interested in blogging for thehansindia.com? We will be happy to have you on board as a blogger.