Jagan assures full support to ryots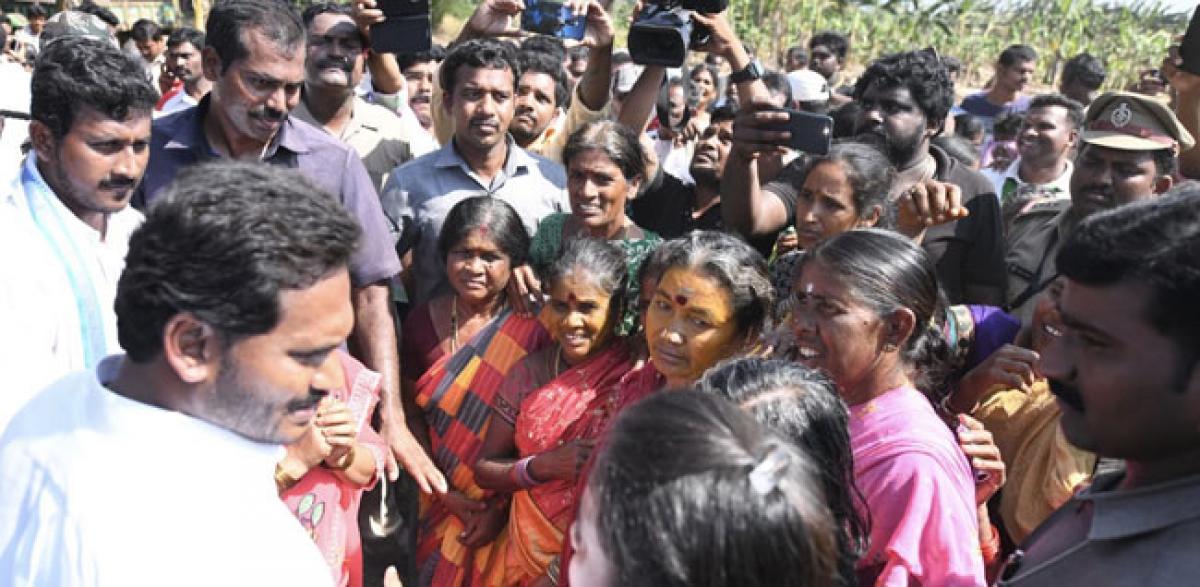 Highlights
Leader of Opposition Y S Jaganmohan Reddy on Monday visited the banana crop damaged due to Cyclone Titli He assured that if the YSR Congress comes to power, the government would extend full support the farmers during such natural calamities
Vizianagaram: Leader of Opposition Y S Jaganmohan Reddy on Monday visited the banana crop damaged due to Cyclone Titli. He assured that if the YSR Congress comes to power, the government would extend full support the farmers during such natural calamities.
On Monday, Jagan started his Padayatra from Thotapalli village of Garugubilli mandal in Kurupam constituency and interacted with locals representing various communities.
Farmers who lost their banana orchards stated that they need to spend huge money to clear the fallen trees from the farm but the government has given only Rs 12,000 per acre.
Some said the compensation was provided as the Opposition leader was on a Padayatra in the district, otherwise they might have delayed the payment of compensation.
Farmers of Nandivani Valasa and Gijaba met Jagan and said that the Thotapalli reservoir water was not being supplied to their agricultural lands. Representatives of AP Girijana Samkshema Sangham met Jagan and explained that their villages were completely ignored by the government.
They alleged that the TDP government inducted K Sravan Kumar into the Cabinet only for political gains and not for the benefit of the community. They questioned how the inexperienced Sravan would look after the administration and supervise welfare and development schemes being implemented for tribes.
A large number of farmers, women met Jagan at Datti and Nandivanivalasa and explained their problems to the Opposition leader. School students, farmers and senior citizens showed interest to walk with jagan and he also interacted with him in a friendly manner and took selfies with them.