India will become world's 3rd largest economic force: V-P M Venkaiah Naidu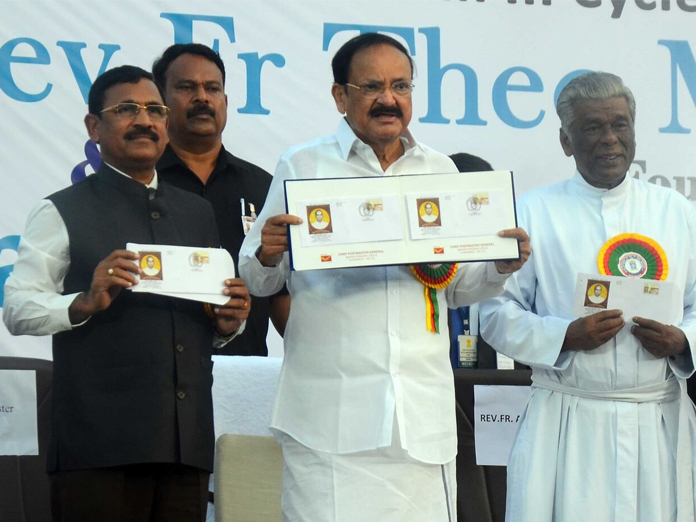 Highlights
VicePresident of India M Venkaiah Naidu said that India would become worlds third largest economic force soon Addressing the students at Andhra Loyola Colleges 65th annual day celebrations and birth centenary celebrations of Rev Fr Theo Mathias at the college grounds here on Saturday, he said there is no need for students to go to foreign countries
Vijayawada: Vice-President of India M Venkaiah Naidu said that India would become world's third largest economic force soon. Addressing the students at Andhra Loyola College's 65th annual day celebrations and birth centenary celebrations of Rev Fr Theo Mathias at the college grounds here on Saturday, he said there is no need for students to go to foreign countries.
The students could know the country's progress in various economic forums, he said and suggested that the students should come back after earning money even if they go abroad. He said that everybody should feel that the nation is first.
The Vice-President also said that the heritage and culture is important though a number of Gods and religions are here. The students should know the greatness of the culture, heritage and history of forefathers. The secularism is important, he said and added that we should not follow caste, region and religion.
He said that unfortunately the quality is declining in all the sectors. The violence and unrest has been increasing. But all could be happy with peace only, he averred. The education system should be redesigned, he said and added that the better future could get with values and culture.
Stating that discipline and punctuality are important, he said that he reached the second top constitutional head position with hard work and dedication. Several people of Andhra and country are playing dominating role in various sectors across the globe with similar efforts, he said and asked the students to enhance their skills.
He suggested the students do not spend more time for mobiles and should focus on innovations. Stating that the cinemas and social media are dominating the youth, he asked the film makers to make movies so that family members can watch them.
He released the book on founder principal of Andhra Loyola College Rev Fr Theo Mathias. He praised his services for establishing the great educational institution in the city after the State bifurcation from Madras. He also presented awards to students who excelled in their classes. and lecturers.
Rev. Fr Amalaraj, president of Andhra Loyola College Society, principal Rev. Fr. GAP Kishore, vice-president Balashowry, correspondent Fr Sahayaraj were also present.