Shocking! Ford Survey Reveals What Makes Roads Unsafe In India
Highlights
The results of the Ford Cartesy road safety survey which was conducted across 10 cities are out It included over 1600 interviews in Delhi, Mumbai, Bengaluru, Chennai, Kolkata, Hyderabad, Lucknow, Ludhiana, Pune and Indore
Road safety and awareness continue to be a big concern in India as the number of fatalities are still high
Survey reveals a high level of indifference and a lack of caution exercised by Indians on the road.

Conducted in 10 cities - Delhi, Mumbai, Bengaluru, Kolkata, Chennai, Hyderabad, Lucknow, Ludhiana, Pune and Indore.

51 per cent don't know airbags work better if passengers wear seatbelts and 42 per cent don't engage the child lock even with children in the rear seats.

22 per cent confessed to using mobile phones during driving while 18 percent found driving under the influence acceptable!

Respondents aged between 18-34 years scored better, showing increasing awareness in successive generations.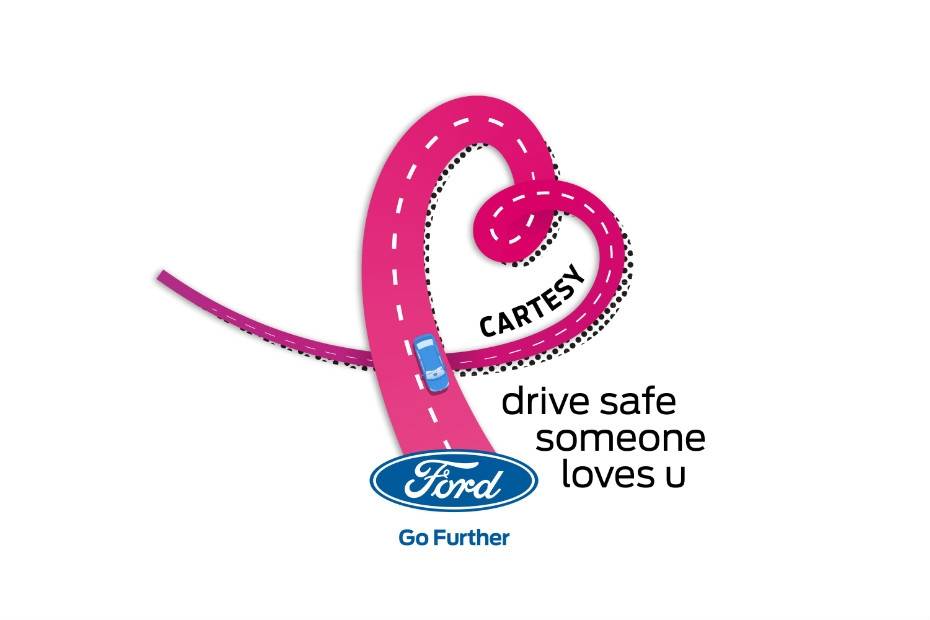 The results of the Ford Cartesy road safety survey which was conducted across 10 cities are out. It included over 1600 interviews in Delhi, Mumbai, Bengaluru, Chennai, Kolkata, Hyderabad, Lucknow, Ludhiana, Pune and Indore. Questions were broadly divided into three categories - compliance with traffic safety laws, taking sufficient measures of caution and showing compassion to those in need of assistance.
Compliance - 18 per cent Indians think driving under the influence of alcohol is acceptable
The results reveal that Delhi and Chennai have the lowest scores overall when it comes to complying with traffic safety rules, while Ludhiana scored the highest. A total 45 per cent of all respondents admitted to not adhering to speed limits or following lane discipline, 33 per cent were okay with underage driving and 18 per cent found driving under the influence of alcohol to be acceptable, especially in Mumbai (39 per cent). It may surprise you to know that 32 per cent of respondents from Delhi claimed to be unaware that wearing seatbelts is mandatory and that 47 per cent of Mumbai's respondents admitted to influencing policemen to avoid being booked for an offence.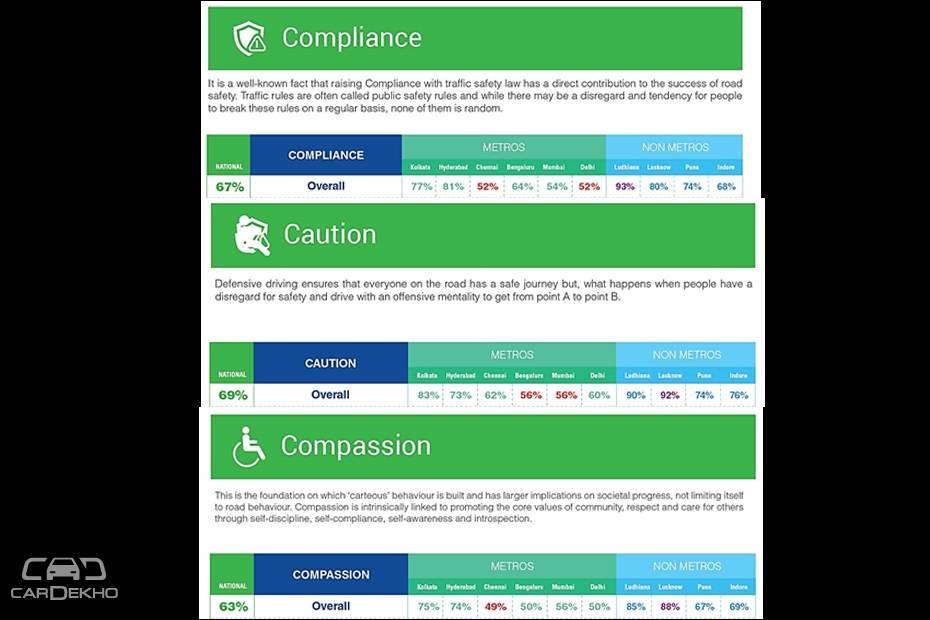 Caution - Half the road users are unaware that airbags function best when passengers put the seatbelts on
Road safety questions in this category revealed that 51 per cent of all responders did not know that an airbag system works best when the passengers have their seatbelts on. This result was quite skewed, thanks to the answers from people in Bengaluru (97 per cent) and Mumbai (91 per cent). In terms of overall performance, Lucknow scored the highest overall, while Kolkata did the best out of the metro cities. But Bengaluru and Mumbai scored the lowest at 56 per cent. A worrying statistic showed that 22 per cent of all respondents thought it was okay to take calls while driving, most of all in Bengaluru (46 per cent). Meanwhile 39 per cent overall admitted to not maintaining a safe distance from the vehicle in front.
Compassion - Every second road user (48 per cent) in India WOULDN'T stop for a person on road
In this category, Lucknow (88 per cent) scored the highest overall, while Kolkata (76 per cent) topped among the metro cities. Chennai (49 per cent) scored the lowest overall score. The questions here involved behaviour such as honking near a hospital, taking an accident victim to a hospital, giving way to emergency vehicles, among others.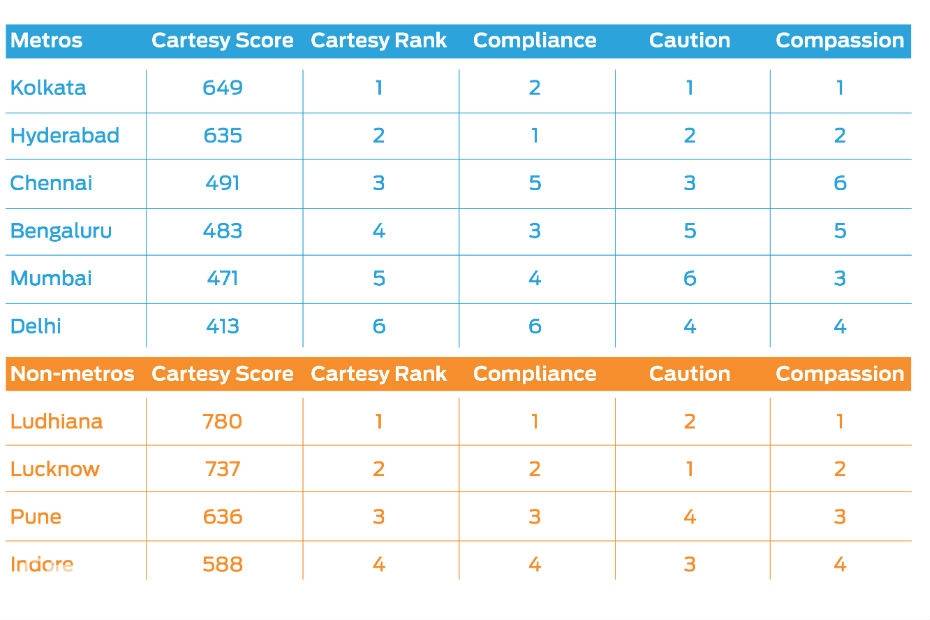 But, there is still hope
Despite the shocking results of the survey, there is more to be learned from the finer details. For instance, the Ford Cartesy survey shows that respondents aged between 18-34 years scored better in every category than older respondents. So, our roads might just get safer with time. While only 28 per cent of respondents were females, they were found to be more cautious and compliant than the male respondents. And going forward, female road users are expected to increase. The survey also states that respondents who had experienced a road accident or a loss faired better overall by 8 per cent.
Children lead the way
The survey results also state that couples with children were far more compliant, cautious and compassionate as compared to singles or unmarried couples. Young parents in particular, with children below the age of 2 years showed a noteworthy spike in caution and compassion scores.