Studenting Era announces CARE, an initiative on child development and behavioral management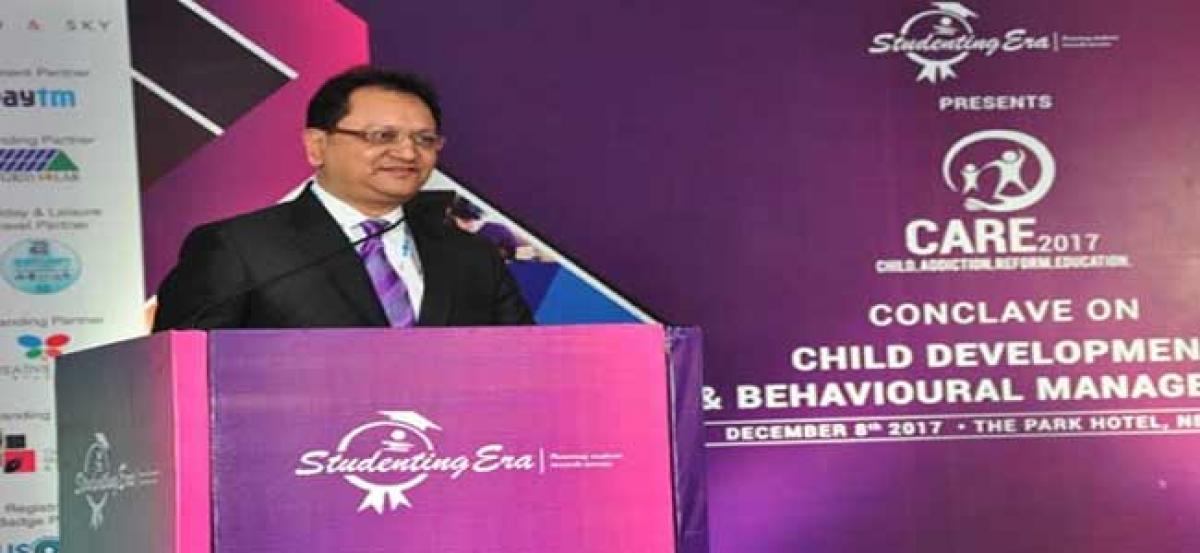 Highlights
Studenting Era has announced a major initiative for child development and behavioral management called CARE to socially contribute to the student community.
New Delhi : Studenting Era has announced a major initiative for child development and behavioral management called CARE to socially contribute to the student community. It was announced at The Park, New Delhi in an inauguration ceremony and conclave that was attended by prominent people in the education sector including academicians from schools, colleges, institutions, universities and the government.
CARE is an initiative by Studenting Era whose main objective was to build an ecosystem which supports the process of internal and external development of a child and take initiative to address various aspects of their behavioral changes as they grow up, specially at the stage of adolescence. It is a collaborative platform where leaders from across the fraternity have joined together for a common cause.
Anil Swarup, Secretary, School Education and Literacy, Ministry of Human Resource Development, Government of India, made a keynote speech in the inauguration and said "Child Development is that aspect of child's growth that we all need to focus. At this time of our growth cycle there is a need for proactive guidance and support from parents, mentors and teachers. Managing behavioral changes among children is the key and we should observe the changes, analyze them, initiate discussion, engage and collaborate with the child and to help transform into a happy human being."
Raja Dasgupta, CEO of Studenting Era, shared that "Through this initiative, Studenting Era would like to address the positive aspects of adolescence like education, aspirations, self-confidence and motivation as well as the challenges like addiction, child abuse and safety, cybercrime and social media protection."
Anu Aggarwal, iconic actress and model, said, "Yoga and meditation can prove to be a panacea in child development. It has been adopted in many major universities abroad and the results have been found to be quite positive."
A panel session was also organized in the program, in which panelist Saeed Kausar said that, "The children need to have adequate emotional nutrition in the school and family, to remove them from the problem of child trafficking and their development." Dr. Jitendra Nagpal, Senior Psychologist, Moolchand Hospital, Delhi also believed that there is a huge lack of counselors in the schools, which is also causing such problems. In addition, many panelists also supported that lifestyle is very responsible for all of these.
Cyber Expert Gururaj P said, "Social media may at times play a role in enhancing the crime. To what extent the Internet is to be used and it is important to understand the side effects on children."
More speakers such as Vasant Agarwal (Author and Leading speaker on De-addiction), Prof. Daniel Khan (An International Educationist), Alka Verma (Senior Consultant for Education, Priya Bhargava (Freelance writer and Author), Navin Gulia (Accomplished Author and Motivational Speaker), Rameesh Kailasam (Business Strategist), Sudipta Gupta (Director ELT), Varun Khullar (Vice President, Education Category at Paytm), Dr. Paresh Rughani (International, Motivational and Inspirational Speaker ACMA (UK). Some more panelists were Anshul Pathak (Vice Chairman, Delhi Public School, Ghaziabad Society), Dr. Nanditesh Nilay (Social Scientist and Thinker) and Arunabh Singh (Principal and Promoter of Nehru World School Ghaziabad).
Studenting Era will be organizing a series of activities under this initiative. These will include collaborative tools, seminars, conferences, workshops, online communities, and others to help create a difference in the grassroots.