Union Telecom Min. Manoj Sinha inaugurates 26th Convergence India 2018 Expo/2nd Internet of Things India 2018 Expo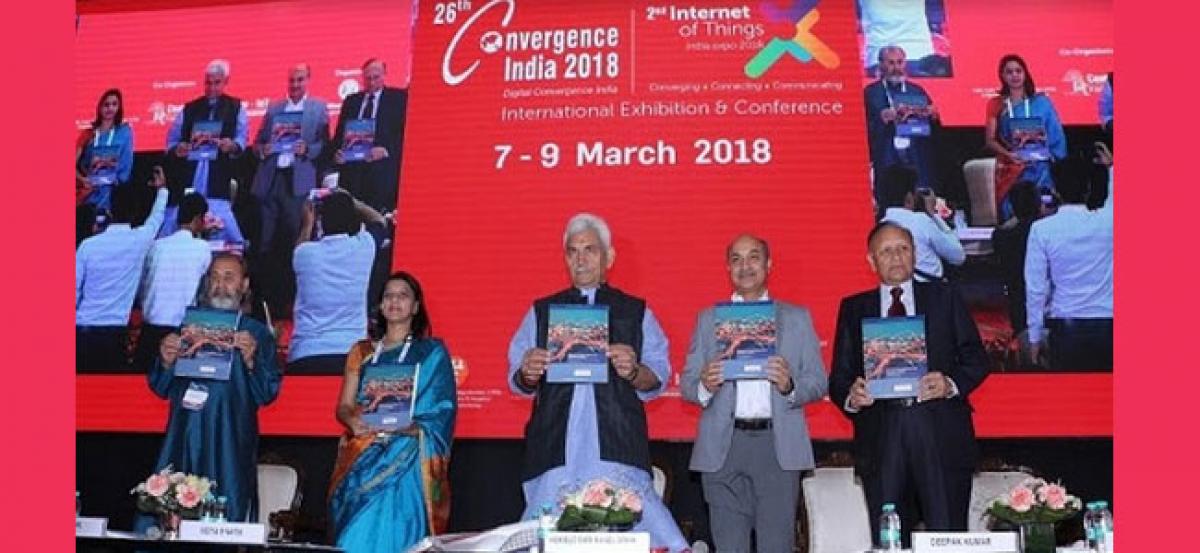 Highlights
26th Convergence India 2018 expos, and the co-located 2nd Internet of Things India 2018 expo
New Delhi: 26th Convergence India 2018 expos, and the co-located 2nd Internet of Things India 2018 expo, were kicked off at Pragati Maidan, New Delhi today with a dive into robotics and artificial intelligence thanks to an opening address by Mitra, the charming Made in India robot that captivated his audience; true to his style.
The inaugural ceremony saw Union Minister of State for Communication (IC) Manoj Sinha, who also holds the railways portfolio, taking to the stage in front of a packed crowd to explain how events such as Convergence India and IoT India are of special relevance to the country; how the emerging 5G technology is the most important area where India aims to be a leader; how all equipment and components for the Bharat Net project are indigenously manufactured to boost the Make in India campaign, among other relevant subjects.
"In the last three years, 266 million mobile connections and 140 million additional Internet connections were added. We had a meager 5 telecom equipment manufacturing units in 2014; today we have a staggering 118 such units manufacturing more than 22.5 crore mobile handsets," said the Minister.
He, however, admitted, "Though we are the world's second largest consumers of the Internet, more than two-thirds of our population is yet to be online."
Talking about the BharatNet initiative that will connect 2.5 lakh gram panchayats with high-speed broadband by March 2019, he continued, "We have laid more than 260,000 km of Optical Fibre Cable (OFC) across the length and breadth of the country. Our average rate of laying cables over the last 18 months has been more than 240 km per day." He also shared his thoughts about how partnerships with other countries are built on the principles of trust and transparency resulting in mutually beneficial outcomes.
"We are reaching out to other countries to share the know-hows as well as know-whys," while adding, "India seeks to promote collaboration against competition, cooperation against conflict."
The Minister also released the knowledge paper titled, 'Outlook for Indian Telecom and Broadcast Industry', by Frost and Sullivan that analyses the latest market trends and captures the industry outlook for the telecom and media industries.
The inaugural session on 'Digital Convergence India' was eye opening and forward-thinking. On digitising government services, Urve Palo, Minister of Entrepreneurship and Information Technology, Republic of Estonia, explained how the Balkan nation of Estonia became the most advanced digital republic where the government is virtual and secure. "Utilising innovation and technology for the benefit of Estonians is at the core of the Government's work.
It is an efficient and transparent ecosystem that saves time and money."
The Internet of Things is revolutionizing our world, and another standout highlight at the expo included the packed speaking session on 'IoT Revolutionising India'. The impact of technology on social change and empowerment was discussed during the session.
"India lacks physical infrastructure such as roads, water, development in cities, etc. Technology enables us to overcome these difficulties and leapfrog such obstacles. Technology should be inculcated as an active medium for social transformation. Therefore, it needs to be ubiquitous and available.
Regulatory and policy space has to change and has to embrace data driven algorithms," said R S Sharma - Chairman, TRAI.
"India now has 120 new plants that manufacture mobile phones locally, and this has created over half a million jobs. On the area of connection, there are 780 million active subscribers and over 350 million use smart phones," said Sharing insights on job creation, Mahindroo revealed
While emphasising on an IT-driven world, Raman Roy, CMD, Quatrro, and Chairman, Nasscom, India stated, "It is a big opportunity for India to take a leadership position with the help of the software we have. There is an ecosystem that needs to be created and it has to be commercially viable."
"There are almost 127 devices globally connected to the Internet. We are expecting an economic impact of 11 trillion by 2025," said Dr. Neena Pahuja, Director General, ERNET, India.
"Convergence India and IoT India are platforms for convergence of technologies and business exchange, with focus on telecom, IT, broadcast and digital media sectors, and IoT. This dynamic centre point, where rapidly evolving technology industry leaders meet to gather information and compare views on shared opportunities and challenges, attracts a worldwide audience," said Prem Behl, Chairman, Exhibitions India Group.
"India has been one of the fastest growing markets in Asia in ICT adoption and communication technology, and the country's rapidly expanding Internet base and broadband connectivity, and the many e- Governance and citizen-centric projects will bring exciting times for governments and businesses focused on innovation and customer centricity. The expos are the industry's leading event, resolved to discussing solutions for advancing India's technology future," he added.
With 684 participating companies spread over 25,000 sqm exhibit space, Convergence India and IoT India are hosted by India Trade Promotion Organisation (ITPO) and Exhibitions India Group (EIG) the expos support the Government's vision of transforming India into a digitally empowered economy. NASSCOM Center of Excellence - IoT is co-organising IoT India 2018 expo.