Crowd frenzy marks IKEA store launch in Hyderabad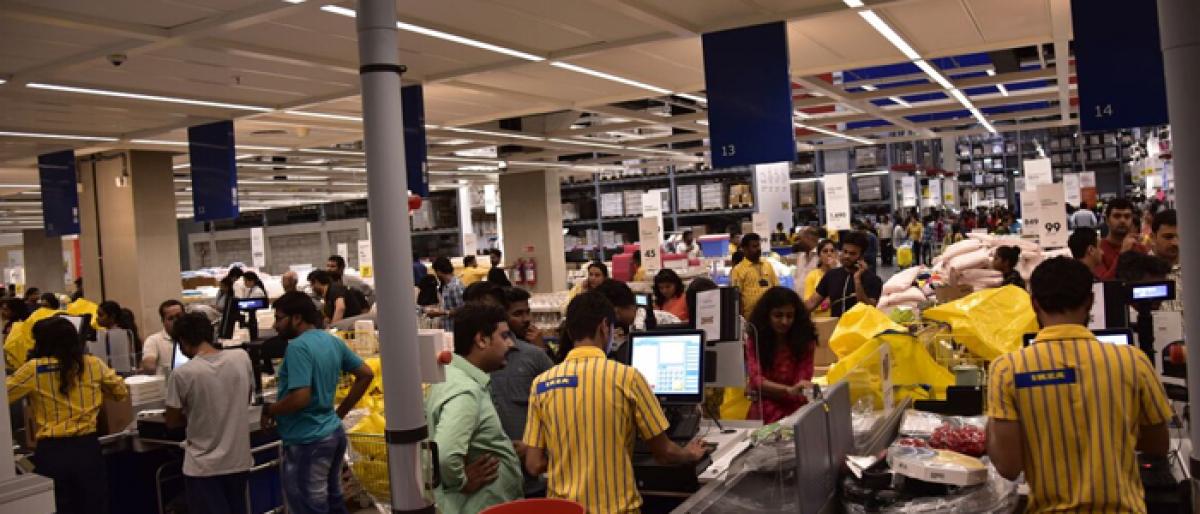 Highlights
Swedish home furnishings major IKEA on Thursday opened its first store in Hyderabad India to a crowd frenzySuch was the euphoria of the store that cops had to be pressed into service to control the customers who were jostling with each other to get into the store and get their hands across the merchandise on offer
​Hyderabad: Swedish home furnishings major IKEA on Thursday opened its first store in Hyderabad & India to a crowd frenzy.Such was the euphoria of the store that cops had to be pressed into service to control the customers who were jostling with each other to get into the store and get their hands across the merchandise on offer.
Earlier launching the store, Minister for IT, Industries & Commerce, KT Rama Rao said, "IKEA is a brand which has a great deal of following specially among the youngsters. In fact, when I was a youngster back in the United States about 25 years ago, my studio apartment was full of IKEA furniture." "So, I am delighted that the same global experience is now being offered to youngsters in India, and that too in Hyderabad," he added.
He further said Hyderabad has been their (IKEA's) gateway into India and the city will remain exclusive till they open another store (in the country). The company, which has employed 950 people directly and another 1,500 indirectly at its store here, plans to hire 15,000 in the coming years as it expands operations in India. IKEA Group CEO Jesper Brodin said, the opening of the first store in India marks a milestone in the company's journey here which began over three decades ago through sourcing of products. "We have a long term commitment to India, which is an important market for us," he said. The store here is the first of 25 such outlets planned to be set up in India by 2025. In 2013, IKEA received nod from the government to invest Rs 10,500 cr in single-brand retail.
IKEA had originally planned to open its first store in India by 2017, but it was delayed. Out of the total outlay of Rs 10,500 crore, the company has so far invested Rs 4,500 crore in its different projects in India. It has invested Rs 1,000 crore on the Hyderabad store alone, which would have a range of around 7,500 products.