The Revenant Full Review Rating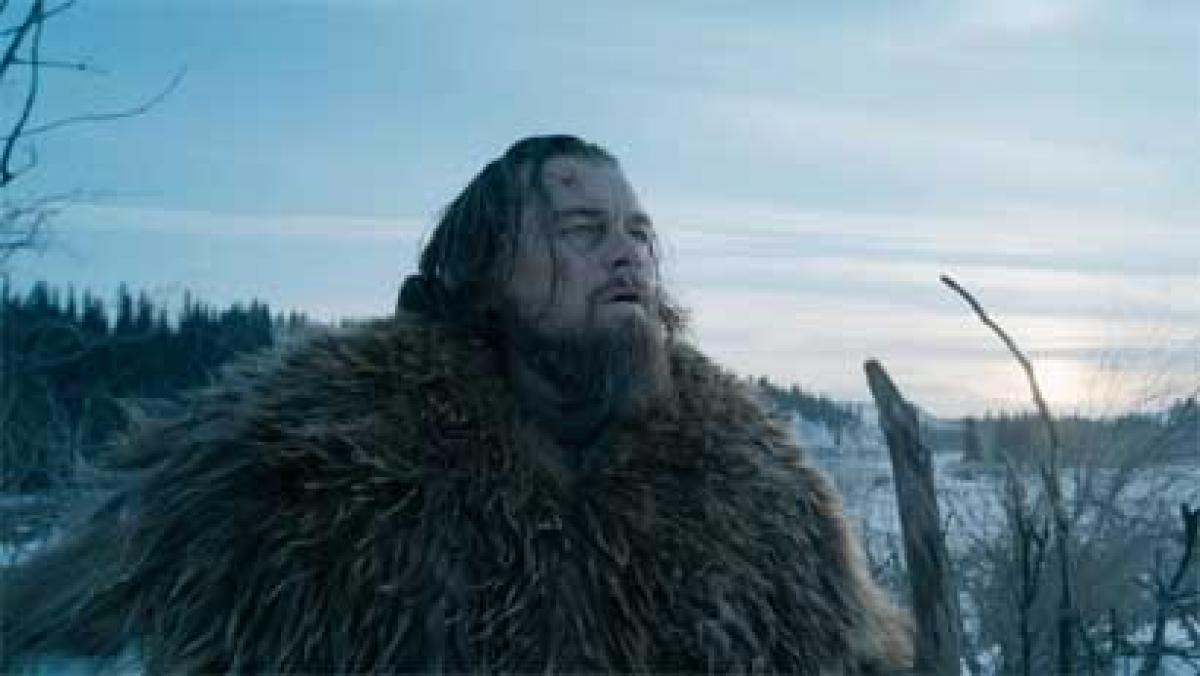 Highlights
Director Alejandro González Iñárritu, who had earlier given us \"Biutiful\", \"Babel\" and \"Birdman\", has once again delivered a masterpiece with \"The Revenant\". He spares nothing in immersing viewers in the savagery of the narrative.
Director Alejandro González Iñárritu, who had earlier given us "Biutiful", "Babel" and "Birdman", has once again delivered a masterpiece with "The Revenant". He spares nothing in immersing viewers in the savagery of the narrative.
A brutally depicted epic survival and revenge tale, set against the nineteenth century North American frontier, the film is the story of a fur trapper and frontiersman Hugh Glass (Leonardo DiCaprio). Loosely adapted from Michael Punke's 2002 novel of the same name, it is a true, chilling story of betrayal, survival and obsession.
The narrative, fluctuating between hallucinations and reality, begins with Glass on an expedition with his half-native, teenage son, Hawk (Forrest Goodluck) and a group of other trappers led by Captain Andrew Henry (Domhnall Gleeson). All of a sudden, their camp consisting of roughly 35 members is attacked and slaughtered by Arikara Indians and the group is reduced to a mere ten.
The survivors escape in their boat, downstream, but fearing an attack once again and on the recommendation of their guide the experienced hunter Hugh, they venture out on foot to their base camp, Fort Kiowa. The decision bothers some, particularly John Fitzgerald (Tom Hardy), who is hostile towards Glass and his son as he was partially scalped by the native years ago.
Glass's ordeal begins when he is brutally mauled by a bear and acknowledging that he will soon succumb to his injury, he is left behind by those who promised to take care of him.
How Glass survives the rugged terrain, the weather, the Arikara Indians and overcomes insurmountable odds, only to later obsessively hunt the person who left him for dead, forms the crux of the tale.
The film is believable and of course, a lot of this realism comes from DiCaprio's convincing performance. He has put in an astonishingly physical and mental effort to portray Glass. He doesn't say a word for long periods of time and yet spellbinds you throughout some visceral and seriously gruelling ordeals.
As good as he is, though, Hardy is no less his equal. He brings that dead-eyed stare and ferocity that only Hardy can. His John Fitzgerald is a terrifying and a despicable human being but, under the surface, Hardy hints at something more and manages to turn a fairly straight forward villain into an intriguing, three-dimensional character.
However, it is not the dexterity of Inarritu, the two fabulous leads or even the fine supporting work by Domhnall Gleeson and Will Poulter, who plays Jim Bridger the guy who volunteers to stay back with Glass and his son, but Emmanuel Lubezki's sublime camerawork that is impressive.
Like in "Birdman", Lubezki uses his Steadicam for long tracking shots amidst the battle scenes. These are absolutely captivating. Also his artistry of capturing the breath-taking landscapes in natural lighting, are worth a mention.
The film is brilliantly mounted, but that's not to say that it doesn't have its flaws; the passage of time isn't entirely clear, leaving it to look like Glass healed from his wounds overnight but the biggest issue for some could be how threadbare the story is.
Furthermore, there is really not a lot with regard to the plot. The film is aimed to create a sensory experience, which it does. If taken at face value, its linear structure could be deemed meaningless. However, if you approach it in a more metaphorical sense then the film works on a whole other level of, "the reborn." It's about nature communicating with man.
By Troy Ribeiro