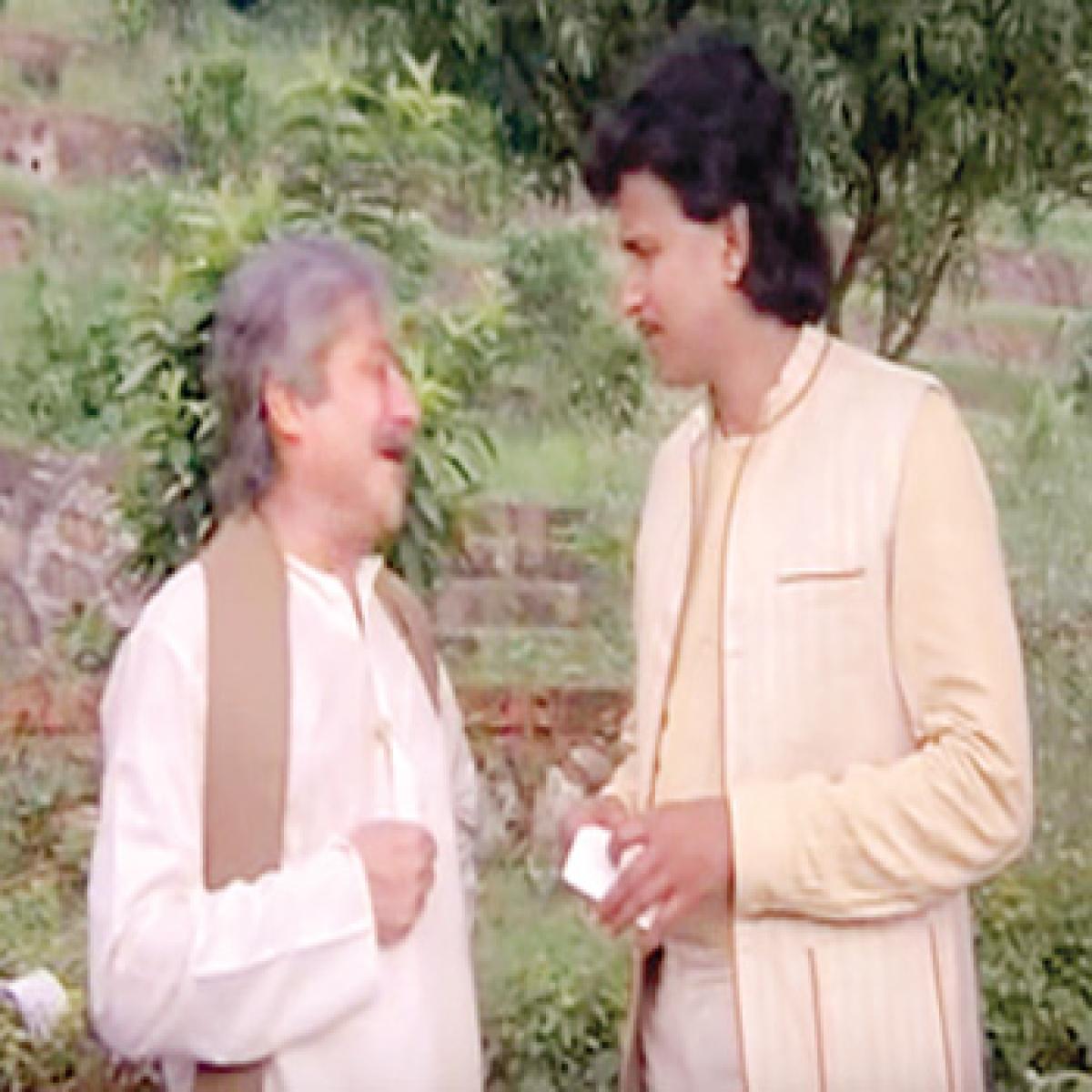 Highlights
The critical acclaim and the surprisingly good box-office run of 'Paan Singh Tomar' (2010) notwithstanding the "daku" films are a thing of the past...
Daata' (1989) is the last remnant of the popular Hindi dacoit films
The critical acclaim and the surprisingly good box-office run of 'Paan Singh Tomar' (2010) notwithstanding the "daku" films are a thing of the past now. The one-time popular genre was also considered a rite of passage of sorts for leading men and even seen as a go-to formula that rarely failed.
Of course, unless there was a Dilip Kumar or a Sunil Dutt or later stars such as Dharmendra, Vinod Khanna and Amitabh Bachchan, these films catered to a very specific audience and made on tight budgets, they rarely lost money as well. Even in the late 1980s when post-'Qayamat Se Qayamat Tak' (1988) and 'Maine Pyar Kiya' (1989) the definition of the hero was undergoing a major overhaul, the daku continued to draw crowds.
Later, in the early 1990s when the liberalisation had transformed the ticket buying audience to a great extent, a film like 'Bandit Queen' (1994) came tantalising close to reviving the genre. Nestled somewhere in between these two phases and far removed from the finesse of the millennial 'Paan Singh Tomar', lays the now nearly forgotten 'Daata' (1989), the last remnant of the popular Hindi dacoit films. Interesting enough, this film featured the last of the old-world superstars and ironically enough, was also the last hurrah of the man, who came to be identified with the genre.
Written and directed by Sultan Ahmed, 'Daata's wafer-thin plot and straight as an arrow narrative coupled with an archaic filmmaking style might have had disaster written all over, yet it managed to rise above the trappings and how. A respected educator in a nameless small Indian town, Dinanath (Saeed Jaffery) is the doyen of idealism and leads a happy life with his wife and children Shanti (Pallavi Joshi) and Kundan (Mithun Chakraborty).
Dinanth's book 'Daata' that celebrates all religions of the world from a humanistic point of view is hailed as a masterpiece and the President of India felicitates him. It's around this time that Dinanath fixes Shanti's marriage but things go bad when her future in-laws make untoward dowry demands. Dinanath refuses to budge and insists that the gold jewellery that he presented her daughter is sufficient but when the jewellery turns out to be fake, the marriage is called off.
Shanti kills herself and unable to take the pain of this daughter's death Dinath suffers a heart attack and dies. No one comes to help Kundan and his mother and tired of the injustice Kundan kills the boy, who refused to marry his sister. On the run, Kundan becomes a brigand and joins a gang of bandits and vows to kill Gopaldas, the man, who demanded dowry and caused his father and sister's deaths. In the few years preceding the release of 'Daata' the failure of high profile dacoit themed films such as 'Dacait' (1987) and 'Yateem' (1988) along with the advent of the boy-next-door films such as 'Qayamat Se Qayamat Tak' and 'Maine Pyaar Kiya' had almost sounded the death knell for daku films.
Perhaps 'Daata's rather straight narrative that played to the gallery as far as the genre was concerned went down well with the audience as opposed to a deeper and even anthropological exploration that 'Dacait' or 'Yateem' were aiming for within the dacoit theme.
One of the reasons why 'Daata' pipped the others when it came to striking gold could also be the presence of Sultan Ahmed, a filmmaker whose entire oeuvre is nothing but an ode to the dacoit films. A one-time associate of K Asif, Ahmed started with assisting the maestro on 'Mughal-e-Azam' and even though his debut film as a director was 'Pyar Ka Rishta' (1973) it was his second film that released in the same year, 'Heera', which established him as the saviour of the daku genre.
'Heera' came at a time when mainstream with films like 'Mera Gaon Mera Desh' (1971) and 'Kuchhe Dhaage' (1973) had gone beyond the underlying socialist motifs of 'Jis Desh Mein Ganga Behti Hai' (1960) and 'Mujhe Jeene Do' (1963) to simpler plots and straighter narratives. Post-'Heera', Ahmed made one major daku film with each superstar who followed – 'Ganga Ki Saugand' (1978) with Amitabh Bachchan, 'Dharam Kanta' (1982) with Rajesh Khanna and Jeetendra - and following 'Daata' his last film was 'Jai Vikraanta' (1995) with Sanjay Dutt.
'Daata' released in a year when Mithun Chakraborty had 19 releases and the same year also saw him give one of his career best performance in 'Prem Pratigya' (1989) but the success of 'Daata' was nothing less than a surprise. In 'Daata' just like 'Mujrim' (1989), another surprise smash hit from the same year and a reprisal of Brain De Palma's 'Scarface' (1982), Mithun da finally had a shot at an anti-hero character, who took on the establishment and was commensurate with the immense cult-like popularity he enjoyed.
The fabled daku genre enjoyed a fair run and went from a deep societal study in 'Jis Desh Mein Ganga Behti Hai', 'Ganga Jumuna' (1961), 'Mujhe Jeene Do' to become masala entertainers of the 1970s. The market pressures of the 1980s forced the likes of Sultan Ahmed to somewhat 'update' the narrative in 'Dharam Kanta', where a certain degree of urbanism penetrated into the genre.
Following Vijay Anand's 'Rajput' (1982) filmmakers like Rahul Rawail and JP Dutta experimented with the genre and came up with probing studies in 'Ghulami' (1985), 'Dacait', 'Yateem' and later 'Batwara' (1989), which also came out in the same year as 'Daata', that looked beyond the perfunctory by including caste politics in addition to class while coming with characters.
The microcosmic scrutiny of characters and situations that the latter daku films attempted and failed is what a 'Bandit Queen' and a 'Paan Singh Tomar' rekindled and their success, therefore, makes for a very compelling case for a revival of dacoit films. Imagine the prospect of a Sam Peckinpah-esque 'The Wild Bunch' (1969) or even a Clint Eastwood's 'Unforgiven' (1992) like foray into our desi bandit films.
Subscribed Failed...
Subscribed Successfully...