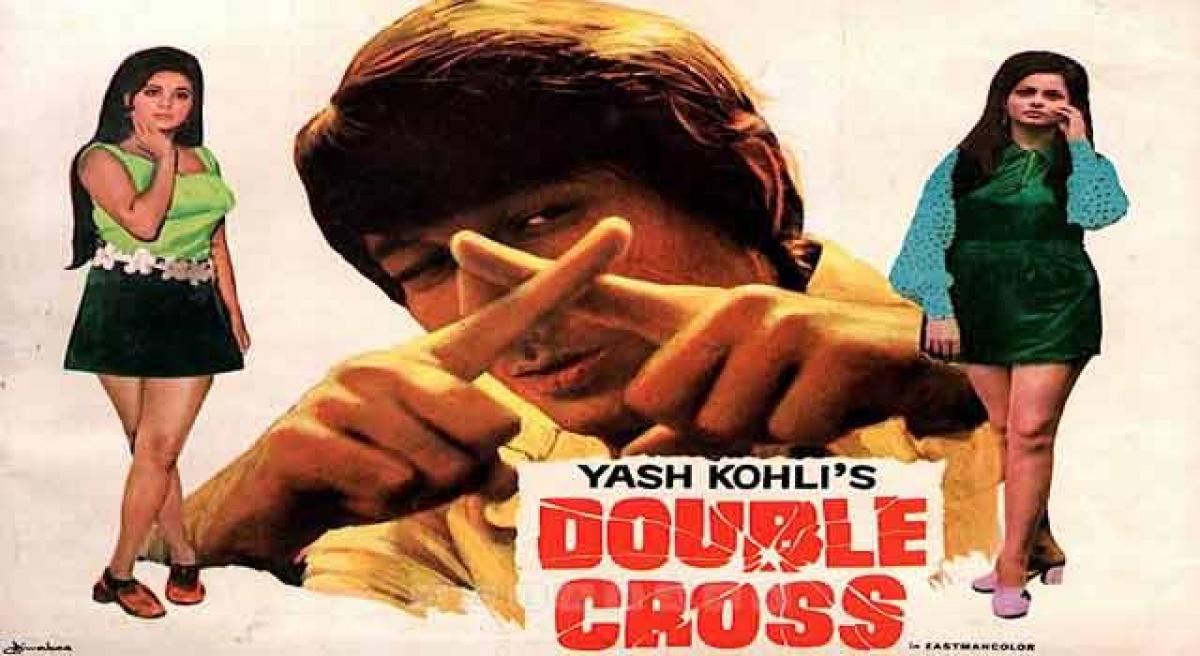 Highlights
Like a broken watch bad actors, too, can be right at some point irrespective of the film but there is no antidote to actors hired for unsuitable roles. Films that ought to have enjoyed wider recognition or audience appreciation sometimes end up losing out due to miscasting. 
Like a broken watch bad actors, too, can be right at some point irrespective of the film but there is no antidote to actors hired for unsuitable roles. Films that ought to have enjoyed wider recognition or audience appreciation sometimes end up losing out due to miscasting.
Double Cross' (1972) starring maverick director Vijay Anand tanked at box office for various reasons, major one being the miscasting of the lead character in the film
This trait comes more into play at times when popular Hindi cinema seems to be trying to undergo a transition such as the early 1970s where had some films been blessed with better casting many of the stereotypes that it's still trying to do away it would have been nipped in the bud.
One such film that comes to mind is Gogi Anand's 'Double Cross' (1972) that pushed the envelope in terms of showing the hero unlike what popular Hindi cinema of the time was used to but failed to make a mark for a host of reasons chief amongst them being the gross miscasting of the lead.
Chances of the present generation of Hindi cinema fans being aware of Vijay "Goldie" Anand's work as a filmmaker beyond a Guide (1965), a 'Teesri Manzil' (1966) and a 'Jewel Thief' (1967) are rare and consequently, familiarity with the legendary auteur's work in front of the camera would be rarer still.
Goldie Anand, the actor, readily brings to mind images of 'Haqeeqat' (1964), and 'Main Tulsi Tere Aangan Ki' (1978) but besides a strong supporting actor or playing the sidekick to elder brother Dev Anand in 'Tere Mere Sapne' (1971) and 'Chupa Rustam' (1973),
he also played the lead in handful of films with 'Kora Kagaz' (1974) being the most prominent. But the very first film where Vijay Anand played the lead was 'Double Cross' and unfortunately looked too old while portraying a spurned lover, who in order to teach the woman that left him for a richer man a lesson, has an affair with her stepdaughter of sorts.
Ajay Arya (Vijay Anand) can't get over that the love of his life Sonia (Ranjeeta Thakur) leaves him for the much older and richer Maganbhai (Madan Puri). He bumps into Lily (Asha Sachdev) at a bar and she introduces him to David Uncle (David Abraham), who transforms him into a master crook.
Ajay assumes the identity of Jimmy, a thief, and a philander, and although Lily develops a soft corner for he not only continues to stalk Sonia but also starts wooing Rekha (Rekha), a rich heiress who is under the guardianship of Maganbhai. While pursuing Rekha, Ajay introduces himself as "Vijay", a photographer besotted by Rekha's beauty but he can't fool Sonia.
Sonia confides in Magan about her past and the two then try to get Rekha to marry Magan's son from previous marriage, Pritam (Kuljeet), as that would ensure access to her wealth. Things begin to get complicated for as Magan spots Jimmy with Lily and Rekha starts doubting him, and if that wasn't enough, Lily gets pregnant.
By now Rekha is convinced that irrespective of what he claims Vijay is, in fact, playing her and just when she is about to pull the plug on their relationship Vijay tells her about his twin, Ajay who took to crime following heartbreak. It's then the audience realise that Rekha's lover and the one juggling Lily and Sonia are two different men.
From point onwards 'Double Cross' becomes a thriller where Lobo (Dev Kumar) has kidnapped Lily in order to coerce Ajay/Jimmy to rob the Kohinoor diamond that is on display in Bombay and the gangster, too, gets confused between Ajay and Vijay and ultimately there is a shootout where one of the twins succumbs.
The thing that makes 'Double Cross' stand apart from a slew of similar films is the manner in which it tackles the relationship that the hero shares with the women. Of course, the film has many elements of Anand's own heist classic 'Jewel Thief' but the ease with which it shows Sonia and Ajay in post-coital bliss right in the beginning or the matter of fact style in which Ajay sleeps around while plotting his revenge suggested that 'Double Cross' is more than a straight caper.
Unluckily the early instances that promised something exceptional are also the very things that marred the film and Vijay Anand as the lead. Anand might have been just 39 when he featured in the film but his sports a horrendous toupee that attracts more attention than everything that this campy film had to offer.
The set-pieces where Anand dons different avatars – a Sikh Income Tax officer, a middle-aged bearded businessman, a maulana, a bangle seller, etc. – are fun and well-executed because of the make-up as well as Anand's brilliant acting but once he reverts to being Ajay/Vijay/Jimmy everything goes downhill. While Anand can still be convincing in the comic or dramatic scenes he simply sticks out like a sore thumb in the song-and-dance sequences and the romantic as well as action scenes.
The film's narrative, too, appears unconvincing once the double-role is revealed. While watching the film you get a sense that perhaps this trope might have been an afterthought. There is a scene towards the final act of the film where Ajay/Jimmy muses to Lily about a girl (Rekha) in love. This is the turning point where to the audience it seems like Rekha's innocence could have rekindled humanity within Ajay/Jimmy that had been crushed by Sonia deception.
Moreover, till this point, the double role hasn't been introduced so one assumes that Jimmy/Ajay and Vijay are just three versions of the same man. 'Double Cross' intriguing portrayal of the lead, as well as the themes it tries to explore by not falling prey to a filmic depiction of the society, takes a beating when the standard good and bad double-role treatment comes into play.
The fact that a young talent, Gogi Anand, helmed the film is more than evident from the treatment, the themes, the shot taking, some brilliant editing as well as succinct dialogues. Even RD Burman's music especially the background score with the western lone gunslinger kind motif for Ajay/Jimmy is a departure from the era's trends.
Gogi Anand also happened to be Dev and Vijay's nephew, and had assisted the latter on numerous films and was supposedly someone that both the brothers trusted immensely. Perhaps Gogi's inability to look beyond Goldie or Dev Sahab, who featured in Gogi's final film, 'Darling Darling' (1977), became his undoing.
He would later go on to direct television soaps including Swabhimaan, the first Indian daily soap, but nestled in between his two films with his uncles, Gogi also directed a little-seen film called 'Doosri Sita' (1974) that featured a pregnant woman (Jaya Bachchan) who delivers while awaiting a death sentence in jail, the failure of which perhaps was too heavy a burden on filmmaker.
Released a little before as 'Zanjeer' (1973) and Bobby (1973), 'Double Cross' ironically could have predated the two in ushering in an unseen dimension to the leading man in mainstream Hindi cinema if a younger actor were playing the lead like in the case of other two as intentions, however, well meaning rarely translate into films that become milestones.
By:Gautam Chintamani