Task Force arrests two interstate fraudsters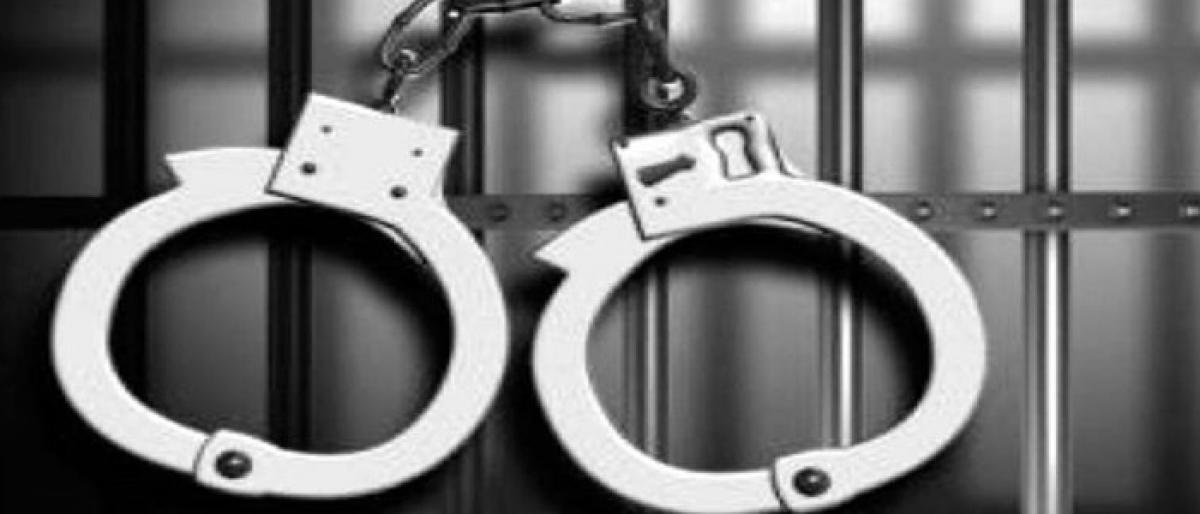 Highlights
West Zone Task Force on Friday arrested two alleged fraudsters belonging to an interstate gang on Friday The gangsters hailed from Bihar The accused, according to police, had cheated gullible people to the tune of Rs 50 lakh by promising to secure medical seats for them They were suspected to have cheated about 20 persons in all until now
​Hyderabad: West Zone Task Force on Friday arrested two alleged fraudsters belonging to an interstate gang on Friday. The gangsters hailed from Bihar. The accused, according to police, had cheated gullible people to the tune of Rs 50 lakh by promising to secure medical seats for them. They were suspected to have cheated about 20 persons in all until now.
Task Force officials claimed to have seized Rs 24.96 lakh, fake ID and other documents from their possession. Speaking to the media, Hyderabad Police Commissioner Anjani Kumar said the efforts are on to nab other suspects in the case.
According to police, Abhimanyu Kumar Singh (alias Dinesh kumar singh/ Arnav Kumar Singh, who is a native of Marhaura village in Bihar is to BTech (CSE) graduate and the another accused Suryanarayana Jha alias Deepak/Rishikanth/Chandra Prakash, who is a native of Benta nepali camp in Bihar studied up to Intermediate, were childhood friends. Abhimanyu Kumar Singh came into contact with Kamran Hussain three years ago at Patna and they formed friendship with each other. Due to financial problems both hatched a plan to cheat the innocent persons under the guise of providing medical seats at Bangalore Colleges by taking huge money from them.
Later the accused Abhimanyu and Kamran Hussain had collected the data of students who qualified in NEET examination and called them on telephone and informed them that they would secure medical seats on commission basis. Believing their promise, the innocent persons approached them for the medical seats. The accused had collected huge money from the parents of those seeking medical seas, the police said.
Later, both the accused in April 2017 opened a consultancy office on the name of Sky Bridge Infotech Consultants at Maheshwari Chambers at Somajiguda here on the basis of fake names. Abhimanyu Kumar Singh claimed that he was the managing director of the consultancy and Dinesh Kumar Singh as managing director, Shashank Shekhar and Suryanarayana Jha receptionist. Rishikanth and Asgar Sayeed office attenders.
Att the time of taking rent of flat, the accused submitted fake ID proofs to the owner and cheated him also, the police said. The accused demanded Rs 60 lakh to Rs 80 lakh per each seat, including their commission. They had collected Rs 48 lakh from 18 customers and absconded after winding up the consultancy business.
The victims approached the managements of medical colleges at Bangalore and came to know that they were cheated by the accused. Later the victims lodged complaints with the Panjagutta police. The accused later opened another consultancy office in Bhopal in May 2017 in the name of Ascent and cheated gullible people to the tune of Rs 40 lakh, the police said.
On reliable information, Hyderabad West zone Task Force team apprehended the accused Abhimanyu Kumar Singh and Suryanarayana Jha. They were charged under sections IPC 420 and 406 and seized net cash of Rs 24.96 lakh, visiting cards, cell phones and other incriminating documents from their possession. The other accused Kamran Hussain and Asgar Sayeed are still at large.
Subscribed Failed...
Subscribed Successfully...