Mitigate drought, save Telangana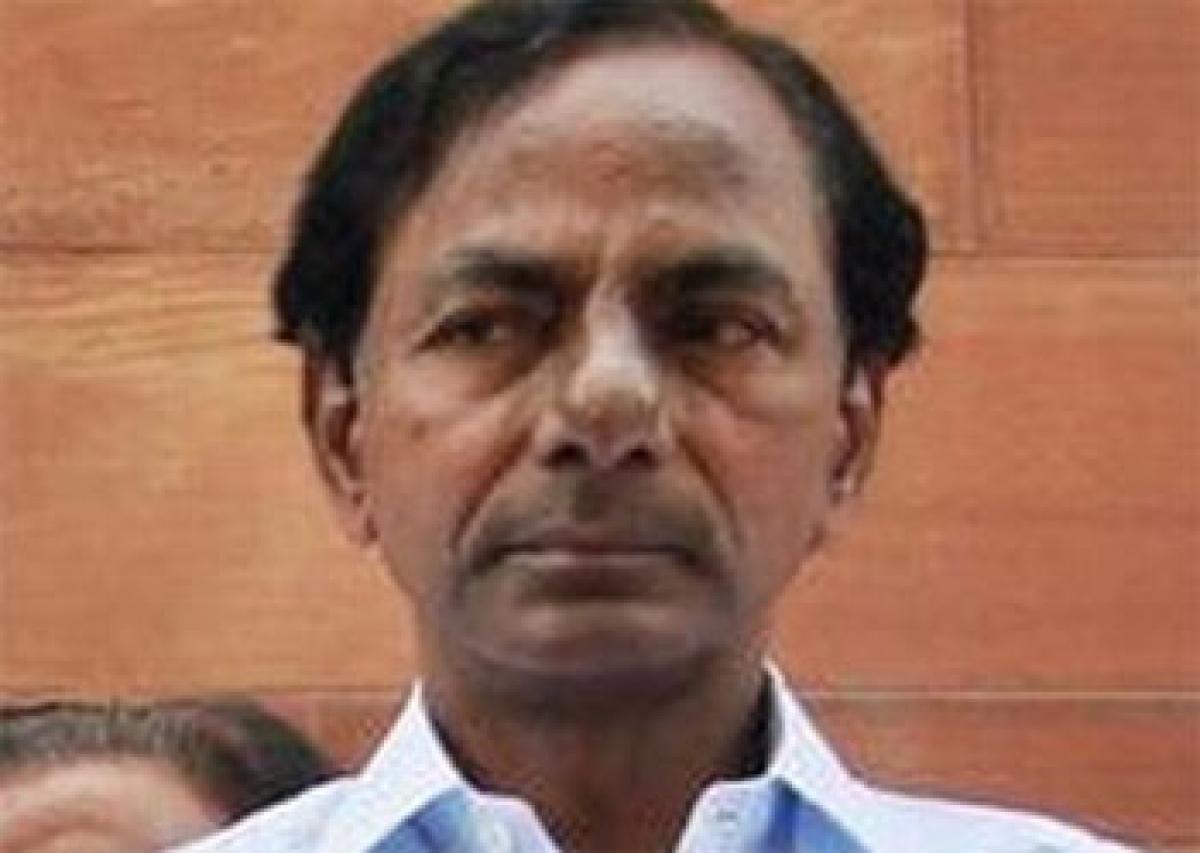 Highlights
The central team is visiting Telangana to assess the conditions of drought prevailing in the State. The State is reeling under a widespread drought, seriously impairing agricultural production and livelihoods in the countryside. The drought is already showing adverse impact on the state economy, too, with reports of tax collections falling.
Reeling under a prolonged dry spell, Telangana has declared 231 mandals as drought-hit. An unprecedented crisis is gripping Telangana as farmers and rural folks are at a loss to cope with the drought.
Not waiting for the central aid of Rs 2,514 crore as sought by it, the State government needs to urgently ground such measures as would help sustain livelihoods in the countryside. Depleting water tables call for less water-intensive crops.
To lessen rural distress, macro-economic diversification activities such as protection of livestock, launch of rural infrastructure and agro forestry schemes, besides waiver and rescheduling of farm loans, is an immediate imperative to provide succour to rural populace and save them from hunger, deaths and suicides
The central team is visiting Telangana to assess the conditions of drought prevailing in the State. The State is reeling under a widespread drought, seriously impairing agricultural production and livelihoods in the countryside. The drought is already showing adverse impact on the state economy, too, with reports of tax collections falling.
Adequate rainfall in the month of June raised hopes of normal monsoon, motivating the farmers in the State to go for sowing season. But, due to prolonged dry spell in July and August months, crops have dried up in many parts of the State. The food production is also expected to register a steep fall. The groundwater levels have registered a steep depletion with no additional replenishment. In fact, years of neglect of irrigation has already led to unsustainable use of groundwater in Telangana.
Further depletion of groundwater causes agrarian distress in a state which depends disproportionately on groundwater to irrigate. Besides, this situation portends an environmental disaster. Drinking water scarcity is turning acute, resulting in the need for supply through tankers. The State government has declared 231 mandals as drought-hit. In a memorandum submitted to the visiting central team, the Telangana State government sought central assistance of about Rs 2,514 crore to tide over the acute drought situation.
It is estimated that paddy cultivation during this Kharif declined by nearly half. Delayed sowing would result in fall in yield. The rice production in the State is expected to further decline this year, perhaps, forcing the State to import rice. There are no hopes of Rabi also due to prolonged dry spell. Even the pulses cultivation has also declined. Similar is the fate with oilseed cultivation. Dry spell in August and September months has damaged about 70 per cent of oilseed crops in the State. It is estimated that overall crop loss due to drought is around 50 per cent.
Telangana has been experiencing consecutive years of drought since 2010-11. Rainfall for the Rabi season is also disappointing with a very high deficit in the months of October and November. Thus with the onset of summer next year, the drought conditions in the State would turn much more acute.
Notwithstanding the quantum of central assistance, the State government should initiate immediate measures to mitigate the sufferings of the people due to cumulative impact of successive years of drought.
Drought manifests in many forms on the social and economic landscape. They include significant deficiency in rainfall, gross uneven spread of rain and prolonged dry spells, steep reduction in area sown and also heavy damage to standing crops, fall in the estimated yields of crops, considerable fall in extent of grain and fodder supply, abnormal increase in prices, fall in current agricultural and non-agricultural wages as compared to normal times, drying up of operating bore wells, severe shortage of drinking water, fresh migration of people in search of livelihood, sale of cattle to slaughter houses, sale and mortgaging of household gold ornaments, fall in school attendance and drop outs, increasing levels of protein deficiency due to low food intake, fall in per capita consumption, loss of work for artisans, increasing crime rate etc. Thus, the implications of drought need to be studied in a holistic manner to evolve a comprehensive drought mitigation plan.
Drought-induced agrarian distress leaves peasantry with increased debt burden. The growing indebtedness is already identified as the main cause of a growing number of farmers committing suicide. The fiscal distress in agrarian families would mount in the years of drought.
Therefore, rescheduling of loans due for repayment to the financial institutions should be done immediately to prevent further spurt in farmer suicides. As farmers lost their investment in the drought-affected areas with little or no crop insurance, the interest on farm loans should be waived as a drought relief measure.
The natural conditions should dictate cropping pattern. Therefore, a contingency plan focusing on alternate crops is required. The government should supply free seeds and fertilisers to sow alternate crops keeping in view the availability of water resources. Short duration crop varieties should be encouraged.
As the bore well technology is not regulated, the rich appropriate groundwater at the expense of poor. In periods of acute drinking water scarcity, access to common property resources like groundwater should be shared. Therefore, the government should even commission private bore wells wherever necessary.
As agricultural incomes are unstable and uncertain, animal rearing provides sustainability to rural economy. But such allied sectors, too, are affected. The drought makes fodder availability more acute. Fodder banks need to be set up to save at least the existing cattle and prevent their sale to slaughter houses.
Distribute dry fodder by producing paddy straw and jowar straw from surplus pockets within the affected areas or the neighbouring areas to meet the immediate requirements in the drought-hit areas. The fodder should be produced within the district anticipating the drought conditions.
It can be produced in farmers' fields, command areas, tank beds etc. Small and marginal farmers should be encouraged to grow fodder. Supply mineral, mixture, urea molasses blocks, cattle feed etc. Cattle camps should be organised where the distress is widespread and acute at places where water resources are available. In chronic drought-affected areas, development of permanent fodder resources should be given adequate attention.
In hours of such rural distress, non-farm employment plays an important role in sustaining rural livelihoods. The disadvantage should be turned into an advantage by using the rural labour to take up works related to rural infrastructure like improvement of tanks, rural roads, land development works, agro forestry , conservation works etc. Special nutrition programme targeting vulnerable groups like children, pregnant and lactating mothers, old and sick should be implemented.
As the World Bank pointed out, drought sets off a vicious cycle of socio-economic impacts beginning with crop yield failures, unemployment, erosion of assets, decrease in income, worsening of living conditions, poor nutrition and subsequently decreased risk absorptive capacity and thus increase vulnerability of the poor to another drought and other shocks.
The human and social costs of drought have been and remain devastating for the millions of people. Impacts of drought vary greatly across locations and crops depending on drought severity, demanding more specific policy interventions. The losses borne by farmers due to drought can be significantly decreased by adjustments in farming practices that reduce water demand such as permanent shift to a larger share of less water-intensive crops. The drought coping measures need to be location-specific. Macro-economic drought adaptation strategy should include a diversification of economic activity reducing the reliance on agriculture.
There is an urgent need for a supporting institutional and policy framework with the involvement of all levels of government for drought adaptation planning and action.
By: Prof K Nageshwar
Interested in blogging for thehansindia.com? We will be happy to have you on board as a blogger.