Hot political winds across AP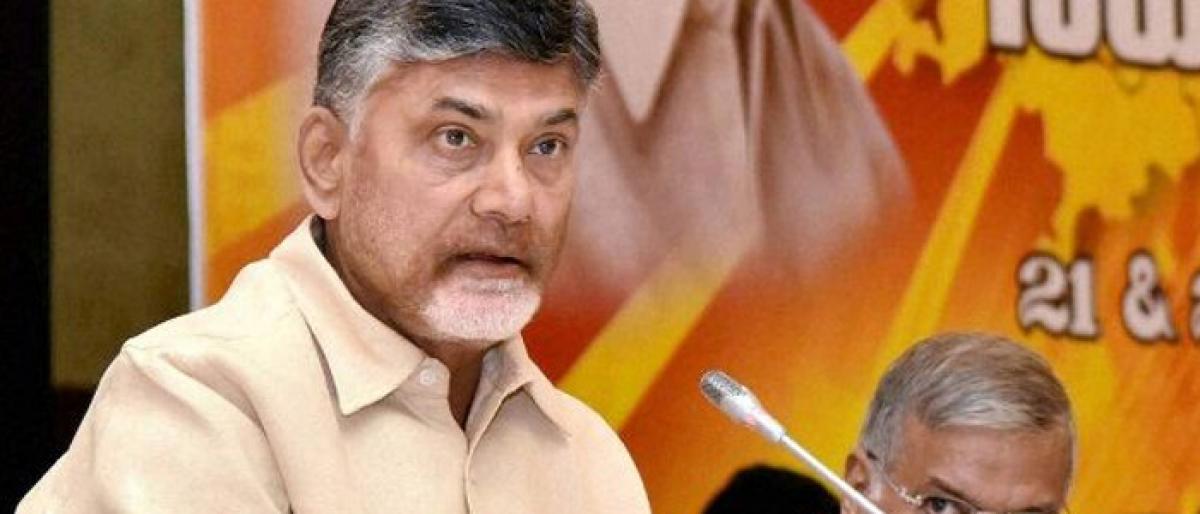 Highlights
Britishers believed in divide and rule policy, a legacy which we have inherited and practiced for several years. Now political parties are adopting a new model and that is to confuse the voters and win votes.  The ultimate goal they say is 'Jo jita wahi Sikander'.
Britishers believed in divide and rule policy, a legacy which we have inherited and practiced for several years. Now political parties are adopting a new model and that is to confuse the voters and win votes. The ultimate goal they say is 'Jo jita wahi Sikander'.
This is exactly what is happening in Andhra Pradesh. What started as a sword fight between the main opposition YSRCP and the ruling TDP in Andhra Pradesh has been taking twists and turns every hour. Strategies, counter strategies are being worked out. For what? Is it to achieve Special status or to gain upper hand in elections?
The YSRCP which has always been in a hurry to come to power, this time wanted to steal the show by hanging on to the issue of failure of state government to get Special Category Status (SCS) and its leader Y S Jagan Mohan Reddy embarked on a padayatra believing that it would lay the red carpet to CMO. But then blame it on his advisors, his criticism all through till date has been too personal and were aimed at Chief Minister N Chandrababu Naidu forgetting that it was the Centre which has to accord SCS to Andhra Pradesh. Nothing wrong in criticising the CM.
In fact, it is the job of the main opposition to expose the omissions and commissions of the government. But in this case, instead of exposing the failures of TDP, he chose to confine himself to level personal allegations without even showing prima facie evidence and not speaking a word against the NDA or the BJP which reportedly fought for SCS. It clearly indicates that there is an ulterior motive and the target is not SCS but something else. YSRCP has been claiming that they were ready for resignations and moving a no confidence motion against the NDA government but went on delaying the action and remained busy challenging the TDP to take the lead.
Let me just explain why I used the sentence the BJP which reportedly fought for SCS. As one who had closely observed the Delhi developments at the time of bifurcation, the BJP which along with Congress was much in favour of carving out Telangana State had entered into a sort of understanding with the then UPA government to pass the Bill.
And that is where the assurance of special category cropped up. It was not there in the original Bill which was passed by Lok Sabha but was incorporated later when the then BJP leader and presently our Vice President, M Venkaiah Naidu raised the issue of special category for AP. Before putting the Bill for voting in Rajya Sabha, the Congress top leadership headed by the then prime minister Manmohan Singh had a meeting with BJP leaders and came to an understanding on inclusion of SCS following which the BJP agreed to pass the Bill. What happened later is history.
In 2014, the Congress suffered a major set back and BJP led NDA came to power at the Centre and the TDP which entered into a pre-poll alliance with the BJP and was supported by actor turned politician Pawan Kalyan came to power in the residual state. For four years, the state government went on claiming that they were doing everything to put pressure on Centre and that the Modi government was also cooperating with them in development of the residual state. They also used to reel out details about how benevolent the Centre has been in merging the seven mandals of TS with AP to facilitate construction of Polavaram project, the educational institutions it had granted etc.
But now with elections likely to be held in another eight months, the political scenario in AP has been changing every minute. Suddenly, both the TDP and BJP started crossing swords and a stage has come when they severed ties and Naidu took the BJP head on
He not only moved a no confidence motion against the NDA government but also within hours of decision succeeded in mobilising the support of about eleven parties including Trinamool Congress, CPI, CPM, Samajwadi Party, AIMIM, AAP and Congress. It however may not mean that all of them are supporting SCS to AP. They could be supporting the no confidence move for other reasons as they would get a chance to lash at the BJP.
This has resulted in the YSRCP losing its ground to corner the TDP on the issue of no confidence motion and resignations. In a hurry, the YSRCP gave a notice of no confidence motion on Thursday but did not take follow up action of garnering support from other parties.
Perhaps, they expected that support would be automatic. The comment by Mallikarjun Kharge, leader of opposition Congress in Lok Sabha that the Vijay Sai Reddy asked him to support their motion when they met in the corridors of Lok Sabha and that there was no formal discussion on it, indicates how inexperienced the party leaders are in handling issues.
Another leader Pawan Kalyan who is the latest entrant and is still taking baby steps, levelled serious allegations against the Chief Minister and his son Nara Lokesh. Fine, but in politics when such allegations are levelled, the leaders at least would claim that they have necessary evidence and would prove at appropriate time. Just by raising his voice or modulating his tone thanks to the practice he has by the virtue of being a film actor, cannot convince the people. He should know that politics of threat cannot win him votes.
The problem is the young leader has no exposure to politics. Just because he is a voracious reader and is influenced by great personalities like Lenin or Karl Marx cannot make him a revolutionary politician. Either he should have a very strong team of advisors who know the ins and outs of politics or he should be someone like NTR who at the age of 60 being new to politics had one clear agenda – 'Telugu atmagauravam' (Telugu self-respect) and that paid dividends. He picked up the nuances of governance after he became the CM.
But in case of Pawan he has been meandering on various issues. He started with rotten laddus (special package) forcefully demanded special status and in his quest to become a people's leader, gave a call for state bandh on the issue of diarrhea in one part of Guntur, forgetting that this is not the right time for bandh as it is examination time and any such activity would lead to inconvenience to the students in particular.
He says he is clear in his thoughts but so far that clarity has not percolated down to either the cadre or the people. It's four years since he floated his party but still no one knows what his party's programmes are and what his ideology is. Now one has to wait till August 14 when he threatens to release his manifesto.
Pawan was close to TDP, met the CM several times, praised his work but suddenly took a U turn. Pawan also met the Telangana CM and praised him. Perhaps TRS needs to watch his moods and movements closely.