Vajpayee model of leadership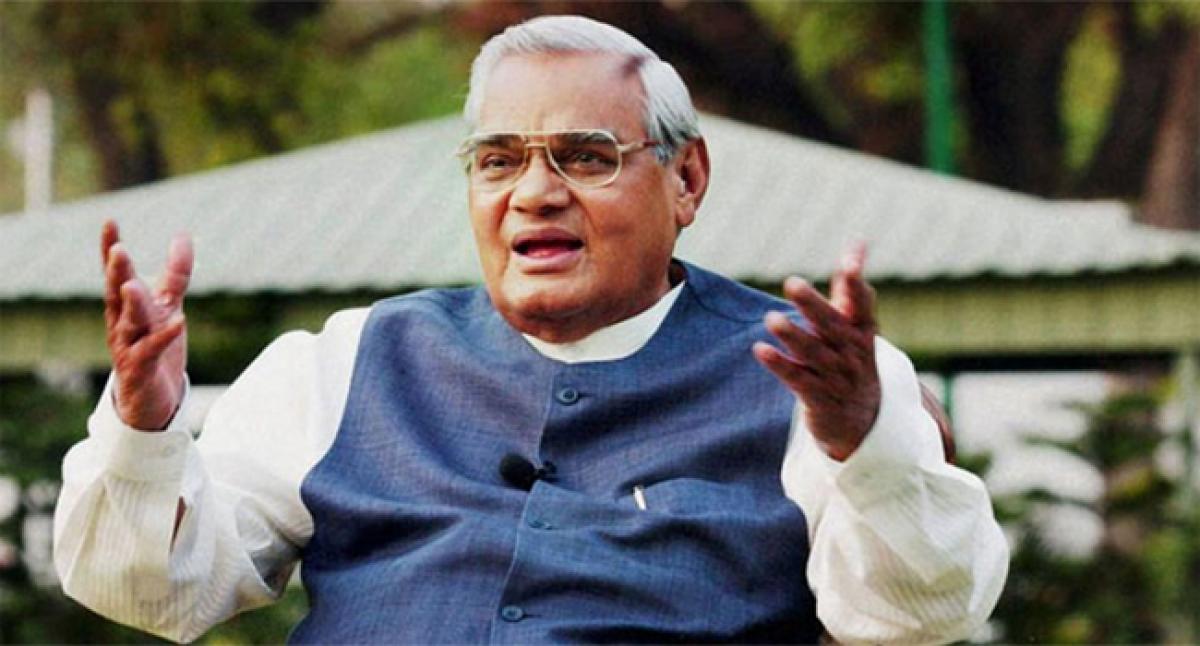 Highlights
Former Prime Minister Atal Bihari Vajpayee, one of the founding fathers of BJP and a very longserving political leader of India, is no more He moved on from being in a physical form to a more superior form in the universe, after being 93 years on this planet
Former Prime Minister Atal Bihari Vajpayee, one of the founding fathers of BJP and a very long-serving political leader of India, is no more. He moved on from being in a physical form to a more superior form in the universe, after being 93 years on this planet.
Many come and go in this world; only few leave indelible marks in the hearts & minds of billions. Not many impacted the world, influenced thoughts, inspired action, multiplied smiles, spread warmth and love, as much as Vajpayee did being a political leader. Vajpayee was a man for all seasons. He wore many hats and all of them, very well. His life was a huge lesson and so is his death.
While there are many dimensions to the man, a poet, a family man, a swayam sewak, a politician, a national leader and a BJP party karyakartha, it's his natural leadership traits which differentiated him from the rest of the people in those same roles, at every phase of his life.
While it's a bigger project to unravel the man and his accomplishments in all his roles, this is just an attempt to conceptualise his model of leadership, as I analysed it.
Leadership Definition
Vajpayee doesn't seem to take leadership as a serious business, he let it roll naturally. His life reflects that he defined leadership loosely and let it evolve over the period of time. He flowed like a beautiful river, never stagnated in any phase with unjust ambition for power.
He never indulged in self praise nor compelled situations where others do it for him. If one listens to his political speeches closely, he never used a second person eulogy on himself. He hardly positioned his leadership personally. It was always a consensual, natural outcome of his efforts and contribution. Such was the ease.
For him, leadership was, "an ability to understand others & their capabilities well, without filters of prejudice and presumption. It's an ability to accomplish collective outcomes through collective vision."
He understood the fundamental role of a leader is to have a collective vision and achieve it through collective collaboration. He also exhibited throughout his life that he needed no one to watch his back, as he did not believe that anyone can stab him from behind. His life was an open book and he had nothing to hide.
His leadership style clearly established that the measure of a great leader is building a generation of leaders for the nation and the institution. He strongly believed that the responsibility of a leader is to produce many more of his ilk.
His definition of political leadership seemed nothing different from the above. Through his objective ideological stands, zero pettiness, delayed gratification, justified ambition, action orientation, mutual trust and respect, Vajpayee lived through his political leadership roles with ease and élan.
His leadership definition certainly was at loggerheads with many other leaders in contemporary politics in the larger political eco system; however, there are few leaders within BJP who have acquired partly this model of leadership under his influence.
If you don't give, you don't get
Vajpayee's conduct exemplifies this phrase. I feel his entire life was about giving. The more he gave unconditionally, the more he got. He didn't need to push or force his way through leadership roles, by patiently staying the course with this value & conduct pattern, he accomplished his greatness.
If you don't give respect, you don't get it. If you don't trust, you can't be trusted either. If you don't love, you won't be loved. If you don't do, you can't ask others to do. If you don't follow, you can't make others to follow. These are very powerful tools to earn what you deserve, with empathy and patience. Vajpayee's leadership style banked on these phrases throughout his journey, he kept giving and he kept getting in return.
Macro Perspective of Life
Vajpayee had a larger perspective of life, so he was never petty. His life was grand, like his thoughts. He lived a fearless, confident, secure and stable life through out. He understood that at the end of the rat race, one is still a rat. He understood any position of power is temporary and fleeting.
He did not turn his mind into a liability. He did not carry grudges, vengeance, anger, jealousy and many other negative, overbearing memory loads. His calm mental and physical composure in private and in public was a reflection of his clean, positive and free mind. He lived in a single personality inside & outside.
He enjoyed the finer nuances of life with children, pet dogs, poems, music, humor, food and entertainment. He experienced natural progression of life without mental blocks and without over indulgence in a singular focus area, despite being a national leader. He lived a complete and well-balanced life.
He lived as if he could die any day, and died as if he could live forever. Only those who understand that life is much bigger than and beyond a mere phase of popularity and power can live that well. He was a man with mindfulness, lived his life in every moment as if it's a great opportunity. Naturally, he was never a man in a hurry. He paced through life, like a long walk in a beautiful garden.
Forget & Forgive
Greatness is earned throughout one's life not just in a single phase. Vajpayee was a grand human being across all phases of life. Being a Prime Minister did not elevate him to any higher level. He was much bigger than that role as a 'great human being'.
Knowing no one is perfect and understanding everyone needs second chances is the hallmark leadership conduct of Vajpayee. To forget and forgive was a natural trait, as he did not hold much in heart against any fellow human being. To err is human and to forgive is divine, seemed to work for him throughout his life.
Emotionally Intelligent
In a world torn by hatred, division and contempt, Vajpayee was like a fresh breeze. As a leader he was tough in making courageous decisions for the nation, but gentle in dealing with human emotions. He used this approach in every role and phase of his life. His patience and respect to deal with people of all levels of competence made him endearing to everyone he worked with. He never under estimated the capability of people to assess the genuineness of emotions; he stayed pristinely genuine in his emotional expression throughout his life.
He knew how powerful human emotions are and their massive impact on outcomes. His knowledge and understanding of emotions and their potential to accomplish greatness is what made Vajpayee such a different global leader. His natural emotions of love, compassion through his endearing smile and gentle body language along with non negotiable core values have earned him the world's respect.
Vajpayee is certainly an iconic and giant of a global leader. He is a very effective and powerful role model for generations of Indians. (Writer is BJP Spokesperson/Organisational Strategist & Author)
Subscribed Failed...
Subscribed Successfully...