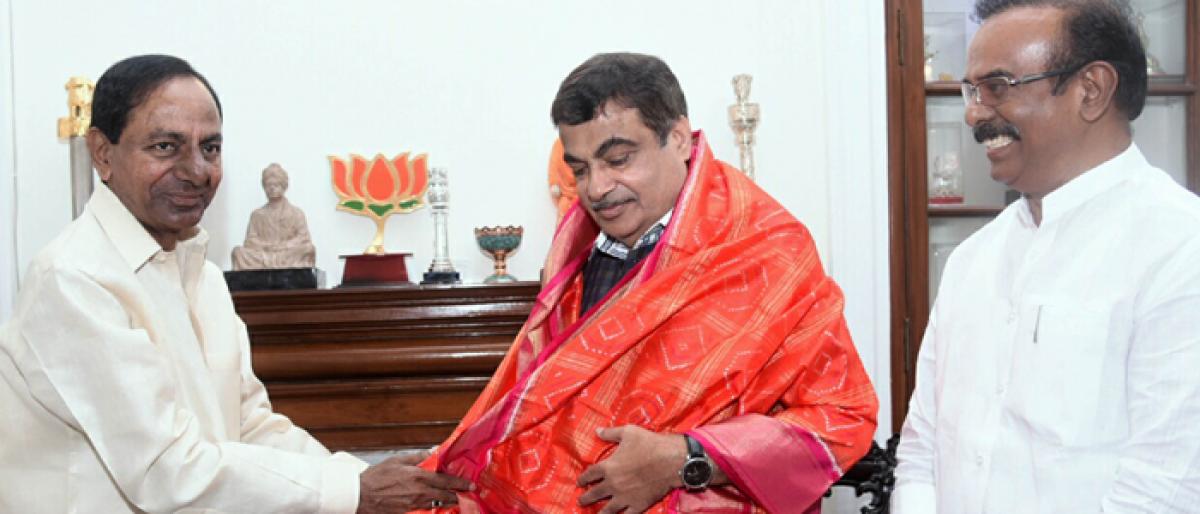 Highlights
It is the turn of the Centre now to mull extending full financial support to KCR The Chief Minister who was in Delhi on his treasure hunt had already put forth all his demands duly justifying them as essential to keep up his poll promises on Prime Ministers
It is the turn of the Centre now to mull extending full financial support to KCR. The Chief Minister who was in Delhi on his 'treasure hunt' had already put forth all his demands duly justifying them as 'essential to keep up his poll promises' on Prime Minister's table with an eye on sweeping the next elections. He is determined to obliterate the Congress in his own fashion by going to the people with the satisfaction of having done his job well in his bid for his second attempt at power.
A reluctant traveller like KCR would not have bothered to air-dash to Delhi so often as seen in the recent past only to reiterate his financial demands or to seek assent to the new zonal system. There is much more to it than what meets the eye. One could say it is all about simultaneous elections. One could even say it is more about advancing the elections in the State at least if the other one is not possible so that Telangana could go to polls alongside Madhya Pradesh, Chhattisgarh and Rajasthan this year itself. Election is all about funds.
The Congress is in dire straits on two counts. One, it does not have funds. Demonetisation has effectively sealed its fate in this regard just as it hit several other regional parties too. Since then the Congress leadership is running from pillar to post to seek funds and is exploring funding ways too. Rafael is just one such ploy...to squeeze something out of the Ambanis' as close political observers understand. The new treasurer Ahmed Patel knows where to hit and which doors are shut on their face. He plans to begin with his own State and is targeting the industrialists there.
However, if Telangana too goes for early polls, the Congress would be lamer to that extent as the party would be in no position to fund the elections in the Southern State too along with other others in the Central and the North India. This would then force the local leadership to fend for itself. Elections now-a-days are not manageable unless sufficient fund flow exists, and unless there is a massive anti-incumbency. That is not the case with Telangana.
There may be displeasure at the present governance. However, it is not crystallised to such an extent as to benefit the Congress. Its leadership is in no position to offer any hope to the voters. Rahul Gandhi's irrelevant talk makes no sense to people. This is where KCR has positioned himself to his advantage.
The BJP needs allies everywhere. It is looking at not just pre-poll but also post-poll allies. The pre-poll alliances seem to be running into trouble. With media-driven campaign that aims at fuelling further uncertainty, all parties would go for a double-check before entering into pre-poll alliances. Post-elections, the story would be different. KCR is deftly exploiting this situation and is only being expedient enough. Hence, the political visits to New Delhi. He has eyes behind his head too.