ACM student chapter inaugurated at VNRVJIET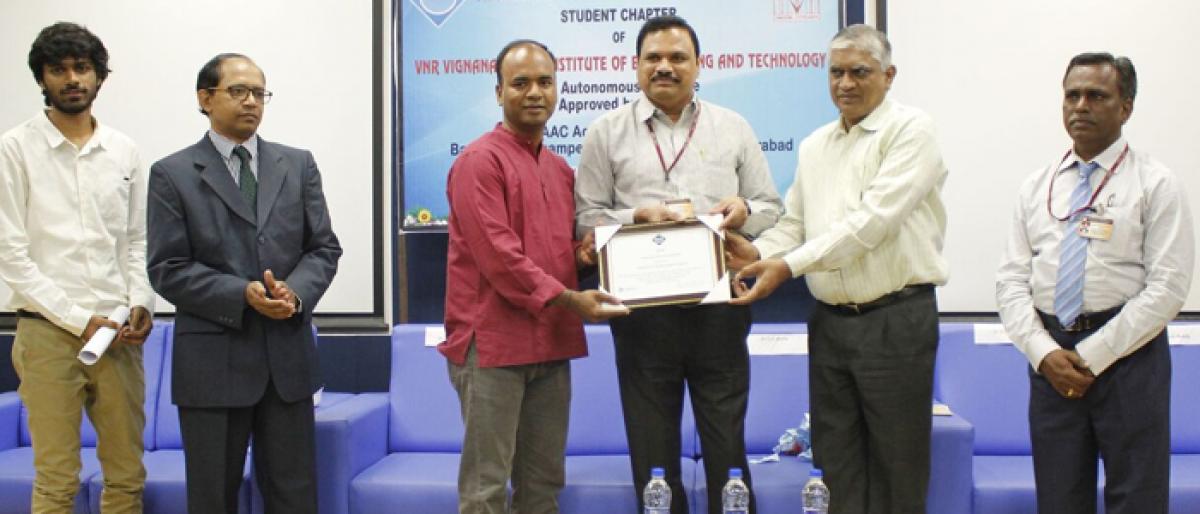 Highlights
A student Chapter of the international professional society Association for Computing Machinery ACM has been inaugurated at Vallurupalli Nageswara Rao Vignana Jyothi Institute of Engineering and Technology VNRVJIET Ponnurangam Kumaraguru, ProfessorCSE at IIITDelhi and a Visiting Professor at IIITHyderabad, has graced the event as the Chief Guest
​Hyderabad: A student Chapter of the international professional society "Association for Computing Machinery" (ACM) has been inaugurated at Vallurupalli Nageswara Rao Vignana Jyothi Institute of Engineering and Technology (VNRVJIET). Ponnurangam Kumaraguru, Professor-CSE at IIIT-Delhi and a Visiting Professor at IIIT-Hyderabad, has graced the event as the Chief Guest.
Speaking on the occasion, Kumaraguru encouraged students to aspire high focusing on what really matters and to do what matters. He pointed out that Indians typically have low aspirations and put in significant efforts for trivialities but not where important.
Kumaraguru delivered a keynote address on the "Power of Studying Computing!" following the inaugural of the Student Chapter. He suggested that students of the current generation cannot simply aim to have high aggregate percentage of CGPA but must be observant of social problems and try solving them through computing. The students should participate in project works actively and also be members of two or more international associations.
C D Naidu, Principal, said that student chapters of such professional societies help students and faculty improve their awareness about technological advancements in their domains. He expressed his happiness that students of the Institute do no limit themselves to classroom learning but that they enthusiastically participate in various competitions and hackathons.
Naidu suggested the ACM Student Chapter team that they should plan on conducting coding competitions and hackathons at least once in 3–4 weeks and coordinate a larger event every semester. B ChennaKesava Rao, Director for Advancement, said that every student must enrol as a member in 1–2 professional societies of international repute, create a network among peers and experts in their domain of knowledge, update themselves about advancing technologies, and write and present technical papers at international conferences and other events.
He added that such proactive participation enriches the résumés and enhances the employability of students. G Suresh Reddy, Head of the Department-IT, said that the new Student Chapter will be useful for both students and faculty members in numerous ways. S. Murali Mohan, Assistant Professor-IT and Faculty Coordinator for the ACM Student Chapter, said that this is the sixth student chapter for ACM in the Telangana State. The event was attended by faculty members from the Departments of CSE and IT, Heads of Departments, and students of B.Tech. (IT).