SFC ready to mentor student community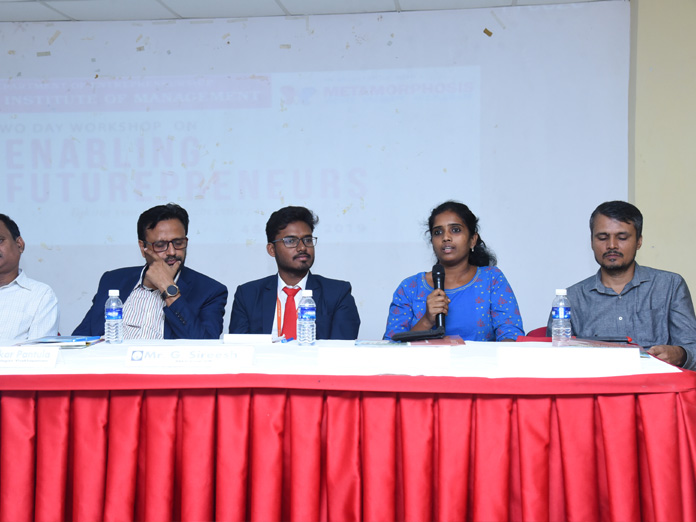 Highlights
The State Finance Corporation in encouraging entrepreneurship abilities through its recent initiative in mentoring student community, informed by SFC Manager N Sailaja here on Tuesday at GITAM Deemed to be University during the interaction with budding entrepreneurs
​Hyderabad: The State Finance Corporation in encouraging entrepreneurship abilities through its recent initiative in mentoring student community, informed by SFC Manager N. Sailaja here on Tuesday at GITAM Deemed to be University during the interaction with budding entrepreneurs.
GITAM Institute of Management and Metamorphosis organization jointly organized a workshop on Ideation to Business Modelling. While addressing the gathering she observed that the governments and venture capitalists are creating entrepreneurial ecosystem in the country which will helpful to the young generation.
Visakhapatnam based Prospecta Technologies CEO.Sudhakar Pantula expressed that the role of human resources and their abilities in the era of artificial intelligence is very important particularly there is need for inculcating learning attitude to cross the challenges.
Noted Start-up Consultant Sunita Rao discussed about idea pitching and emphasized on the skill set required for the startup entrepreneurs and also provided inputs relating to funding.
GITAM Institute of Management senior faculty Dr.I.Bangaru Raju mentioned that role of family and educational institutions are important in nurturing the entrepreneurial mind set among the students. Alcove Partners Director Srinivas Savaram briefed about the startup eco system in Visakhapatnam.
GITAM Institute of Management Principal Prof.P.Sheela , Metamorphosis Founder & CEO Pavan Alena participated in the discussions. As part of the workshop Metamorphosis sponsored Best Idea Pitching competition.