Paris climate conference prolonged, scientists sound an alarm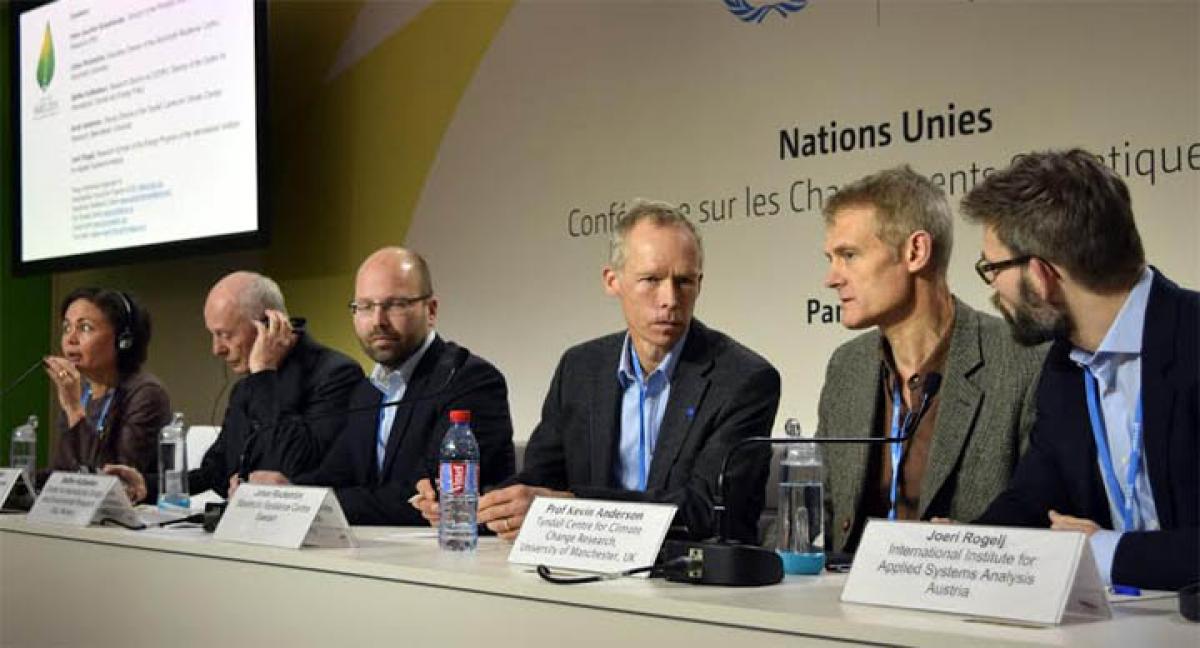 Highlights
In Paris, countries are doing their last minute negotiations on a draft climate treaty in Paris. Meantime, leading scientists give their opinion on the draft's merits.
In Paris, countries are doing their last minute negotiations on a draft climate treaty in Paris. Meantime, leading scientists give their opinion on the draft's merits.
Paris:
As negotiations at the UN Climate Conference entered their crucial final phase, leading scientists at the UN Climate Summit on Friday sent out a word of caution: urgent action was needed to bridge the gap between what the world leaders were proposing to do now and how they planned to act in long-term, to prevent climate change.
Assessing the latest draft which is the 3rd since the conference began, scientists were of the opinion that though the carbon emission target was "good", the overall language of the text was "weak". To promise a safe world, especially to the most vulnerable population in small island nations, further changes were needed in the agreement.
"Limiting warming between 1.5°C and 2°C, is in line with the IPCC and the latest science," Said Hans Joachim Schellnhuber, Director of the Potsdam Institute for Climate Impact Research (PIK). However, Schellnhuber also said that, the rest of the text did not ensure how this target would be reached. "COP 21 still has a job to do: operationalize the 1.5°C goal," he said.
In the 5-member panel, Schellnhuber was perhaps the most moderate: other scientists were sharper in their criticism of the draft. Steffen Kallbekken, Research Director at Oslo, Norway-based science institute CICERO, said that he was happy that world leaders were finally paying attention to scientists, but in the draft, "The options consistent with science are replaced by vague formulations".
After the Paris climate conference is over, the countries will begin to implement their Intended Nationally Determined Contributions (INDCs) – a set of long term plans to decrease their individual carbon emission – a process also referred at "decarbonization". However, scientists said that these INDCs were not consistent with science and would not support the action that the countries were proposing to take under Paris agreement.
Scientist Johan Rockström, Executive Director of the Stockholm Resilience Centre said, "The number one goal here in Paris is to limit our warming below 2°C. Once you set that target, everything that follows must be consistent."
So far, 180 countries have submitted their INDCs. These include India which has promised to cut 35% of its carbon emission by 2030.
Scientists, however, said that to make 1.5 degree Celsius – as promised in the draft agreement - a reality, the INDCs would need to be more ambitious and the world had to become zero-carbon by 2050. The progress of their implementation should also be reviewed every two years, they said.
Besides the scientists, members of various civil society organizations also rang an alarm, as the negotiations gathered its final momentum. In the afternoon, inside Le Bourget – the venue of the conference, activists stood in queue with a red ribbon and shouted for equity, justice, and compliance.
A massive protest has been also planned on Saturday noon (Paris time) by various NGOs, where thousands of activists would participate at Avenue de la Grande Armée, Arc de Triomphe, defying a ban on public protests that has been implemented in France under the State of Emergency.
"We will use this place to commemorate known victims of climate change (past and future) and pledge our commitment to continue the fight for climate justice," said a press release from 350.org – a leading global environment NGO.
The final draft, first expected by Friday evening has been promised on Saturday afternoon (Indian time) , said a statement by the French government.
By Stella Paul
The author is an international environment and development journalist. She's also been the recipient of Asian environmental journalism award consistently for last three years. She can be reached on
stellasglobe@gmail.com