India's precarious future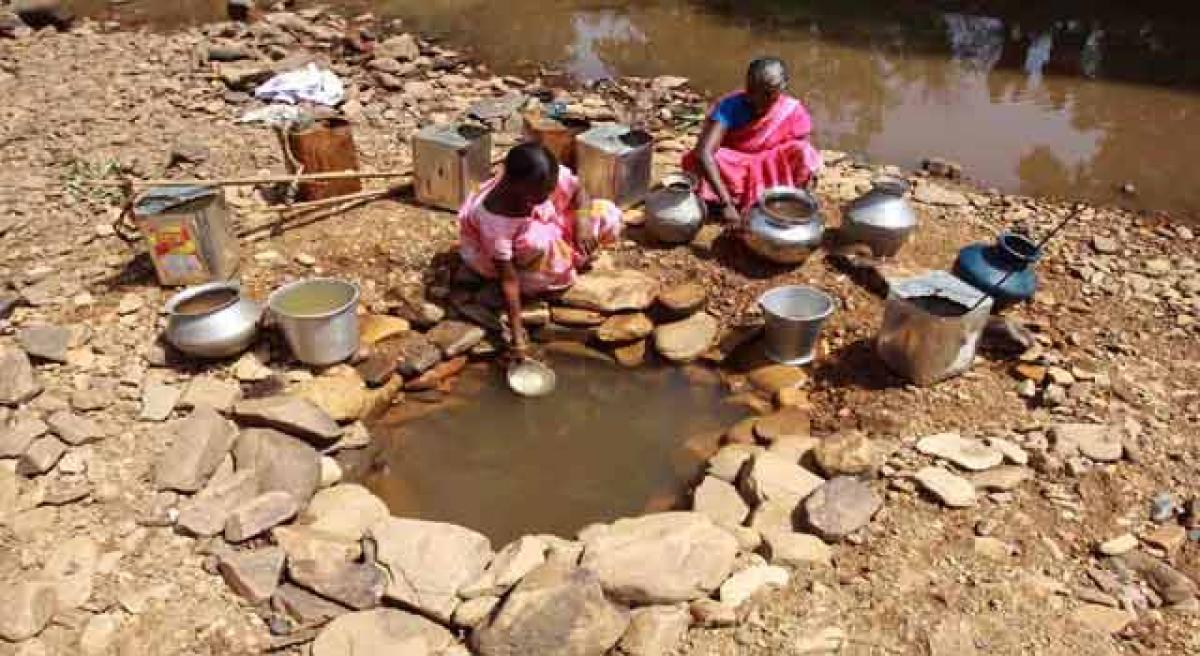 Highlights
According to Water Aid's 'Water: At What Cost? Report over 7.6 crores people (5 per cent of India's population) are deprived of safe water whereby around 1.4 lakh children die annually due to diarrhea and other water-borne diseases. 
According to Water Aid's 'Water: At What Cost? Report over 7.6 crores people (5 per cent of India's population) are deprived of safe water whereby around 1.4 lakh children die annually due to diarrhea and other water-borne diseases.
Worse, "most of these people are living on under Rs 285 per day. Even if they have an opportunity to buy water from a tanker, it would cost Re 1 per litre; sometimes double if supplies are scarce", the report adds.
Undoubtedly, poor maintenance of water resources has been the biggest problem while extraction of dwindling groundwater has aggravated the crisis. True, aquifers provide 85 per cent of drinking water but levels are falling in 56 per cent of the country.
Besides, hand pumps are exacerbating the crisis in many areas by depleting shallow aquifers. An assessment by the Central Ground Water Board (CGWB) revealed that some States consume much more groundwater than their rechargeable limit every year, making them vulnerable to severe water scarcity.
Perhaps, the reason for several parts of India reeling under severe water crisis, affecting not only agricultural productivity but also general availability of H2O for human use.
And as water treatment facilities are virtually non-existent in rural areas, drinking water is totally unsafe. Consequently, almost 8 crores people have no access to safe water seems to be on the lower side, according to water experts.
Another estimate found that around 45 per cent villages still do not have any source of protected drinking water. What's more of the 14 lakh villages, over 1.95 lakh are affected by chemical contamination of water.
Pertinently, the 2001 census found only 2 per cent had access to safe drinking water which today might be around 12 to 15 per cent.
Sadly, the situation is unlikely to improve as groundwater levels have receded though a good rainfall this year might be a stop-gap solution.
As per current estimates, water storage availability in the country's 91 major reservoirs has dipped to 37.92 billion cubic metres, 24 per cent of the total storage capacity of these reservoirs.
The Central Water Commission (CWC) in its latest bulletin notes the storage status of these reservoirs last month was less than the people living in water-stressed countries. Also, 14 nations would slip from being water stressed to water scarce. Both India and China would be entering the global water stress league within the next two years.
Over the years, India's per capita availability of water would decline with water requirements increasing at a rapid pace and the country would be 'water stressed' by 2018.
Pertinently, the country's utilizable surface water has been estimated at 690 BCM in addition to the replenishable groundwater resources of 422 BCM (GOI 2002), totaling 1122 BCM.
According to available estimates, given the growth of population, urbanization and industries, gross water use estimated at 522 BCM in 1990, jumped to 750 BCM in 2000 and is expected to reach 1050 by 2025. Of this approximately 40 per cent of available water resources are considered utilizable due to a variety of factors.
Many feel the Third World war might relate to water. While there is lot of problem between India and Bangladesh over sharing of water, within States too there is intense in-fighting over this valuable natural resource.
Meanwhile, Prime Minister Modi in his recent 'Mann ki Baat' radio programme called for preserving rain water. Referring to Mahatma Gandhi's birth place Porbandar, he said tanks had been built beneath houses which are over 200 years old to conserve water.
He also cited examples of Maharashtra's Hivre village in Ahmadnagar district where farmers changed cropping patterns and switched from water guzzling sugarcane and banana cultivation to less water consuming crops like fruits and vegetables.
Clearly, water conservation is an imperative need yet shockingly there is no awareness at the grass-root level. Neither have the States taken any initiative to ensure that such awareness is generated among the community.
Keeping this in mind, the Centre has taken the right step is planning to take the legislative route on conservation and distribution of water by giving precedence to drinking water supply over allocation for agriculture and industrial purposes in the country.
The Water Resources Ministry is coming out with a draft National Water Framework Bill and would circulate this to States as a model for suitable action. This draft would replace the 2013 law 2013 and serve as a model legislation at the State level and help in water conservation.
Important traditional water conservation methods for irrigation include Kuhul in the hilly areas, Jing (Ladakh), Kool, Water Kundis called Khoop in Arunachal Pradesh, Zabo method of Nagaland, Aabi tanks of Haryana, Dong Pokhar of Assam and Maharashtra's Bandhare.
Further, Karnataka's Kere, Iree (tanks) in Tamil Nadu, Andaman Nicobar's jackwell and Nadi, Tanka, Kund, Khadeen, Kui, Bedi, Baori, Jhalra, Toba etc. of Rajasthan. No matter, these are not effective with the increasing need for water.
Furthermore, the Water (Prevention & Control of Pollution) Act 1974 also does not take care of conservation as it mainly deals with pollution control. Therefore, the new draft law would urge States to take steps to recharge depleting groundwater, specially in the floodplain areas of rivers.
Plainly, this has become necessary now as there is no integrated method of conserving water, except through rain water harvesting and the new law which the Centre should have done long ago.
Another way of tackling the problem would be to find alternative sources of potable water in places where the quality has deteriorated sharply. Towards that end, community-based water quality monitoring guidelines should be encouraged both for water conservation and maintaining quality.
However, one must ensure that in every village, the panchayat protects one or two safe drinking water sources in association with community-based organizations and participation of the local people.
Happily, the Government recently took the right step in approving the implementation of the Rs 3679 crores National Hydrology Project as the country suffered two consecutive droughts and three sub-par monsoons. The project aims to set up a system for timely and reliable water resource data acquisition, storage, collation and management.
Notably, the Project also seeks to build capacity of State and Central organizations in water resource management through the use of information systems and adoption of state-of-the-art technologies like remote sensing.
By:Dhurjati Mukherjee
INFA