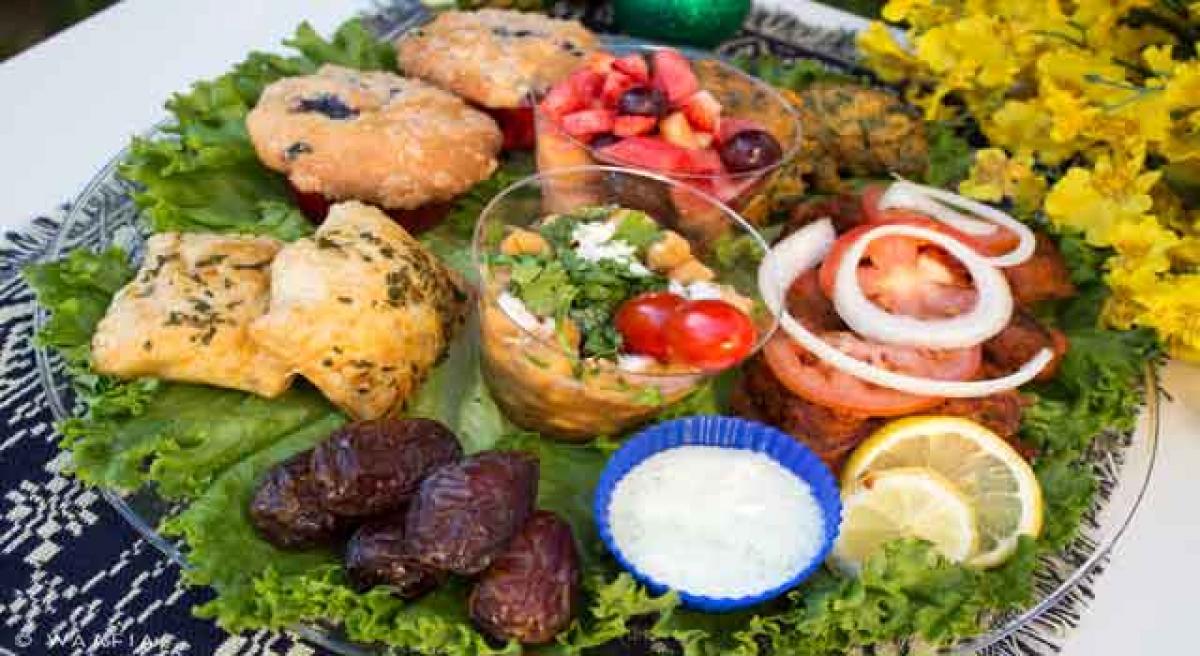 Highlights
Eating during Ramadan is also about following the right habits for a balanced iftar, which contributes to maintaining good health during this holy month.
Eating during Ramadan is also about following the right habits for a balanced iftar, which contributes to maintaining good health during this holy month.
Healthy Balanced iftar:
Start by eating 2 dates (blessed with energy, minerals and vitamins), helps to lessen the suffering from headache or dizziness which is caused due to low blood sugar levels during the fasting routine.
Make sure you drink sufficient water, healthy juices or yogurt before you start eating other optional dishes. This will prevent dehydration and provide your body with essential fluids.
Have a bowl of soup, an indispensable dish in the Ramadan meal, since it prepares the stomach to receive the rest of the meal and helps replenish some of the body fluids lost during the day.
Have salad, because it is rich in vitamins, minerals and fiber. The more colorful your salad, the more health benefits it holds. It also gives you a feeling of fullness, ensuring you eat less of the main dish.
Consume a moderate quantity of the main dish to maintain good health. The main dish should contain a source of carbohydrates like rice, whole grains, pasta and potatoes as well as some form of protein like meat, chicken or fish, in addition to cooked vegetables.
Moderation is the key when it comes to eating starters (fried foods and pastries) and sweets because these foods are rich in fats, salt and sugars. Enjoy these Ramadan treats, but try to control the size of your portion in order to stay healthy and prevent weight gain.
Remember, iftar is a time to enjoy the presence of those around you, while nourishing yourself with food lovingly prepared. Keeping a limit on what and how much you eat will ensure that your joy is complete and healthy.
How to stay hydrated during Ramadan
Water is the most important fluid that replenishes your thirst during Ramadan. Unfortunately, most of the people do not drink enough water but have only small amount at iftar and then forget to drink water until the next proceeding sehri.
Why do we need water?
60-70 per cent of our body contains water and any reduction in your water intake can affect our body cells and nerves from functioning properly. This is why it is absolutely essential to compensate the loss of water in our body, because dehydration can cause undesirable side effects such as: constipation, headache, dizziness, tiredness and dry skin.
Remember:
Water plays a significant role in weight loss and maintenance, because it helps to get rid of toxins and reduce the feeling of hunger. This is why it is important to drink small quantities of water.
How to prevent getting thirsty during Ramadan?
The food that you eat plays a major role in controlling your thirst while you are fasting. Here are a few points:
Drink at least eight glasses of water every day. If you are outdoors in hot weather, you lose more fluids. So make sure you drink more water in the evenings after iftar.
Avoid hot and spicy dishes as it increases thirst.
Do not add too much salt to salads and other dishes. Also avoid eating salty foods like fried foods, preserved foods, as they increase the body's need for water.
Eat fresh fruits and vegetables because they are rich in water and fiber. They stay in the intestines for a long time and reduce thirst.
Drink fresh fruit juices rather than sweetened juices.
Try not to drink large quantities of water all at once or a lot during a meal.
Note: Drinking iced water to break your fast does not replenish your thirst but can cause your blood vessels to contract and cause indigestion. For this reason, it is recommended you drink water at room temperature or slightly cold.
By:Syeda Sana Siddiqua