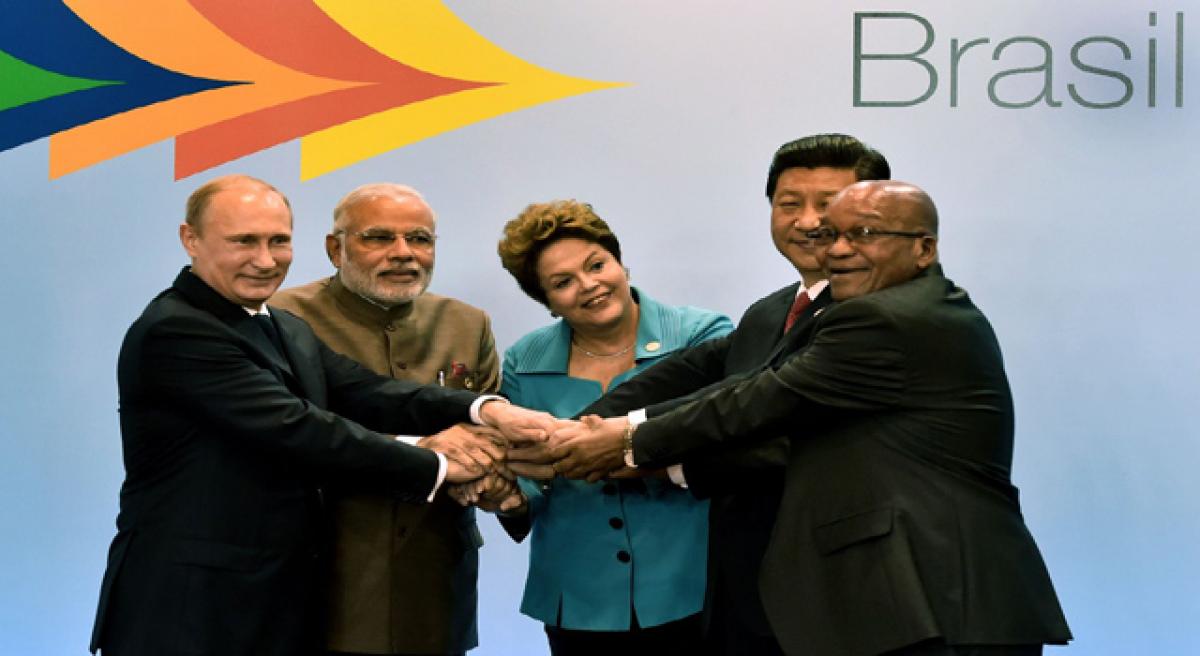 Highlights
BRICS is the acronym for an association of five major emerging national economies: Brazil, Russia, India, China and South Africa. The grouping was originally known as \"BRIC\" before the controversial inclusion of South Africa in 2010.
BRICS is the acronym for an association of five major emerging national economies: Brazil, Russia, India, China and South Africa. The grouping was originally known as "BRIC" before the controversial inclusion of South Africa in 2010.
[4] The BRICS members are all developing or newly industrialized country countries, but they are distinguished by their large, sometimes fast-growing economies and significant influence on regional affairs; all five are G-20 members.
As of 2015, the five BRICS countries represent over 3 billion people, or 42% of the world population; all five members are in thetop 25 of the world by population, and four are in the top 10. The five nations have a combined nominal GDP of US$16.039 trillion, equivalent to approximately 20% of the gross world product, and an estimated US$4 trillion in combined foreign reserves.
[12][13] The BRICS have received both praise and criticism from numerous commentators.[14][15][16] Bilateral relations among BRICS nations have mainly been conducted on the basis of non-interference, equality, and mutual benefit.
History of BRICS
The acronym was coined by Jim O'Neill a Goldman Sachs employee in a 2001 paper entitled "Building Better Global Economic BRICs".The acronym has come into widespread use as a symbol of the shift in global economic power away from the developed G7 economies to the developing nations.
Political dialogue between the BRIC countries began in New York in September 2006, with a meeting of the BRIC foreign ministers.Four high-level meetings followed, including a full-scale meeting in Yekaterinburg, Russia, on May 16, 2008.
The BRIC countries met for their first official summit on 16 June 2009, in Yekaterinburg, Russia, with Luiz Inácio Lula da Silva, Dmitry Medvedev, Manmohan Singh, and Hu Jintao, the respective leaders of Brazil,Russia, India and China, all attending.South Africa sought membership during 2010 and the process for formal admission began as early as August 2010.
South Africa was admitted as a member nation on December 24, 2010 after being formally invited by China and the other BRIC countries to join the group. The group was renamed BRICS to reflect the now-five-nation membership, with an "S" for South Africa appended to the acronym.
President Jacob Zuma of South Africa attended the 2011 BRICS summit in Sanya, Hainan province, China in April 2011 as a full member.
Objectives of BRICS
The core focus of the summit was related to improving the current global economic situation and discussing how the four countries can better work together in the future, as well as a more general push to reform financial institutions.
There was also discussion surrounding how emerging markets, such as those members of BRIC, could be better involved in global affairs in the future.
In the aftermath of the summit the BRIC nations suggested that there was a need for a new global reserve currency that is 'diversified, stable and predictable'.
The statement that was released stopped short of making a direct attack on the perceived 'dominance' of the US dollar, something which the Russians have been critical of; however, it still led to a fall in the value of the dollar against other major currencies.
New Development Bank (BRICS Bank)
Agreed in 5th BRICS summit held in Durban, South Africa in 2013
6th BRICS summit held in Fortaleza, Brazil, 2014, signed the document for $100 billion BRICS Development Bank and a reserve currency pool worth over another $100 billion
Headquartered at Shanghai with African Regional Centre at Johannesburg
1st President – India, Chairman of the Board of directors – Brazil, Chairman of Board of governors – Russians
Terms & objectives
Primary focus of lending will be infrastructure projectswith authorized lending of up to $34 billion annually
Will have starting capital of $50 billion, with capital increased to $100 billion over time
Brazil, Russia, India, China & South Africa will initially contribute $10 billion each to bring the total to $50 billion
No member can increase its share of capital without other 4 members agreeing – a primary requirement of India
The bank will allow new members to join but the BRICS capital share cannot fall below 55%
Official Languages – Chinese, English, Russian, Portuguese, 22 official languages of India
Initial authorised
capital $100 billion
Initial subscribed capital $50 billion (each member gave 10 billion)
Contingency reserve arrangement (CRA) Total $100 billion
China $41 billion
Brazil, India, Russia $18 billion Each
S Africa $5 billion
Official language
Chinese
English
Portuguese
Russian
22 Official Languages of India
Contingent Reserve Arrangement (CRA)
Provision of support through liquidity & precautionary instruments in response to potential short-term balance of payments pressures
To provide protection against global liquidity pressures including currency issues where members' national currencies are being adversely affected by global financial pressures.
Total $100 Billion – China will contribute $41 billion, Brazil, Russia and India would give $18 billion each, and South Africa would contribute $5 billion
Why BRICS Bank?
BRICS – Collectively 1/5thof World GDP and 2/5th of world population
No reforms in IMF or Word Bank Highly dominated by USA & G7
To defend BRICS economy from volatility in dollar exchange rate
In the long run, it'll make Chinese Yuan as an alternative to US Dollar, for global financial system
RBI Governor Rajan- "we did not setup BRICS bank to challenge World bank and IMF. This bank is setup only to provide "patient money" to BRICS nations, because World Bank and IMF are taking too much time to reform themselves."
Shangrila dialogue
Initiated in 2002 in response to the clear need for a forum where the Asia-Pacific's defence ministers could engage in dialogue aimed at building confidence and fostering practical security cooperation, the Asia Security Summit – or IISS Shangri-La Dialogue as it has come to be known – has established itself as a key element of the emerging regional security architecture.
It is the most important regular gathering of defence professionals in the region and has become a vital annual fixture in the diaries of Asia-Pacific defence ministers and their civilian and military chiefs of staff.
By catering for their specific interests and needs, and by facilitating easy communication and fruitful contact among them, the Shangri-La Dialogue has helped to engender a sense of community among the most important policy-makers in the defence and security establishments of regional states and of major powers with significant stakes in Asia-Pacific security.
Key facts
Territorial disputes in the South China Sea, North Korea's military provocations and
Islamist extremism, migration, cybersecurity, counterterrorism and military competition are expected to dominate discussions this year.
The dialogue gathers military representatives from world's most powerful countries to discuss pressing and significant defence and security issues.
It also provides opportunities to defence ministers, military chiefs and high-ranking defence officials to hold bilateral meetings on its sidelines.
The dialogue is also attended by legislators, academic experts, journalists and business delegates from around the globe.
It generally acts as a vehicle for public policy development and discussions on defence and security in the Asia-Pacific.
Background
The IISS Asia Security Summit was launched in 2002 by the Singaporean government and British think tank the International Institute for Strategic Studies. This annual dialogue got its name from the location of the meeting, the Shangri-La hotel in Singapore.
Date(s)
Host country
Host leader
Location
1st
16 June 2009
Russia
Dmitry Medvedev

Yekaterinburg

(Sevastianov's House)

2nd
15 April 2010
Brazil
Luiz Inácio Lula da Silva
Brasília
3rd
14 April 2011
China
Hu Jintao
Sanya (Sheraton Sanya Resort)
4th
29 March 2012
India
Manmohan Singh
New Delhi (Taj Mahal Hotel)
5th
26–27 March 2013
South Africa
Jacob Zuma
Durban (Durban ICC)
6th
14–16 July 2014
Brazil
Dilma Rousseff
Fortaleza (Centro de Eventos do Ceará) Brasília
7th
8–9 July 2015
Russia
Vladimir Putin
Ufa
8th
15–16 October 2016
India
Narendra Modi
Goa
By: Balalatha Mallavarapu