Wheelathon 2018 for a greener world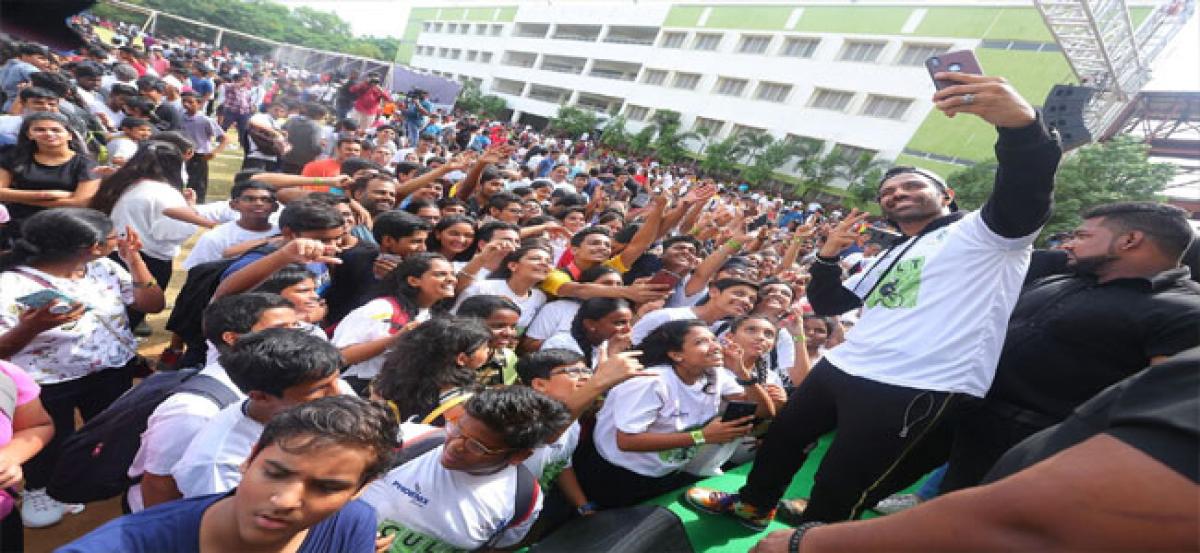 Highlights
2500 participants cycled from all walks of life to promote a greener world on Sunday, from Delhi Public School Nacharam
Hyderabad: 2500 participants cycled from all walks of life to promote a greener world on Sunday, from Delhi Public School Nacharam. The Wheelathon was flagged off by Ch Malla Reddy – MP, NVVS Prabhakar – MLA Uppal, M. Komaraiah Chairman, Tejaswini Manoga – yoga expert, C N Raghu Prasad, Zonal Commissioner, GHMC, Marri Laxma Reddy – Master Atheltics Chairman, MLR & St Martin Engineering College Chairman, Vishwanath, S Sunitha Rao, Principal, Delhi Public School, Nacharam and PROs Robin Michael & Mukeshwari.
Wheelathon is a student- initiated cycling marathon that runs under the motto 'Safer, Greener, Fitter', originally started to promote the culture of cycling and show support to the underprivileged sports enthusiasts. However, since its inception, we have decided to diversify our intent with various themes concerning sustainability and wellbeing. The aim of wheelathon is to build a sustainable community through cycling and environmental awareness. The slogan sung this year, "join the ride, to bring sustainable tide" in all means justified to the aim. To fuel this change, support from PHOENIX Forever as title sponsor helped reach the maximum prep for the event.
To give a kick start to the event, there were many pre-event programs such as photography contest and fitness challenge on social media and flash mobs and cycling rallies conducted around the city. To further expand the event this year, an open concert by Sri Ram Chandra, Indian Idol Winner Season 5 is to happen on the event grounds. Malla Reddy encouraged the students to take up cycling on a daily basis and in turn contributes to environment sustainability. He appreciated the students and management for organising wheelathon 2018.
Malka Komariah, Chairman said through Wheelathon, I have successfully incorporated cycling in my daily life. I have only become fitter and more satisfied with myself through this. I hope that each one of you is inspired to take this small step in your daily life. Remember, each and every step counts, the key is to 'NEVER GIVE UP'. Sreerama Chandra enthralled the audience by his songs, the students swayed to his songs.
Subscribed Failed...
Subscribed Successfully...