DPS-MH organises second inter-school competition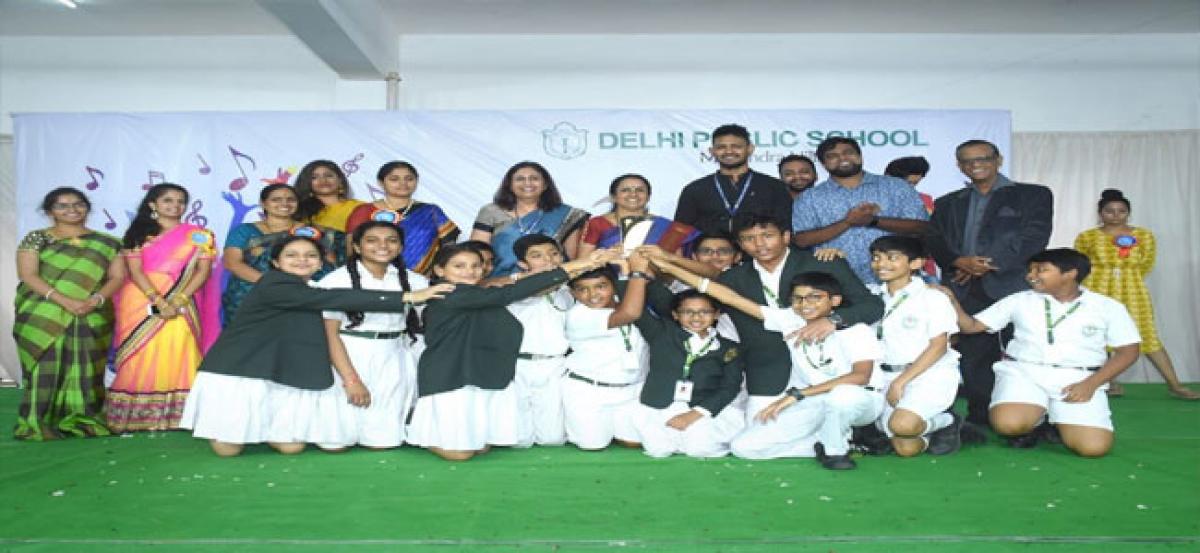 Highlights
Delhi Public School Mahendra Hills, organised its 2nd Interschool competition titled Naipunya A Rhapsody of Art Forms on Saturday Around 700 students from 20 schools from the twin cities participated in the event from Class 1 to Class 8
Hyderabad: Delhi Public School – Mahendra Hills, organised its 2nd Inter-school competition titled "Naipunya- A Rhapsody of Art Forms" on Saturday Around 700 students from 20 schools from the twin cities participated in the event from Class 1 to Class 8.
As quoted by the great painter Pablo Picasso "Every child is an artist", the stage was set for the students to display their innate talent. Children took part in a total of 17 events which were divided into 4 categories namely art attack, rhythm divine and magic of anklets and Step up revolution. The Chief Guest for the day was Dennis Powell, a renowned jazz pianist and conductor. He encouraged students to participate and gain substantial experience, showcase their skills, analyse and evaluate outcomes and uncover personal aptitude. The event was also attended by GowriVenkatesh vice Principal of DPS, Nacharam.
The event was initiated by our Head Mistress- Kiran Khanna who welcomed the participants from different schools along with their teacher coordinators. Our esteemed guests and judges who came from exceptional backgrounds and varied experiences in the fields of music, dance and art were greeted with utmost gratitude and welcomed with a token of appreciation. The day began with a prayer song by our school choir followed by a mesmerizing invocation dance by our budding danseuses.
The cultural and art competitions in dance, music and art categories wereconducted with zeal and enthusiasm. These included paper collage, krazy craft, tattoo - making on the arm, face painting, action song, live band with choir, solo and group folk dances, solo and group singing (western), solo and group dance (classical), duo freestyle western dance, western group dance (mute dance) and ramp walk. These well-planned competitions clearly brought out the essence of the richness of our culture through dance, music and art.
The enthusiasm and vigor of the young, energetic participants made the event a grand success. The day concluded with the valedictory function wherein the effort put in by the students was duly recognized by felicitating the winners with Gold, silver and bronze mementos and certificates. The Naipunya Rolling Trophy for the year 2018-19 was won by DPS, Nacharam. The host school DPS, Mahendra Hills took the award for maximum participation. Other participating schools were not left behind inachieving awards in various categories.