World Photography Day: 'Lenzcape' showcases best clicks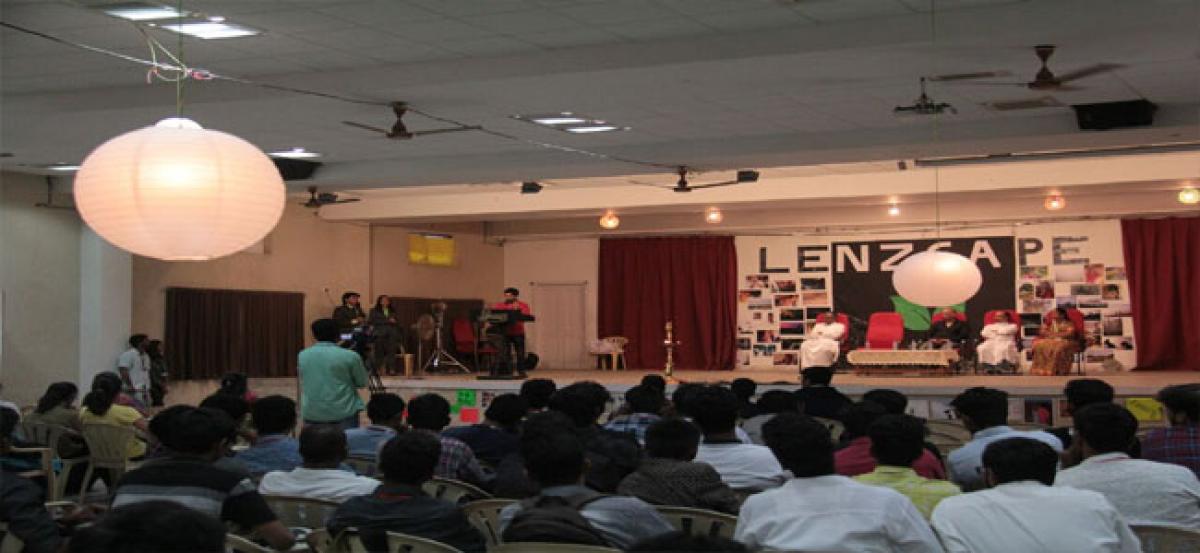 Highlights
Pomp and gaiety marked this edition of Lenzcape, an annual photography festival of Department of Mass Communication held at Loyola Academy Degree PG...
Hyderabad: Pomp and gaiety marked this edition of Lenzcape, an annual photography festival of Department of Mass Communication held at Loyola Academy Degree & PG College, Old Alwal on Saturday. A few noted Hyderabad- based photographers shared their experiences and encouraged the students to experiment with various genres of Photography during the famous city-level event organised on the eve of World Photography Day- August 19.
As part of inaugural ceremony of Lenzcape Photography Festival 2018 based on theme 'SILVER LINING- Finding Calm in Chaos,' chief guest Photriya Venky, ad- filmmaker & fashion photographer gave some tips on the techniques of Lighting and compositions of photography. "Choosing Photography as a profession will not be regretted," he said while interacting with the students.
Later, guest of honour Cleo Fernandez, model photographer spoke in-depth on evolution of photography and emerging trends in the digital era. "Earlier, getting the print of the photograph was a complex process but now things have changed. With digital Photography, it is possible to click and store more pictures," opined Fernandez, who encouraged the students to delve deeper into many forms of photography. Speaking on the occasion, the college Principal Rev Fr P Anthony, stressing on the importance of photography, said that pictures should carry an emotion and gave an example of Kerala flood photos. Also, the college vice Principal Fr Balaswamy addressed the gathering.
After inauguration, the photography exhibition that was thrown open for the public had witnessed a footfall of over 600 visitors. Besides, the day-long session saw the range of events organised from workshops to cultural events. Wildlife Photographer Akash Chatlani and wedding photographer Rebecca Aishwarya conducted photography and lighting workshops. A representative of Herbalife Gnana Raju and Tariq Hussain, lifestyle photographer delivered talks. The city-level photography competition witnessed as many as 200 entries. Apart from the main competition, other events held such as #Phontochallenge, On-spot photography and photography exhibition evoked good response.

Later in the day, the guests handed over the prizes to the winners of all the competitions organised as a part of Lenzcape. Mihir Vohra was adjudged as the winner of the theme-based competition. Rakesh Kotte and Kishore Chandrakala stood second and third respectively and won the cash prizes of ₹5000, ₹3000 and ₹1000 along with certificates. In on-spot competition, C Karthik Reddy took the top spot with R Vijay Kumar and Mihir Vohra as first and second runners-up. Y Satish Chandra won a special prize for his impressive work. The event was sponsored by cafe coffee day, Therallen, gone mad, alice bakes, monster energy, happy wellness club, shakes town and red bull. Concluding the event, the HOD V J Bharathi appreciated the efforts of students and faculty for successfully organising the event.
Subscribed Failed...
Subscribed Successfully...