Empowering women through acquisition of knowledge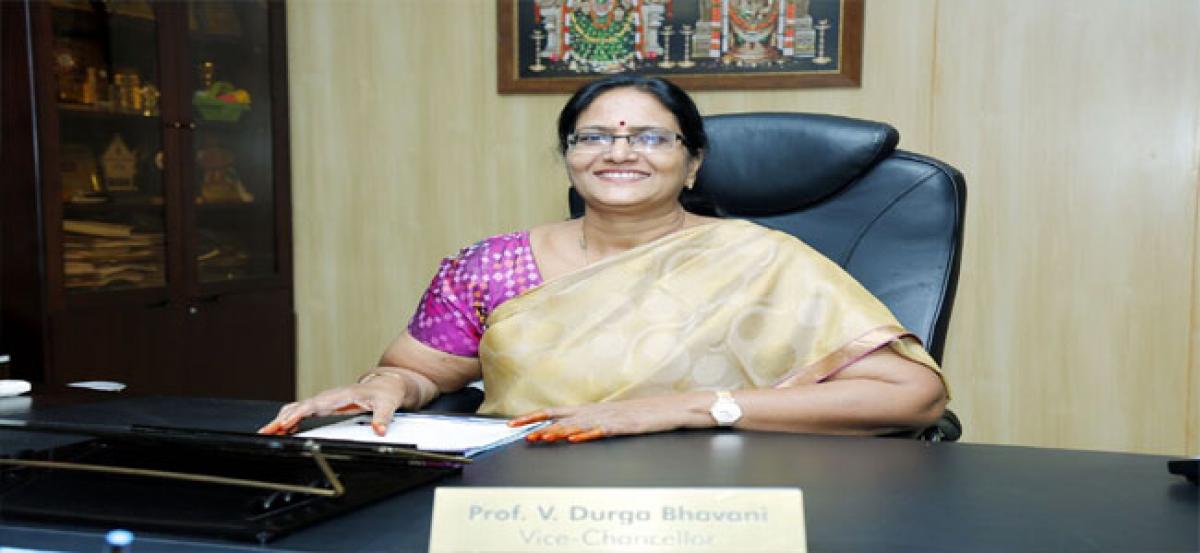 Highlights
We dont just educate women students here but make them complete women by the time they go out of campus at the end of their courses, proudly said the...
Tirupati: "We don't just educate women students here but make them complete women by the time they go out of campus at the end of their courses", proudly said the Vice Chancellor of SP Mahila Viswavidyalayam (SPMVV) Prof V Durga Bhavani Substantiating her statement, she explained that "We don't just speak about mentor-mentee relationship but implement it to its complete spirit and it is mandatory too.
Besides, our courses are practical oriented in nature and we made life skills education compulsory here. The faculty put lot of efforts to remove whatever inhibitions the new entrants have at the very beginning of their new journey here. They will have an induction programme that brings confidence in them and will be made familiar to campus. One can see a lot of change in any student from entry into and exit from the campus", she explained.
In an exclusive interview to The Young Hans, the VC explained various initiatives that are being implemented in the varsity. During the first three days of students entry into the campus they will be taught 10 life skills of World Health Organisation (WHO) like decision making, problem solving, critical and creative thinking, empathy, coping with stress and emotions, self-awareness, effective communication which brings more self confidence in them.
Founded by former Chief Minister of AP NT Rama Rao in 1983, the varsity is second of its kind for being exclusive to women students in India has started its journey from 144 students to 5000 students now and achieved many milestones during the course. The varsity is having good teachers, innovations, entrepreneurship, skill oriented education and entrepreneurship besides 24X7 Wi-Fi for students, which facilitates the students and scholars to access various journals online at any time.
"The students should learn communicative English in first semester, foundation course in computer applications in 2nd semester and Gender studies in 3rd semester. Each paper will have 50 marks and students will be given two credits. "The international studies wing is also getting stronger and as on date we have 16 students from abroad doing PhD here. While three students of them are from USA and one from South Africa all other are from UAE. We have been running music and dance programme in USA with the collaboration of TANA and Suswara Academy, Dallas, USA. Certificate, diploma and advanced diploma courses are being held. Under this about 200 students have enrolled who will continue their classes with their teachers with our material and examinations. This programme was a great success and the students are now in level 1 and level 2", the V-C maintained.
SPMVV has established an ecosystem for research, innovation and entrepreneurship on the campus. DST sanctioned Rural Women Technology Park (RWTP) to the extent of Rs.81.52 lakhs towards transfer of technology and training of rural women. For this project, the state government has allotted 10 acres of land at Chinthalapalem village of Yerpedu mandal. A multi disciplinary faculty team was formed to work in the project that have already made various products and will train the methods to rural women to make them earn money from their home.
Initially, the park will provide technology support also to rural women. The varsity is also getting a bio technology park soon from DBT and these parks will take research from laboratories to the community level. They also have established SPMVV Society for Innovation, Incubation and Entrepreneurship – Technology Business Incubator (SSIIE-TBI) which offers budding entrepreneurs much needed infrastructure support and critical mentoring to turn their innovations into reality.
The University has got Rs.25 crores RUSA (Rashtriya Uchchatar Shiksha Abhiyan) funds and Rs.20 crores from state government. "On the whole, we got Rs 120 crore funds from various sources during the last three years. Soon we are getting Centre of Excellence in Sports and Games which was sanctioned in principle by government of India. Two new hostel buildings, one more block for humanities and a command control centre which will be the first of its kind in the Universities will soon add to our existing infrastructure. We want to upgrade into a Central University for Women and strive hard to achieve that goal", asserted the Vice Chancellor.

Subscribed Failed...
Subscribed Successfully...