Science is common sense applied towards the betterment of man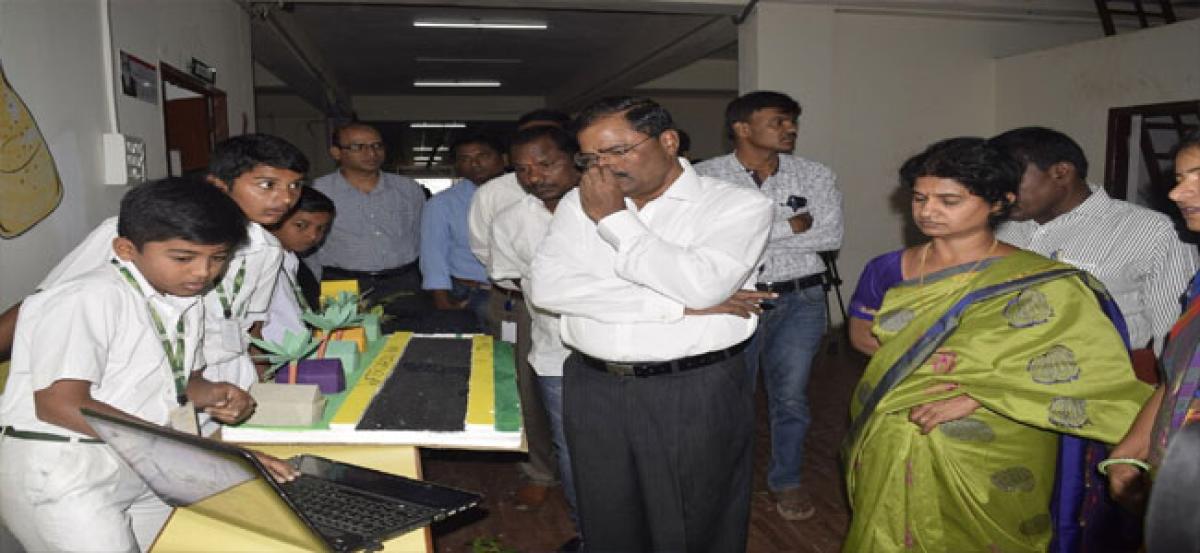 Highlights
The first science exhibition of Delhi Public School Nadergul was inaugurated by Chairman M Komaraiah, along with Principal Jyothi Turaga, Headmistress Maria and PRO Robin Michael DPS hosted its first science exhibition with an aim of bringing in scientific temper, an element of inquiry and the idea of inquisitiveness among children
Hyderabad: The first science exhibition of Delhi Public School Nadergul was inaugurated by Chairman M. Komaraiah, along with Principal Jyothi Turaga, Headmistress Maria and PRO Robin Michael. DPS hosted its first science exhibition with an aim of bringing in scientific temper, an element of inquiry and the idea of inquisitiveness among children. Themes that were chosen were related mostly to the modern needs of the society at large it was quiet- to see the young children confident in presenting their models and experiments to parents.
Rain battered roads in Hyderabad have being a common phenomenon and a drivers nightmare, bringing a novel solution to this a team of two young boys brought in the idea of water soaking road, using the thirsty concrete mixture. Though in the experimental stage, it caught up with many of the parents. A twin sensor car to avoid accidents on highways was another innovative idea that was displayed in the science exhibition. The room on organic farming, vertical drip irrigation and the compost pit caught the nature lover's attention.
It was fascinating to see a 10- year- old talk confidently about hydraulics and the implementation of this principle in lifting heavy weights, the main attraction however was Sophy the robot engineered by two students who came forward to inaugurate the event. Blood group testing, a mamilon heart and the human skeleton added the necessary biology inputs to the learning. Saving electricity on highways and foot sensors to convert mechanical energy to electrical was another innovative during the event. Speaking on the occasion Komariah applauded the children's efforts and expressed that scientific inquiry should be instilled in young minds from tender age.
Subscribed Failed...
Subscribed Successfully...